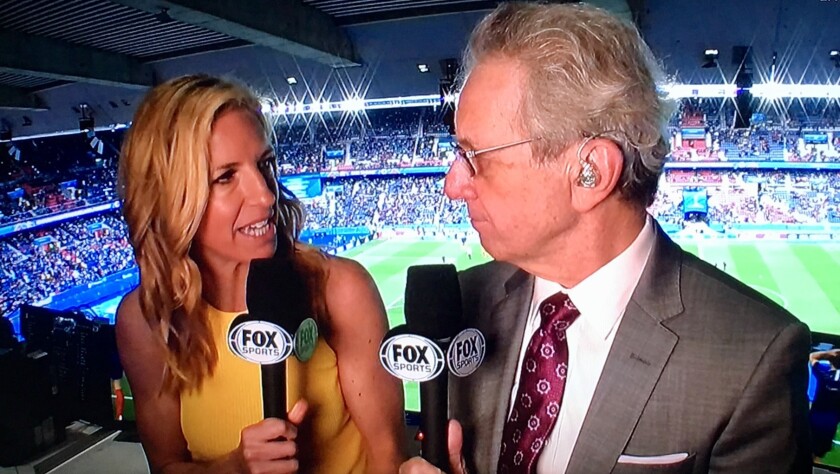 No matter what trajectory the favored U.S. team might take during the Women's World Cup, the smart investment is on Aly Wagner soccer stock the next four weeks.
The Fox Sports analyst will call her fifth global soccer event since 2015, this time with JP Dellacamera. It started with France's 4-0 win over South Korea on Friday and continues with all U.S. games and others of importance heading toward the July 7 final in Lyon, France.
The former U.S. women's national team midfielder is already noted as the first woman to be part of an English-language broadcast of a men's World Cup match, accomplished last year. Her growing fan base includes someone who knows how this media crossover and accelerated attention arc works.
"With Aly, it wasn't so much, 'How cool, a female doing a men's game,' because when I tuned it, it seemed very organic to have her there," said Jessica Mendoza, who spent the last two weeks in Oklahoma City as an ESPN analyst during UCLA's NCAA title run in softball while staying tethered to the MLB "Sunday Night Baseball" franchise she has been part of since August 2015.
"I'll watch this Women's World Cup and these new crop of players, for sure," Mendoza said, "and I'll be listening to Aly. But it's so nice that it's now more a normal thing for her to be there at an event like this."
Before leaving for France, the 38-year-old Wagner touched on some compelling topics that will arise from this tournament regarding the sport's future as well as her own.
Question: How do you wear a "breaking barriers" label that could define you or distract from your broadcasting career?
Sign up for our soccer newsletter »
Answer: You know, it's really interesting. I think I was the least likely candidate to, in my own mind, be someone who would break a barrier on the women's front. For whatever reason. I never saw myself pushing women's rights or the equality piece. I just didn't take action. It wasn't the first thing on my mind. A big reason for that is, in my mind, I've always felt equal and could do anything I want. Maybe that's self-centered because a lot of women don't have that same opportunity. But in this [broadcasting] position, this shift has totally changed everything for me. Now I would prefer it to be the biggest label connected with my name, having achieved something maybe other women were going after, and I did it in a way that has been respected and graceful and is about the craft. It's not breaking a barrier just for the sake of doing it. That's the biggest thing for me. I want to lead by example, by achieving and doing. And doing things passionate and important and valuable for me. That's what you tell your kids — put your heart into it — and I'm blessed to live the words that we preach. It's a massive shift for me.
Q: Some might remember you playing for the Los Angeles Sol of Women's Professional Soccer about 10 years ago. You also do games for the National Women's Soccer League. That league was once on the Lifetime channel but now lacks a national TV platform and streams on Yahoo. There were ebbs and flows in the women's pro game here and abroad from 1999 to 2015, and all leagues seemed to get a boost from the Women's World Cup. Could L.A. have a team again in pro soccer after this 2019 event because of a renewed push?
A: It's all very plausible and likely. From what I've seen going into this Women's World Cup, there's nothing like it before, and 2015 was massive. That's on the global scale. The attention and sponsors jumping into other leagues is only going to help us, and there will be a massive boost after this if the U.S. women achieve what we think they're capable of doing. Even if they don't win or get a deep run, it will be another tipping point — not just here but on a global scale — and we'll look back when we think about the 2019 World Cup and the aftermath that it was a special time and it will be sustainable.
Q: As much as you might have been known the last year as the first woman to call a men's U.S. World Cup match, how important is it for you to remain not just attached to the women's game but be part of its progression?
A: I think about it all the time, with the NWSL and Women's Champions League and other overseas leagues. It's important for us. Yes, I can walk into any studio and be comfortable doing commentary about the men's game, but it's incredibly important to continue to give attention and a voice to the women's side. That's where my passion started and where we need to continue to drive it the most. We have a responsibility to that.
Q: Who do you lean on for any kind of TV analysis advice, maybe as a sounding board? You seem to share a lot of the same qualities as Fox colleague Alexi Lalas.
A: Lexi is someone I look up to, and when I first got into the business, I was in awe of his presence in front of the camera and his ease with how he tries to think differently from the rest of the panel. That's my nature anyway. I love being on camera with him. I wish we do more. When we go out to a group dinner, we always end up going back and forth, firing a conversation and trying to instigate the other. There are a lot of similarities in us, for sure. Some of the best advice I've received for broadcasting is to do it like you're in a bar talking with good friend, make it sound natural. We don't do it that way in the U.S. as much, but that's a layer of what I want to bring it. I want to feel like having conversation, one full of passion.
Q: InStyle magazine has you as one of its "Badass 50" women who are changing the world as tough, outspoken, compassionate and unstoppable. A quote from you in the magazine's story says about being a broadcaster for the men's World Cup: "If I hadn't spoken up, no one would have thought to put a woman in my role. You have to know who you are, where you want to go, and be brave." So you spoke up about doing this?
A: Yes, this was pre-Copa America, and I told [Fox Sports soccer executive producer] David Neal that this was of interest to me, because if men can commentate on women's game, I'm very capable of doing men's games. The men's game interests me on so many levels. So when I first dropped that little nugget of an idea, it was probably right after that 2015 Women's World Cup, in December of that year.
Q: And was that a brave move on your part?
A: Yeah, those were some of my most challenging moments, being involved in the men's game, walking into the green room discussing our ideas for Copa America [in 2016]. I was in a discussion about a Venezuela-Uruguay match — and I did way too much research on it — and when we went around the room to pick a winner, it was reasonable for many to pick Uruguay. But I said Venezuela. And some heads turned. But when Venezuela pulled it off, I did a little dance. That green room is daunting. And then calling that men's World Cup was easily the most unnerving experience I've had. That goes through my entire soccer career. It took a lot of bravery for me. I had to know and get to a point to know what I know and be confident in that. They say failure is not an option, and even if it's a cliche, it was true for me. You just rise to the moment.
Q: If we're talking about ways to penetrate into pop culture, there's the current Sports Illustrated swimsuit issue. U.S. soccer player Alex Morgan is on it — on some covers. She calls it empowering. Do you have any reaction to that?
A: I loved it because it wasn't just Alex Morgan but also Crystal Dunn, Megan Rapinoe, Abby Dahlkemper … four uniquely different and uniquely beautiful. There's strength in what Alex said — having the confidence to be that vulnerable is really empowering. It's nothing to shy away from but embrace. That was accurate. Those four, look at what they've put out there. It's very cool they are willing to put themselves in that situation.
Q: Are you empowered to be vulnerable with this broadcasting position? There might be some just waiting for you to make a mistake, mispronounce a name, make a wrong prediction. …
A: I've always existed there, where I know I'm going to make a mistake. I already know that. So it doesn't rattle me when it happens. There's no player who connects on 100 percent of their passes. You aren't perfect, and you roll with it and get to your next point. I do feel I'm more comfortable being vulnerable and putting myself in uncomfortable situations now than I've ever been. That comes with maturity and age and experiences I've gained over the last four years.
Q: What might be next on your broadcasting check list? A Major League Soccer game?
A: I hadn't thought about that until about two years ago. Most of my focus with the men's game was international, dabbling in the Champions League. But now after doing the Women's World Cup, I'm open to it. The level of play is getting really good. I always want more challenges and do games that are interesting, and the MLS would provide both those opportunities.
Q: Even better if you could team up with JP Dellacamera?
A: The ability to work with JP, who has been the best in the business for so many years, has really been a comfortable relationship. He said it last year, when we were in Russia in 2018, that when you go through these tournaments, the experiences you remember most are with who you are traveling with, that core group day in and day out. We have hit it off, and I enjoy him so much. It'll be a wonderful experience in Paris.
---