World Cup: A closer look at the technology inside the 2018 World Cup soccer ball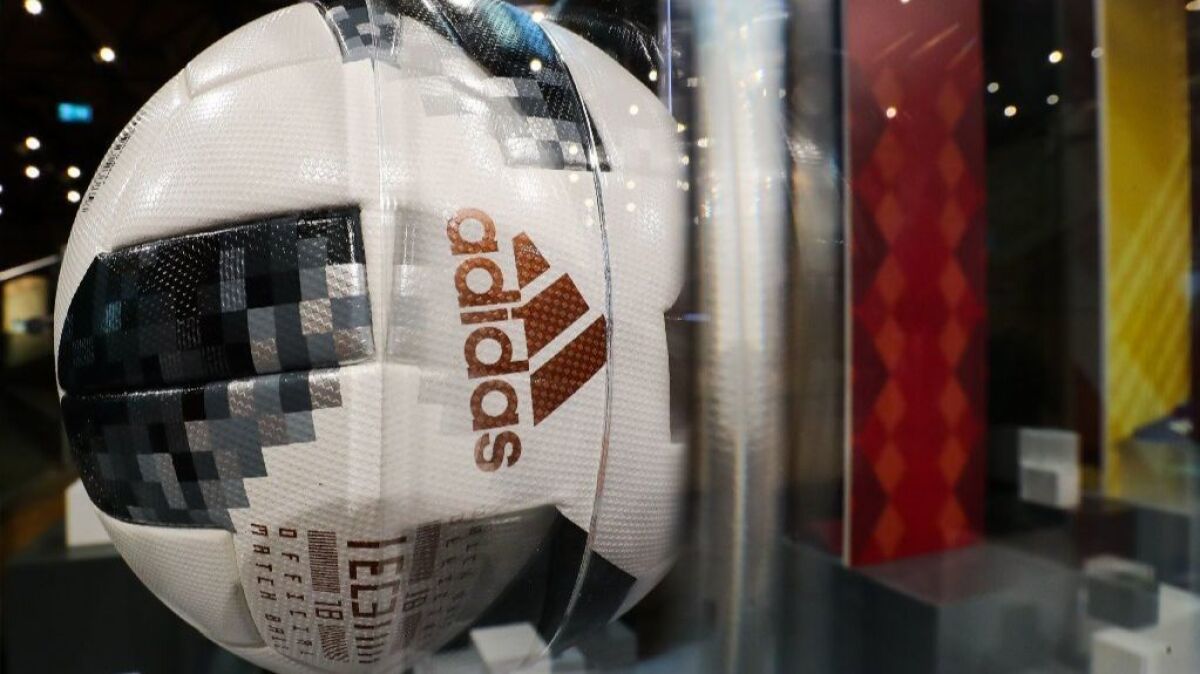 Reporting from Herzogenaurach, Germany —
To design the most technologically advanced World Cup ball in history, Adidas had to go back to a time when TV transmissions were mostly in black and white, soccer balls were made from heavy, unforgiving leather and chips were something you put in cookies, not sports equipment.
The first time a World Cup game was played with an Adidas ball was 1970. The black and white pentagon panels of that product, the Telstar Elust, became synonymous with the sport.
Roland Rommler's job as Adidas' category director for global football hardware was to help recreate that ball for this summer's tournament in Russia, while adding technological advances that would have qualified as science fiction a half century ago.
"All of our all-field products – each jersey, each boot — they all take an authentic inspiration," Rommler said. "From a brand perspective, we want to bring back the most authentic and most iconic product on the field of play, but with a modern twist."
Full coverage: 2018 World Cup »
The Telstar 18 is a high-tech, look-alike cousin of the ball that forever changed soccer. But the biggest innovation of the new model is one you can't see: Each ball is embedded with an NFC — near-field communication — chip that allows interaction with the ball via a smart phone.
The technology does not measure the ball's speed, height or curl, but that could be coming in a future version. "This is the very first step [into] the digital world," Rommler said.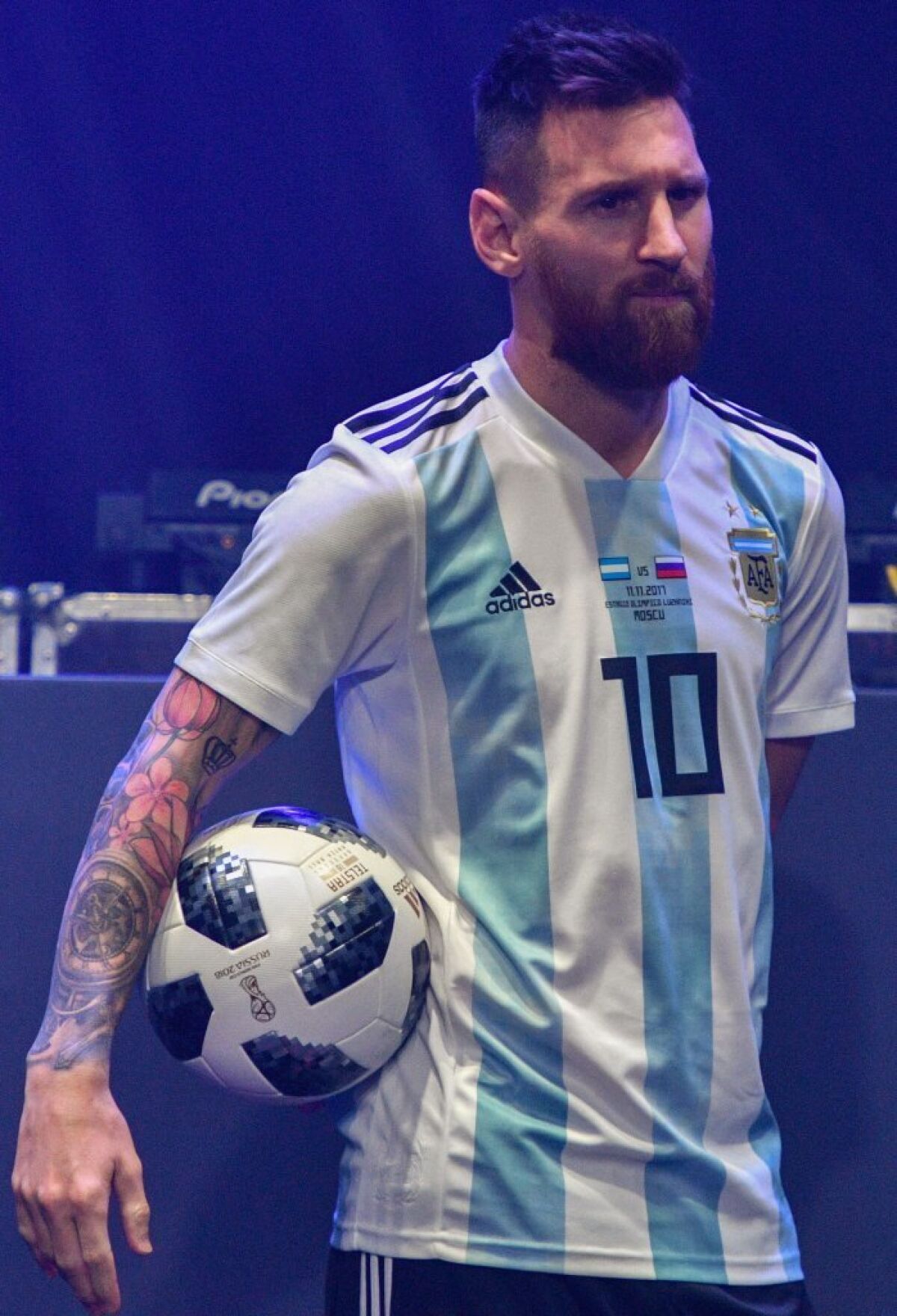 A previous Adidas model, the miCoach Smart Ball, used an integrated sensor to record strike point, spin and trajectory, but that discontinued product was never durable enough for use in competitive leagues.
The Telstar 18 allows users to do little more than interact with the ball by giving it a name or accessing content and information unique to that ball, but it's a high-performance piece of sports equipment.
Rommler said while designing the Telstar 18, technicians experimented with installing 10 to 12 microcameras. But the images captured proved more nauseating than nifty.
"We had a few pros just out of fun playing with it," Rommler said. "You became sick as a spectator because the ball was moving too fast. Sometimes you couldn't see anything. But there was some very cool footage."
The new World Cup ball comes from historic stock: the original Telstar was the first ball to use the now-familiar truncasted icosahedrom — 12 black pentagonal panels and 20 white ones. Up to then, soccer balls were leather and came in one color, often dark in hue, which made them difficult to see on television.
The Telstar, with its black-and-white pattern, was so easy to follow on TV — the 1970 World Cup from Mexico marked the first time matches from Latin America were broadcast in Europe — its name is actually a truncated version of "television star."
Five decades later, when people think of a soccer ball the Telstar is the one that comes to mind — and Rommler did the research to prove it.
"We asked design students, kids, even people working here at Adidas, please draw up a ball for us," he said. "And in 99% of all cases they [were] all white balls with pentagons.
"We call it the role model of all balls. The Godfather of all balls."
The new ball is a product of four years of design and testing, and looks are about the only thing it shares with its older relative. The original model was comprised of 32 individual panels that had to be hand-stitched together. The new one, manufactured in China and Pakistan, has just six panels that are machine-stitched around a newly designed latex bladder, ensuring a more stable performance from ball to ball.
The familiar visuals have been modernized, though, with the corners of the pentagons stretched into pixilated gradients. Similar designs have been used for the official MLS game ball.
The Telstar 18 underwent a series of rigorous tests on three continents, at altitude and at sea level, and in temperatures ranging from below freezing to over 100 degrees. It was even shot out of an air gun against a metal wall thousands of times at more than 30 miles an hour.
"The feedback we got was phenomenal on all of that," Rommler said.
Adidas won't be resting on those laurels. Because after the last ball is kicked in Russia this July, Adidas will begin work in earnest on the ball for the 2022 World Cup in the desert kingdom of Qatar.
Rommler won't discuss what technological ground that ball might break, but it will be designed to perform in temperatures of well over 100 degrees.
"Even if somebody says 'OK, that's the perfect ball now,' I can promise you in four years you'll see a completely different ball for Qatar," he said. "Because standing still means you're moving backward."
kevin.baxter@latimes.com | Twitter: @kbaxter11