Soccer has been part of Croatia's identity even before there was a Croatia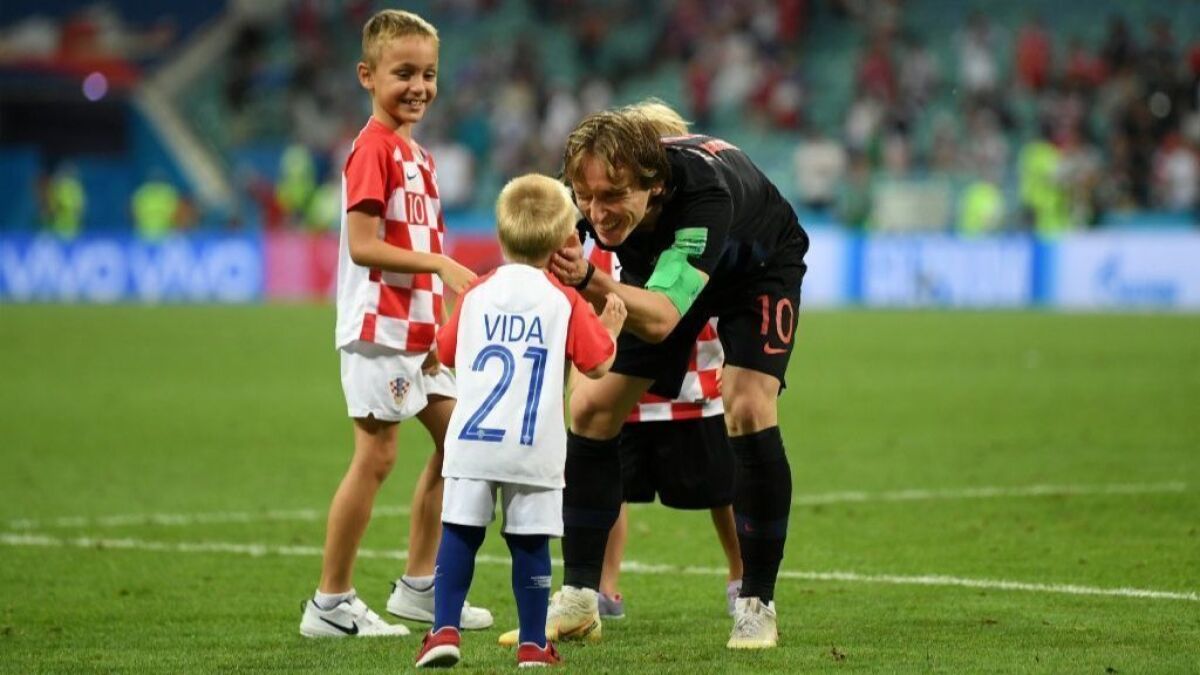 Reporting from moscow —
A couple of weeks before the Croatian national team left for Russia and the start of a surprising World Cup run that has carried it to Sunday's final, fans of Dinamo Zagreb, the country's most important club team in its largest city, gathered before a monument at Maksimir Stadium, a spot they consider hallowed ground.
It was there, at a soccer stadium, the fans say, that the country's battle for independence kicked off.
"To all the Dinamo fans for whom the war started on May 13, 1990 and ended with them laying down their lives on the altar of the Croatian homeland," an inscription on the monument reads.
Soccer has been more than a sport to many Croatians ever since that day, with the country's national team and its iconic red-and-white checkerboard jersey becoming as much an emblem of pride as the flag. And it's why the players have embraced their underdog status and used their difficult route through the knockout stage — where they came from behind to win three consecutive games in extra time — as proof of both courage and resilience, which they say are national traits.
"For Croatian football and for Croatia as a country, this is history being written," Zlatko Dalic, the team's coach, said Wednesday after a 2-1 semifinal victory over England. "We have our heart, we have our pride, we have our players."
Team captain Luka Modric, put it more succinctly before the game. "England ,have suffered less than us."
Few things have come easy for the players on the Croatian team, 17 of whom lived through at least part of the bloody dissolution of Yugoslavia, the most brutal conflict in Europe since World War II and one that left more than 140,000 dead and displaced millions more.
When Modric was 6, his grandfather, after whom he was named, was shot and killed while tending his livestock. The family moved to the relative safety of a nearby town where Modric learned to play soccer in streets and parks that were frequently targeted by artillery.
Defender Vedran Ćorluka spent the first six years of his life in the village of Modran, an area that suffered heavily during the Bosnian war. Dejan Lovren and Mario Mandzukic, who scored the goal in extra time that beat England, fled to Germany, where they lived out the war as refugees.
Before the breakup, Yugoslavia, which reached the quarterfinals of the 1990 World Cup, was known as the Brazil of Europe — which was more a compliment to the Brazilians since Yugoslavia at the time was much better.
But the winds of war were already blowing and shortly after the World Cup ended the conflict began. Before it ended, Yugoslavia had been divided into seven states, four of which — Croatia, Bosnia and Herzegovina, Slovenia and Serbia — have made it to a World Cup as independent countries.
Of the four Croatia has been the most successful, qualifying for the tournament five times and reaching the semifinals twice, in addition to the final Sunday against France.
Maybe part of that goes back to May 13, 1990, the day a national pastime and a fledgling nation were joined as one.
"No nation identifies itself with the football team as much as Croatia," said Miroslav Blazevic, one of the first managers of the Croatian national team.
By 1990 Yugoslavia was rapidly falling apart and soccer was becoming a popular — and safe — way for Croatians to express nationalist feelings by chanting and singing, waving flags and carrying banners. That was all anyone was expecting when Dinamo Zagreb, the best team in Croatia's biggest city, would play Red Star from Belgrade, the city that would become the Serbian capital.
But the game never took place.
Weeks earlier Croatia's first multi-party elections in almost 50 years had resulted in victories for parties favoring Croatian independence, so political tensions were running high when trains carrying nearly 3,000 hardcore Red Star supporters from Serbia arrived in Zagreb that morning. Shortly afterward, some in the group began to lay siege to the stadium.
Dinamo supporters fought back and the melee soon became a riot.
When police joined in on the Red Star side, Dinamo players came to the aid of their fans. Midfielder and team captain Zvonimir Boban, in uniform, his No. 10 facing the camera, was photographed kicking an officer in the stomach. By the time the riot ended more than an hour later, 60 people had been wounded and Boban's actions — which cost him a place on the Yugoslav World Cup team — had made him an icon in Croatia, for whom he would make 51 international appearances.
"Here I was, a public face prepared to risk his life, career and everything that fame could have brought, all because of one ideal, one cause; the Croatian cause," said Boban, a FIFA deputy secretary general, whose attack on the policeman soon became known as "the Kick that Started a War."
It would take nearly a year for the shooting and shelling to break out, yet the game that was never played is seen by many as the unofficial start of the Croatian war of independence.
Twenty years later CNN called the match that was never played one of five football games that changed the world. And now Croatia's improbable run to the World Cup final has reignited national pride and purpose.
Robert Prosinecki, a member of the 1998 Croatian team that reached the World Cup semifinals, told AFP that Croatians needed a "bit of happiness to come together again, to cheer, to let ourselves feel euphoria and be united.
"Football has enabled this," he continued, "because after a 20-year absence we are back among the top nations."
kevin.baxter@latimes.com | Twitter: @kbaxter11
---
All about the beautiful game
Go inside the L.A. pro soccer scene and beyond in Kevin Baxter's weekly newsletter.
You may occasionally receive promotional content from the Los Angeles Times.