World Cup: Radamel Falcao, James Rodriguez lead Colombia into World Cup competition
Reporting from moscow —
Four years ago, as Colombia prepared for its first World Cup in 16 years, Radamel Falcao struggled to get healthy.
An ACL injury had sidelined him for nearly six months but Falcao waited until the week before the tournament to admit he wouldn't be able to play. His sadness soon turned to envy as he watched an unheralded 22-year-old teammate named James Rodriguez lead Colombia into the quarterfinals unbeaten.
This summer both Rodriguez and Colombia could be even better thanks to Falcao, the country's all-time leader scorer, who will finally make his World Cup debut at 32.
Full coverage: 2018 World Cup »
"The story's different now," he told reporters before leaving for Russia. "I'm making the most of every moment with my teammates, getting us ready for this World Cup that we're very excited about."
Brazil was Rodriguez's coming-out party. He finished as the tournament's leading scorer with six goals in five games, so he won't catch anyone by surprise this summer. Nor will Falcao, who was nominated for the 2017 Ballon d'Or — awarded to the world's top player — and who has scored 51 goals in all competitions the last two seasons for Monaco of France's Ligue 1.
Together they've written a new chapter in Colombian soccer history, one they'd like to conclude with a happy ending in Russia.
The country enjoyed a golden era of soccer in the 1990s, when its national team qualified for three consecutive World Cups, reached the quarterfinals of five straight Copa Americas and was ranked fourth in the world by FIFA — dominance aided in part by the largesse of Colombia's soccer-loving drug cartels.
But the cartel leaders also wagered heavily on their team and that proved a problem when Colombia stumbled in the 1994 World Cup, exiting in the group stage after defender Andres Escobar's own goal proved the difference in a loss to the United States.
Shortly after Escobar returned to Colombia, he was ambushed in the parking lot of a Medellin bar by three gunmen who shot him six times — with one taunting the player by shouting "goooool" as Escobar writhed on the pavement. The killers were under orders from a drug trafficker who had invested heavily in Colombia soccer, then was embarrassed to see the team lose in the World Cup.
Escobar's murder marked a turning point in Colombia. More than 120,000 mourners attended his funeral, a statue was dedicated to him in his hometown of Medellin and his family founded a soccer program, in his memory, for disadvantaged youth.
More important, however, was the fact the tragedy marked the beginning of the end of the link between the cartels and Colombian soccer and the enormous pressure that came with the connection. It led, however, to a long and difficult transition.
Colombia missed three straight World Cup tournaments, failed to advance beyond the group stage of the Copa America in 2007 — the first time that had happened in nearly two decades — and fell as far as 49th in the world rankings before a new generation led by Falcao, defender Cristian Zapata, midfielder Carlos Sanchez and goalkeeper David Ospina began to bring the country back.
That mix began to jell in 2012 when a former taxi driver named Jose Pekerman was hired as coach. The 68-year-old Argentine comes to Russia this summer as the second longest-serving coach as any major South American national team.
"Without a doubt Pekerman's arrival turned things around," Falcao, quoted by Agence France-Presse, said of the coach.
"He tried to give us the necessary belief to go out there with freedom and play the kind of football that we're used to."
He might have Colombia peaking at the right time. The team heads into next week's opener in Russia unbeaten against World Cup teams this year, including a 3-2 win over France, a tournament favorite.
For Colombia to succeed, however, Pekerman will need to get Rodriguez and Falcao on the same page because for all they share, what they appear to lack is chemistry. They are two of the top scorers in South America yet Colombia had just 21 goals in 18 World Cup qualifiers as the team placed fourth in the tournament, squeezing out a trip to Russia by one point.
Brazil, which won the CONEMBOL event, had nearly twice as many goals. And Colombia had to rely on Ospina to pitch shutouts in its last two World Cup tune-ups to earn scoreless draws.
To advance in Russia, Colombia will have to become the team it was four years ago when it scored 12 times in five matches in Brazil. Pekerman, who took Argentina to the quarterfinals of the 2006 World Cup, appears unconcerned.
"My team," he said this spring, "has the character of a World Cup side."
A look at the teams in Group H:
COLOMBIA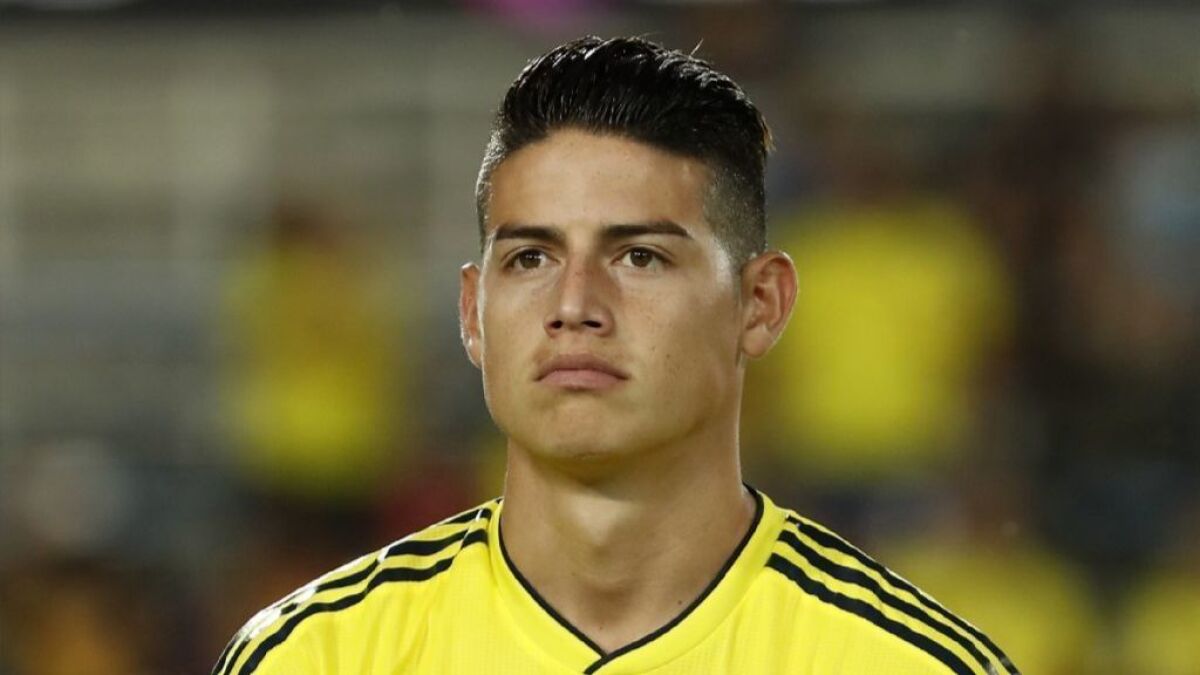 FIFA world ranking: 16
Last World Cup: 2014
Best World Cup finish: Quarterfinals, 2014
How qualified: Finished fourth in South American qualifying.
Key players: MF James Rodriguez, F Radamel Falcao, GK David Ospina
It's a fact: Colombia won more games – four – in the last World Cup than it had in four previous tournaments combined.
The skinny: This Colombian team will play a lot like the one that followed Rodriguez to the quarterfinals four years ago. Coach Jose Pekerman allows his playmaker the freedom to drift wide, drop deep or push forward, depending on his mood. That allows Colombia to play in a number of formations. And with the return of Falcao, who missed the last World Cup with an injury, Colombia should have even more options offensively. But to really make things click, the team will need more production out of the rest of the midfield.
JAPAN
FIFA world ranking: 61
Last World Cup: 2014
Best World Cup finish: Round of 16, 2010, 2002
How qualified: Won Asian qualifying group.
Key players: MF Keisuke Honda, MF Makoto Hasebe, D Yuto Nagatomo
It's a fact: The sacking of Bosnian coach Vahid Halilhodzic in April in favor of Akira Nishino made Japan one of seven World Cup teams to make a managerial change in the last year -- and one of four to do so after qualifying.
The skinny: Honda and midfielder Shinji Kagawa are arguably the most technical players in Japanese history. But their supporting cast? Not so much. After a pair of winless games against Mali and the Ukraine in March, the Japanese federation fired Halilhodzic – who countered with a lawsuit – and that move left Nishino, the new coach, less than three months to figure things out. With the underwhelming roster he's taking to Russia, that won't be near enough time.
POLAND
FIFA world ranking: 8
Last World Cup: 2006
Best World Cup finish: Third place, 1982, 1974
How qualified: Won European qualifying group.
Key players: F Robert Lewandowski, GK Wojciech Szczesny, MF Piotr Zielinski
It's a fact: In the World Cup for the first time in 12 years, Poland hasn't gotten past the group stage since 1986.
The skinny: Center back Kamil Glik was a big part of Poland's plans for Russia but he's out of the tournament after hurting his shoulder in training. That's bad news for a defense that was leaky to begin with and it puts additional pressure on Lewandowski, who will now have to carry even more of the load for Poland. The Bayern Munich striker scored 16 of Poland's 28 goals in the 10-game UEFA qualifying event to lead the tournament. Lewandowski will get ample support from a midfield of Zielinski, Karol Linetty and Grzegorz Krychowiak. That might be enough to advance out of a weak group.
SENEGAL
FIFA world ranking: 27
Last World Cup: 2002
Best World Cup finish: Quarterfinals, 2002
How qualified: Won African qualifying group.
Key players: MF Sadio Mane, MF Cheikhou Kouyate, MF Idrissa Gueye
It's a fact: Although Senegal reached the quarterfinals in its only World Cup appearance in 2002, upsetting defending champion France in its first match, wrestling is country's national pastime.
The skinny: Senegal may be the most unpredictable team in the World Cup. Mane, who plays his club soccer for Liverpool, and Keita Balde, who was born in Spain and plays in France for Monaco, provide speed and athleticism to a deep attack while Kalidou Koulibaly (Napoli) anchors a capable defense. But the team's performance on the field rarely adds up to the hype of its parts and coach Aliou Cisse may have made that worse by failing to settle on a set style of play. The result is a lot of uncertainly for a team that could make a deep run in the tournament -- or just as easily bow out in the first round.
SCHEDULE
June 19: Colombia vs. Japan in Saransk; Poland vs. Senegal in Moscow
June 24: Japan vs. Senegal in Yekaterinburg; Poland vs. Colombia in Kazan
June 28: Japan vs. Poland in Volgograd; Senegal vs. Colombia in Samara
kevin.baxter@latimes.com | Twitter: @kbaxter11