World Cup: Mexico goal is to win group, not just qualify for next round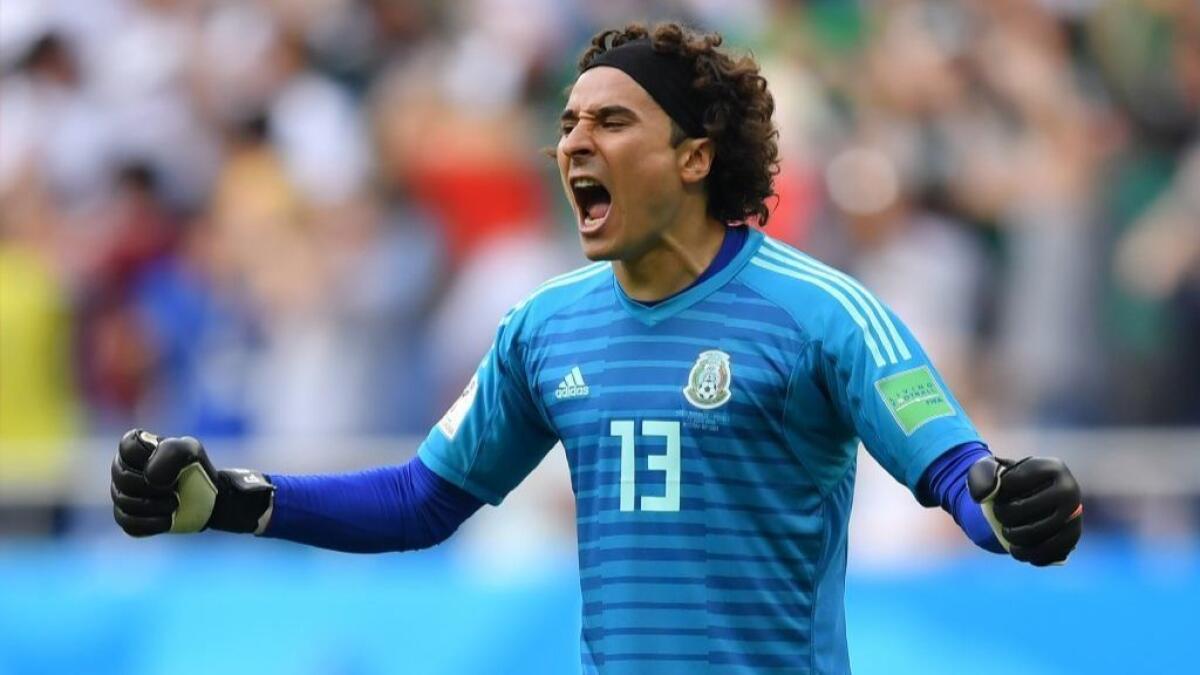 Reporting from moscow —
Guillermo Ochoa doesn't need a slide rule or a calculator to figure out the complicated scenarios facing Mexico as it tries to win its group and advance to the second stage of the World Cup.
Instead, Mexico's goalkeeper has broken it down to the basics: Beat Sweden on Wednesday in distant Yekaterinburg, on the border separating Asia from Europe, and the team moves on. Lose, and there's a chance Mexico comes home.
And that's just how he had figured it would go all along.
"We hadn't done any sort of mathematical calculations," Ochoa said at a news conference. "We knew that we were going to play for first place against Sweden.
Full coverage of the 2018 World Cup »
"My dream, along with that of my teammates, is for us to stay here until the very last day. It's something that I believe in, that I feel, that I'm imagining and that I'm wishing for. And nobody here or anywhere else is going to keep me from dreaming that."
That's not the first time Ochoa has talked about dreams during a World Cup in which he's made a tournament-high 14 saves while allowing just one goal. But the World Cup could just as easily become a nightmare if Mexico doesn't manage at least a draw with Sweden.
Mexico needs a point to move on to the knockout round as the group champion; a win or draw will accomplish that. But a loss to Sweden, combined with a German win over South Korea in the other Group F finale, would open up a whole range of possibilities, many of which would end the tournament for El Tri.
If Sweden and Germany both win, for example, the three teams will finish group play with six points. Goal differential will determine who advances. If Germany and Sweden's margin of victory is two or more goals, that would send Mexico home. There are other even more complicated tiebreaking scenarios based on head-to-head results, margins of victory and, presumably, a coin flip or a game of paper-scissors-rock, that do not work in Mexico's favor either.
So the easiest way to keep the dream alive would be to win.
"Our goal is clear: It's to finish first in the group," Ochoa said. "We have it in front of us, it's in our hands, it depends on us. We're not depending on anyone else.
"We're a national team whose goal is to go after games, to stand out, become protagonists and the way to do that is to play good soccer on the field."
Mexico has managed to do that through its first two games in Russia. With coach Juan Carlos Osorio managing a brilliant tournament in which he's been tactically flexible and made all the right moves, Mexico stunned reigning champion Germany 1-0 in its opener, then beat a physical South Korean team 2-1 in a game in which the Koreans seemed more intent on fouling than scoring.
Now Mexico faces a tight, cohesive Swedish team that outshot and outpossessed South Korea to win its opener before conceding ball control against Germany, which needed five minutes of stoppage time to find the winning goal. And that has Mexico guessing which approach the Swedes will take Wednesday.
"Today, soccer is very competitive. There are no big differences in teams like in the past," defender Miguel Layun said. "Today, every team can compete with any other team."
kevin.baxter@latimes.com | Twitter: @kbaxter11