World Cup notes: Games might be sold out, but there have been many empty seats at games
Reporting from moscow —
The World Cup opener in Moscow drew a rabid crowd of more than 78,000 Thursday, but the tournament wasn't as warmly embraced in Yekaterinburg, where Friday's game between Egypt and Uruguay was watched by wide swaths of empty seats.
Attendance at Yekaterinburg Arena was listed at 27,015, more than 6,000 below capacity, although that appeared to be a very generous account given the vast number of empty seats visible on TV. Most of the vacant seats were the bright orange ones in the lower bowl, where viewers couldn't miss them.
Crowds at the two other second-day games were much better. In Krestovsky Stadium, a modern $1.1-billion retractable-roof venue in St. Petersburg, 62,548 showed up to watch Iran beat Morocco, although that's still nearly 2,000 short of capacity. In Olympic Stadium in Sochi, Portugal vs. Spain — one of the World Cup's most compelling first-round matchups — drew 43,866. Not a sellout, but close.
None of the tournament's first three games had an attendance that matched the stadium capacity, although the World Cup's official ticketing website showed nearly all seats had been sold for every match, except some in the expensive 1 and 2 categories.
As the World Cup approached, that forced desperate fans to turn to the secondary ticket market where seats for another first-round match in Yekaterinburg — between Peru and France — were selling for nearly $1,400, which is more than six times face value.
Last week FIFA filed a criminal complaint against Viagogo, a Geneva-based secondary ticketing company, after receiving numerous complaints.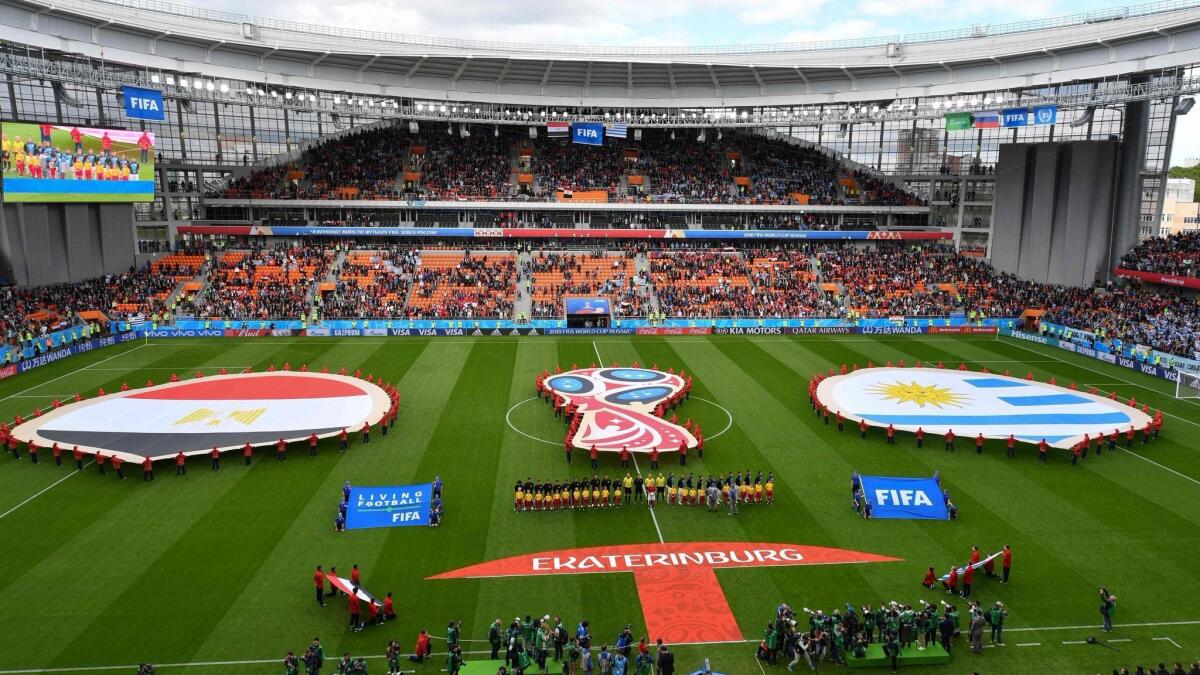 Lo siento, comrades
It appears as if all is forgiven between midfielder Denis Cheryshev and the Russian media, who weren't on speaking terms heading into the World Cup opener.
Cheryshev, who was born in Nizhny Novgorod but grew up in Spain, had played just seven minutes for Russia in the last two years. So after watching the team's last World Cup warm-up from the bench last week, he spoke only to Spanish-speaking reporters, declining to answer questions posed in Russian.
That touched off a firestorm in the Russian media. But after Cheryshev scored twice in a 5-0 rout of Saudi Arabia on Thursday, some of those same reporters greeted him with warm applause at a postgame news conference.
Cheryshev, whose career in Spain's La Liga has been disrupted repeatedly by injuries, came on in the 24th minute after Alan Dzagoev pulled a hamstring. Cheryshev would score less than 20 minutes later, becoming the first substitute to score in a World Cup opener.
"I'm absolutely happy for the team and for my whole family, because they've suffered so much with my injuries," he said in Russian, through a translator.
After asking permission, he also answered a question in Spanish.
"I could never, ever dream something like this," he said.
Hail to the Chief
It took a couple of days, but Donald Trump finally weighed on FIFA's vote to award the 2026 World Cup to a three-nation bid shared by Mexico, the U.S. and Canada.
"Thank you for all of the compliments on getting the World Cup to come to the U.S.A., Mexico and Canada," he wrote Friday in a predawn tweet. "I worked hard on this, along with a Great Team of talented people. We never fail, and it will be a great World Cup!"
Last spring, at the urging of friend Robert Kraft, owner of the NFL's New England Patriots and the New England Revolution of the MLS, Trump addressed three letters to FIFA president Gianni Infantino guaranteeing no teams, officials or fans would face restrictions on entering the U.S. for the World Cup.
kevin.baxter@latimes.com | Twitter: @kbaxter11