Croatia didn't pay the penalty for misses this time around
Reporting from st. petersburg, russia —
For Luka Modric it was like déjà-vu all over again.
When the Real Madrid midfielder lined up for a penalty kick in extra time of a round-of-16 game with Denmark 10 days ago, he had a chance to send Croatia on to the World Cup quarterfinals. Only his weak try was gobbled up by Kasper Schmeichel, preserving the tie and sending the game to a shootout to decide who would advance.
Ten years earlier, in the first knockout round of the European Championship, Modric lived a similar nightmare, failing to convert a penalty try in a game Croatia would go on to lose to Turkey.
"The Turkey game was still in our minds. I think it was in everyone's minds because it was so tough for us, that defeat," Modric said.
But if Croatia couldn't change the result of that match it could still save the second one – which it did, with Modric and Ivan Rakitic, who also missed a penalty try in the Turkey loss, both making their shots against Denmark.
Six days later, both did it again in a penalty shootout with Russia, making Croatia the first team to win consecutive shootouts in a World Cup since Argentina in 1990. The South Americans were shut out in their next game, losing the final to West Germany 1-0.
"The victory says a lot about our spirit," said Modric, who like many from Croatia, a country which rose from the ashes of civil war, lived for a time in refugee camps. "I said before the game that since 2008 we had never passed the first knockout game and it was very important for us to take the monkey off our back. And we did it."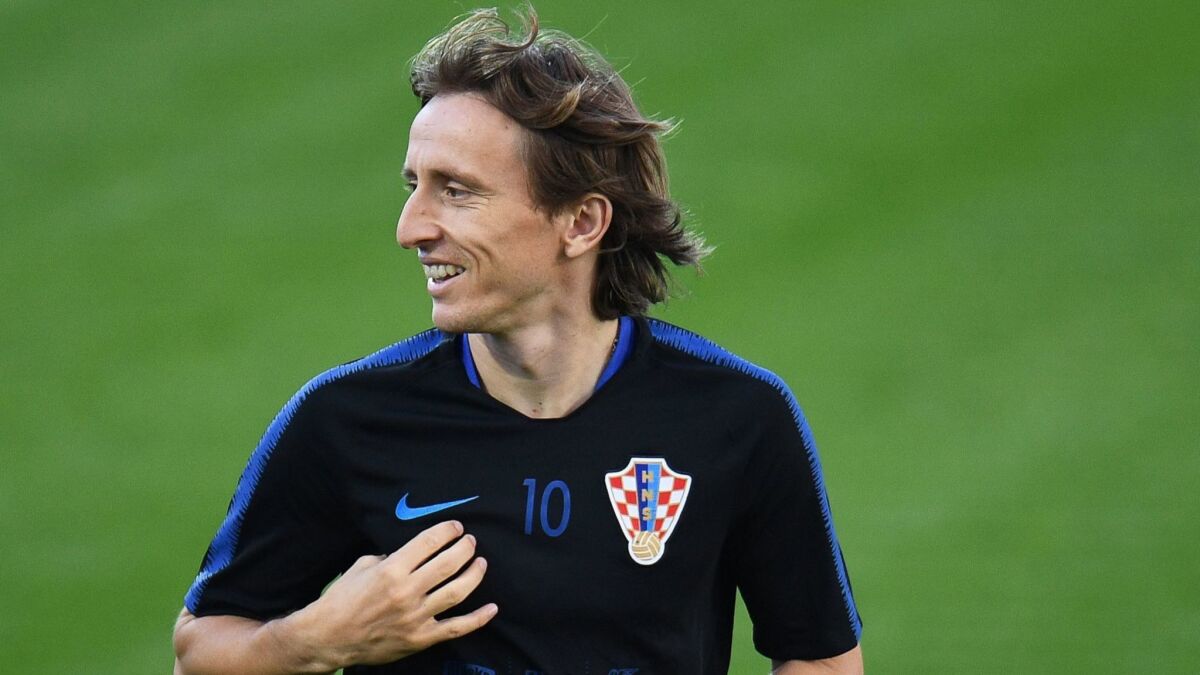 Now Croatia goes into Wednesday's semifinal with England in Moscow – its second semifinal in five World Cup appearances as an independent nation – fueled primarily by adrenaline after playing more than 240 minutes in the last 10 days.
"England have suffered less than us. And we have fewer days to recover for the semifinal than we did for the quarterfinal," Modric said. "But it's a semifinal. We will find the extra motivation, the extra everything."
Thai team turns down FIFA invite
The youth soccer team rescued from a cave in Thailand has been forced to decline an invitation from FIFA to attend Sunday's World Cup final in Moscow.
The last four of the boys and their 25-year-old coach were rescued Tuesday from a flooded cave in northern Thailand, ending an ordeal that lasted more than two weeks.
"We have been informed by the Football Assn. of Thailand that due to medical reasons, the boys will not be in a position to travel to Moscow for the FIFA World Cup final," the sport's governing body said Tuesday after the rescue operation was completed.
FIFA isn't taking no for an answer, though.
"We will look into finding a new opportunity to invite the boys to a FIFA event to share with them a moment of communion and celebration," the organization said in a statement.
Others in the soccer world also reached out, with England defender Kyle Walker promising to send some team jerseys and English Premier club Manchester United extending an invitation to visit Old Trafford.
In 2010, the team hosted a group of miners from Chile who spent almost 10 weeks underground before being rescued.
Will this work for the 405?
The British government says roadways are expected to have one-third less traffic than normal when England plays Croatia on Wednesday.
Highways England says traffic analysis on each of the England match days to date showed that during the games demand reduced by up to 33%. The agency said in a statement that roads were not busier than normal before or after games, "suggesting people are often choosing not to travel or to travel at completely different times."
The Associated Press contributed to this story.
kevin.baxter@latimes.com | Twitter: @kbaxter11
---
All about the beautiful game
Go inside the L.A. pro soccer scene and beyond in Kevin Baxter's weekly newsletter.
You may occasionally receive promotional content from the Los Angeles Times.