Croatia's tank far from dry after three extra-time wins
Reporting from moscow —
Croatia's players should have been tired Wednesday during their World Cup semifinal with England.
They had already played two extra-time games in the tournament's knockout stage, winning both in penalty-kick shootouts. No team had ever won three straight overtime games in a World Cup. Until now.
Croatian captain Luka Modric said his team embraced the challenge of doing things the hard way, adopting the motto "We will see who will be tired" as a rallying cry.
It worked, as Croatia defeated England 2-1 in extra time.
"Three times 120 minutes," defender Dejan Lovren said, referring to the amount of time Croatia has played over the last 11 days. "And fresher legs today than the English team."
In the postgame giddiness, midfielder Ivan Rakitic said his team can go another 120 minutes if needed in Sunday's final against France. The last three World Cup finals have gone to extra time.
"We still have lots of energy in the tank," Rakitic said.
Croatian coach Zlatko Dalic joked that the team is to blame for all the overtime it has turned in.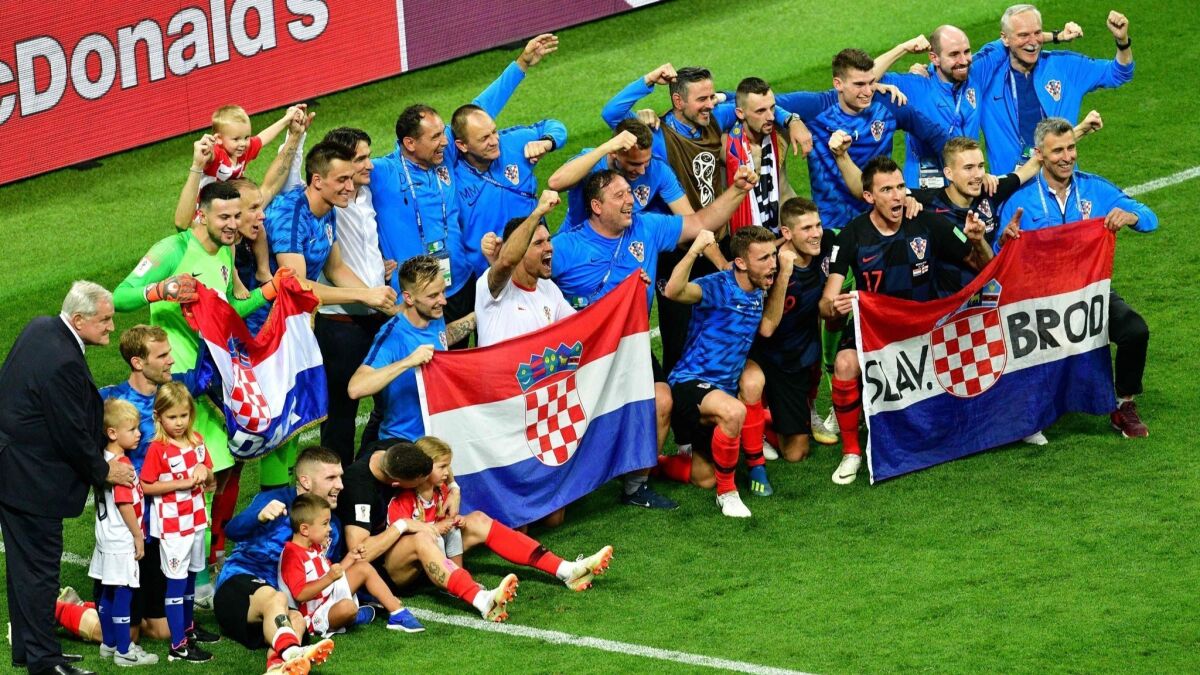 "It's our fault," he said. "Why didn't we score earlier? Why didn't we finish the job in regulation time?"
Croatia will be appearing in its first major championship final.
Choosing sides at NATO
NATO may be a military alliance but its members are all soccer-playing countries so the Croatia-England match got its share of attention at this week's summit in Brussels.
"We followed the game over dinner," Croatian President Kolinda Grabar-Kitarovic told the Associated Press on Thursday. "It was wonderful because all the allies were cheering for all of us, mostly."
Among those at Grabar-Kitarovic's table Thursday was French President Emmanuel Macron.
France has a population of more than 67 million; only 20 countries have more people. Croatia has about 4 million people, less than Oman and Kuwait. So if it wins Sunday, it will be the least-populous nation to win soccer's world championship since Uruguay in 1950.
"This will be a successful summit and we will win on Sunday," Grabar-Kitarovic confidently predicted.
England's bright future
England's players, so confident they would win Wednesday, stood shocked in front of their supporters in the east end of Luzhniki Stadium after the final whistle, not knowing quite what to do next.
"Obviously everyone's gutted," said defender Tim Cahill, who could make his final appearance in an England shirt Saturday in the third-place game with Belgium. "Everyone's upset. Unless you win this tournament there's always going to be not a nice feeling."
But amid the pain, England coach Gareth Southgate found some positives. England's run in Russia was its longest in a World Cup in 28 years, and along the way it won a penalty-kick shootout — something that has long bedeviled the Three Lions.
And it did all that with a starting lineup that averaged less than 26 years of age, meaning this team is likely to be back.
"I am trying to get the balance right of recognizing tonight was a wonderful opportunity for us but equally we want to be a team that can get to the semifinals and finals in the future," Southgate said Wednesday. "We've proved that is possible. We've proved it to ourselves and to the country.
"Now we have a new benchmark and level of expectation. Many of these players have come of age on the international stage. If we've brought joy back home, which I know we have, then it's been worthwhile. We should be proud of that, no question."
Argentine to officiate final
FIFA has selected Argentina's Nestor Pitana to referee the final between France and Croatia. It will be the fifth game at this World Cup for Pitana, and his second working with France and Croatia.
American official Mark Geiger will be one of the video-assistant referees for the third-place match in St. Petersburg.
Twitter: @kbaxter11
---
All about the beautiful game
Go inside the L.A. pro soccer scene and beyond in Kevin Baxter's weekly newsletter.
You may occasionally receive promotional content from the Los Angeles Times.