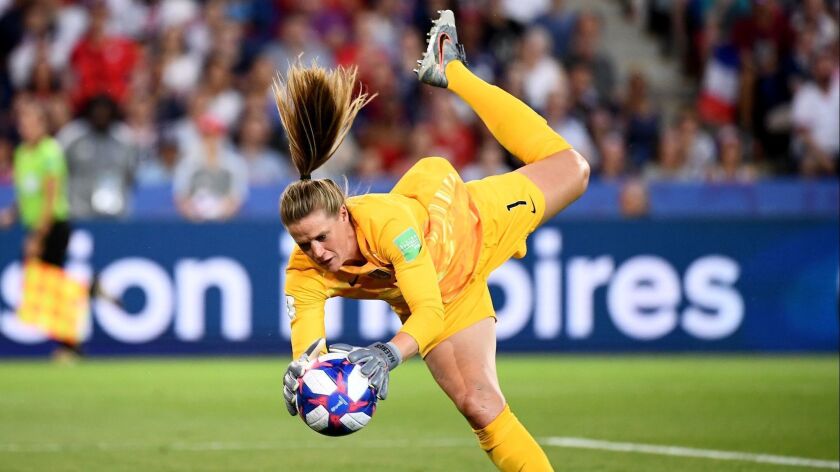 Reporting from LYON, France —
Despite her splendid play leading into this Women's World Cup, there was more than a little concern over how Alyssa Naeher would react to her first starting assignment in a major tournament.
Those worries have faded, with Naeher becoming the first U.S. goalkeeper to post three shutouts in the group stage, then making game-saving stops to preserve one-goal wins over Spain and France in the elimination rounds.
"Our team wouldn't be our team without Alyssa," forward Christen Press said. "People probably don't think that because she doesn't have a big media personality and she's not front and center in the news and in the team photos."
The contrast with Hope Solo, the woman Naeher succeeded, couldn't be starker. Solo was in the headlines almost as often as she was in goal, thanks in part to two domestic violence cases and two suspensions from U.S. Soccer, the second of which ended her career.
Sign up for our weekly soccer newsletter »
And she's stayed in the spotlight during this World Cup, repeatedly taking shots at Jill Ellis, her former coach, for the BBC, for whom she has done commentary during the tournament. This week she wrote a piece for the Guardian newspaper under the headline "An insider's guide to how England can beat USA."
Solo produced on the field, though, setting national team records for games, wins and shutouts — a mind-boggling 102 in 195 starts — while winning two Olympic titles and a Women's World Cup.
"Totally different people. Different experience, different relationship with the players on the team. Different personalities," Press said when asked to compare Solo and Naeher. "Both confident, but in very different ways.
"This being Alyssa's first big tournament as the starting keeper, she's shown great confidence and composure. It's been really cool to see her step into this moment."
Coming into this summer, Solo and Briana Scurry had combined to start 36 of the last 37 Women's World Cup games for the U.S. Naeher said she learned from watching both but hasn't tried to copy either.
"I just try to be me," she said. "What you see is what you get. My focus, my mentality is: 'How can I help this team win? How can I be the best teammate and player that I can be?'
"I've been playing for as long as I can remember and this is the ultimate goal," she said of the World Cup. "When you start out, this is where you want to get to."
Did Serena Williams commit an unforced error?
Tennis star Serena Williams is an American sports icon but if England upsets the U.S. on Tuesday, Williams might be due an unwitting assist.
Williams shared a hotel with the English team last month and told some of the players she was impressed by how fit they were, a compliment the women have taken to heart.
"For her to say that about us is amazing," English captain Steph Houghton said. "That's what we want to pride ourselves on, the hard work, the ability to be one of the fittest teams in the world and to be really humble in everything that we do. So for someone of that caliber and so much status to say that about me and my teammates is unbelievable and I'd like to thank her for that.
"For us, fitness is a priority to be competing against the best teams in the world — and we are one of them. Against the USA on Tuesday, it's going to be our physical attributes that could potentially win us the game."
Etc.
The popularity of the American women's national team isn't limited to revenue and TV ratings, where they've regularly outperformed the U.S. men in recent years. Now they're selling more merchandise too, with Nike saying the team's home shirt has become the company's top-selling soccer jersey for a single season ... The broadcast of the Netherlands' quarterfinal victory over Italy drew an 80.3 share on TV's NPO 1, meaning four of every five television sets in use at the time were tuned to the game ...The record heat wave that has been punishing Europe has broken and the forecast for the U.S.-England kickoff Tuesday calls for sunny skies and temperatures in the mid to high 70s.
---