Women's World Cup notes: U.S. cares more about opponents' style than where they live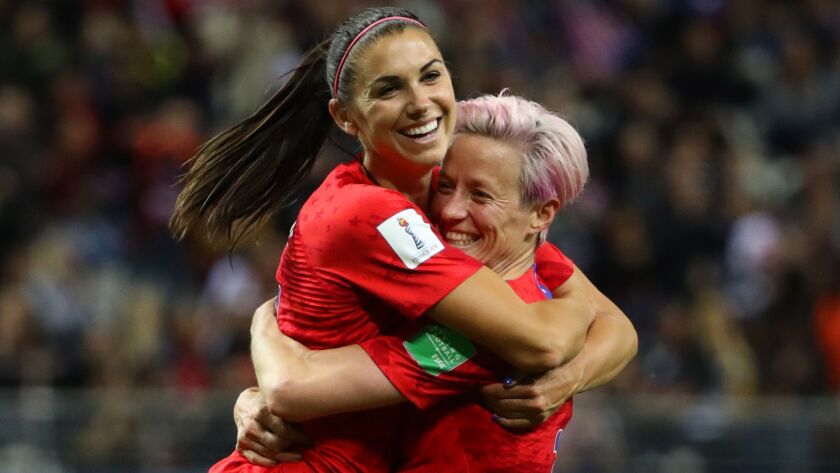 Reporting from Lyon, France —
With the Netherlands beating Italy and Sweden upsetting No. 2 Germany on Saturday, the Women's World Cup final four is set. And with the exception of the U.S., which will play England in the first semifinal Tuesday, the teams are all from Europe
That's happened once before, in 1991, when the U.S. won over a semifinal field that included Norway, Sweden and Germany.
But U.S. coach Jill Ellis said how a team plays is more important than where the players live.
"When you look at the top 10 teams in the world, you don't really think about where their home base is. It's more about the style for the team that you're going to play," she said.
"We're obviously the only non-European team left. But in terms of how we're approaching this, how we feel, we're just excited to be continuing in the tournament."
As it turns out, the U.S. coaching staff is more European than the semifinal field. Ellis was born in England, as was goalkeeper coach Graeme Abel and high-performance coach Dawn Scott. Assistant Tony Gustavsson is from Sweden.
U.S. captain Alex Morgan said there's no concern their loyalties will be split.
"They've adopted an American mentality," she said.
Talking the talk
The American players' self-confidence in this Women's World Cup has been widely interpreted as cockiness — which it probably is.
But Megan Rapinoe said you need to be confident, maybe even a little arrogant, to succeed on the sport's biggest stage. So she applauded the comments of England coach Phil Neville, who said, "We want to come home with that World Cup."
"If you're at this stage in the tournament and you're not trying to win the World Cup, I don't know what you're doing here," Rapinoe said. "Every team should feel like that. Every team that qualified for the World Cup should feel like that. Certainly the biggest teams in the game.
"They're in great form right now. They had a totally dominating performance. They should absolutely feel confident."
Then she paused and smiled.
"We love confidence in America, don't we?" she added.
A familiar foe
The Americans' quarterfinal win over France on Friday didn't end until 11 p.m. local time, meaning the players didn't get back to their hotel until around 1 a.m. Saturday. They managed to make a 1 p.m. train for the two-hour trip to Lyon, about 300 south of Paris, where the semifinals and final will be played.
The U.S. will have just three rest days between the quarterfinal and semifinal, one day less than England. But the English also had a longer commute from Le Havre, on the English Channel, where it played its quarterfinal. Temperatures are expected to approach 100 degrees in Lyon on Sunday, dropping to 85 with a chance of rain on game day.
Morgan said there was no chance the U.S. will have trouble refocusing on England after the emotionally draining win over France. The Americans have played England in each of the last five years, losing just once, and the players scouted them on TV during their quarterfinal win over Norway.
Sign up for our weekly soccer newsletter »
"We were watching pretty closely," Morgan said. "So now it's all about recovering for them. They've really built their game over the last couple of years and we've been fortunate enough to play them every single year.
"So I think that we'll see something that we've seen quite a bit of. But now it's just who's going to show up."
Fox audience spikes for U.S.-France
The U.S. quarterfinal win over France pulled in nearly 6.125 million viewers on Fox, peaking at 8.24 million, according to Nielsen Media Research, making it the most watched Women's World Cup quarterfinal ever on U.S. television.
Despite the midday, weekday kickoff, the audience marked a 7% increase from the Americans' quarterfinal victory over China in 2015 in Canada.
In addition, the game drew an average-minute audience of 211,000 on Fox streaming services.
kevin.baxter@latimes.com | Twitter: @kbaxter11
---
All about the beautiful game
Go inside the L.A. pro soccer scene and beyond in Kevin Baxter's weekly newsletter.
You may occasionally receive promotional content from the Los Angeles Times.