Numbers back France's claim of being soccer's dominant nation
Reporting from NIZHNY NOVGOROD, Russia —
Ask Didier Quillot who he is supporting in the World Cup and the chief executive of France's first-division league pauses to work up the proper amount of disdain before answering.
"Who am I for? For France, obviously," he eventually said Wednesday. "I am French. So I am a supporter of my country. "
The answer really isn't that obvious, though, because Quillot's league has 19 players spread across the rosters of six of the eight teams in the tournament quarterfinals. The leading scorers for Uruguay and France play in Ligue 1. Goalkeeper Danijel Subasic, the hero of Croatia's victory in the round of 16, plays in France. So does Brazil's Neymar, arguably the best player left in the tournament.
Most of them will play Friday when Uruguay and France meet in Nizhny Novgorod, and Brazil plays Belgium in Kazan. All four teams are unbeaten.
"Ligue 1 in now clearly the No. 3 championship after the Premier League and the Spanish Liga," said Quillot, whose league trails only the EPL and La Liga in World Cup goals. "And in terms of a country, France is clearly the No. 1 country is terms of talent."
Quillot is mixing apples and oranges because Ligue 1, like any league, can sign players without regard to nationality. And in recent years it has signed some extraordinary ones, including Neymar, the most expensive player in history, and Sweden's Zlatan Ibrahimovic, the most talkative one.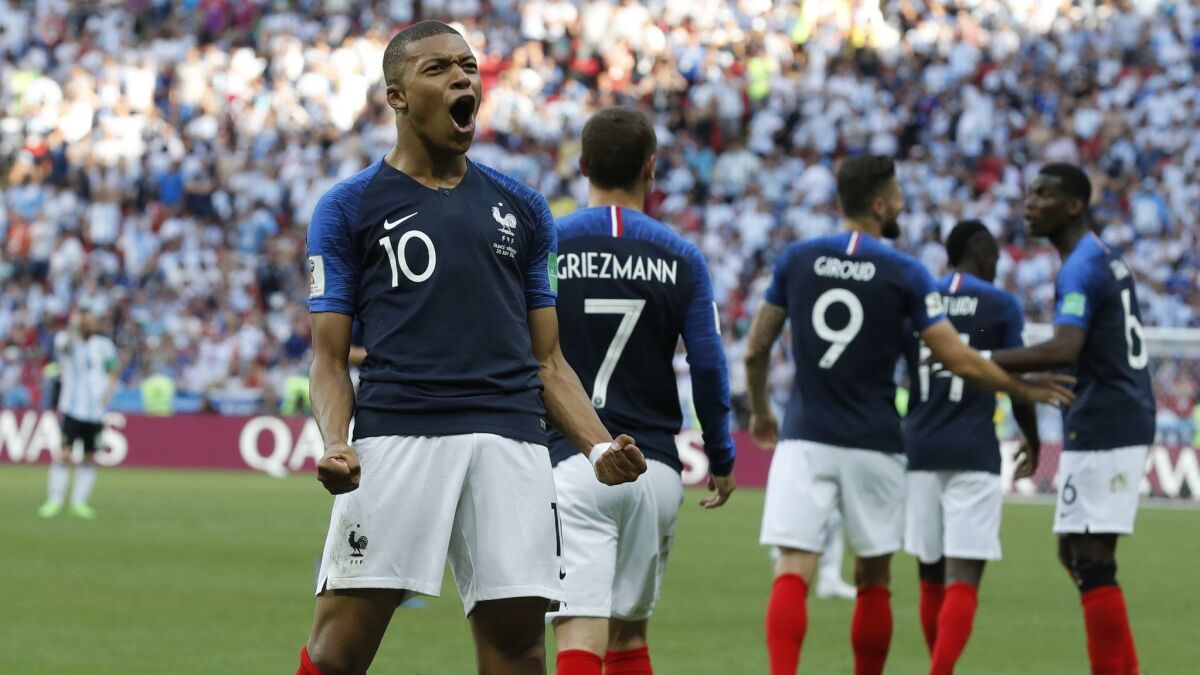 That star power helped Quillot negotiate a record four-year, $1.2-billion contract for domestic television rights, a 60% increase over the last deal and one that will allow clubs to do even more spending.
But France's talent gold rush doesn't stop at the club level. The country has been even more successful at turning out native-born national-team players — for France and nearly half a dozen other countries, mostly former French colonies.
According to an exhaustive study conducted by Darko Dukic, a former sports sociology teacher at Victoria University in Melbourne, Australia, France has sent more players to the World Cup this century — more than 200 — than any other nation. In Russia, 50 French-born players have participated, playing for France, Senegal, Morocco, Portugal, Argentina and Tunisia.
"I was definitely surprised by my findings," said Dukic, whose findings can be read at https://runrepeat.com/most-football-talent-france. "I expected to see Rio de Janeiro, Sao Paulo or Buenos Aires top the list of cities that provide most World Cup players. I guess it is no longer a secret that Paris produces some of the best players in the world.
"But the sheer amount of quality players to come from Paris really surprised me."
Quillot says the only surprise in the numbers is that people are still surprised by the numbers
"We do consider France the No. 1 country in the world for training," he said. "The academies, the scouting of talent and picking them up and making them great is clearly part of our DNA."
But remember, he's French.
If France has quantity, though, it's still lacking for quality. Despite all the advances Ligue 1 has made in terms of talent, it's the only one of Europe's top six leagues that hasn't won a Champions League title this century. The French national team has done better, reaching the World Cup final in 2006 and the Euro final two years ago.
And it's back in the World Cup quarterfinals for fourth time since 1998, when it won its only championship.
But it faces a tough road if it hopes to return to the title game. First, it plays Uruguay, which has given up one goal in four games. And if it gets past the South Americans, it will meet Belgium or Brazil in the semifinals.
Belgium leads the World Cup in goals, shots and shots on target, and Brazil hasn't given up a goal since the 50th minute of its first game.
France struggled to find its footing in the group stage, then won a slugfest with Argentina in the round of 16, overcoming a 2-1 deficit with three second-half goals. Two of those goals came from Parisian Kylian Mbappe, 19, making him the first teenager to score two goals in a World Cup elimination game since Brazil's Pele in 1958.
"In a World Cup you have the top-level players," said Mbappe, who was born the year France won its only world championship. "So it's an opportunity to show what you can do and what your abilities are."
On Friday he'll get that chance in a game that will match the speedy Mbappe and running mate Antoine Griezmann against a Uruguayan team anchored by Diego Godin and Edinson Cavani, Mbappe's club teammate at Paris Saint-Germain.
And though Cavani is questionable for the game because of a calf injury, Quillot hopes he plays. He just doesn't want to see Cavani win.
"There will be a lot of players playing in Ligue 1 on the pitch," he said. "But my heart is with the French."
kevin.baxter@latimes.com | Twitter: @kbaxter11
---
All about the beautiful game
Go inside the L.A. pro soccer scene and beyond in Kevin Baxter's weekly newsletter.
You may occasionally receive promotional content from the Los Angeles Times.