Zlatan Ibrahimovic discusses his career, his Galaxy encore and his desire to be a movie villain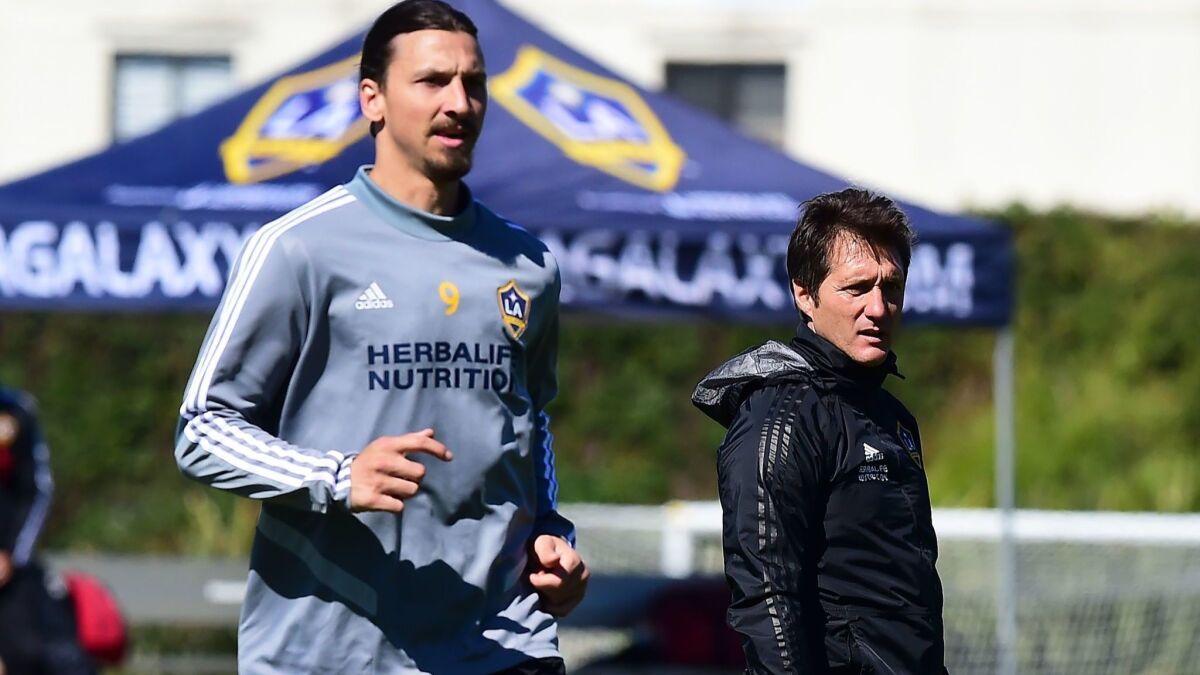 No one was sure what to expect from Zlatan Ibrahimovic when the Swedish superstar joined the Galaxy last March, at age 36 and less than a year removed from reconstructive knee surgery. But even the most optimistic observer couldn't have predicted what he delivered: team highs of 22 goals and 10 assists in 27 games, a performance that carried the Galaxy to the brink of a playoff berth and helped Ibrahimovic finish third in the voting for the league's MVP award.
As Ibrahimovic prepared for his second MLS season, one that begins Saturday when the Galaxy face the Chicago Fire at Dignity Health Sports Park, he sat down with Times soccer writer Kevin Baxter to discuss — in English, his sixth language — the MLS, his career, his upbringing and who he looked up to as a boy.
Question: So why did you come back?
Answer: First of all, I'm happy here. I have a good relationship with the club, with the people that is managing the club, and my family's happy. And then when it comes to my professional work, first season individually I felt it went good — very good. But still I didn't win nothing, and I see it as a failure because I want to win. But collective prizes, not individual MVP or whatever you call it. That is not important for me. I want to win collective. I want to — that is what I work for. And if I win that, I know my teammates will win also that. So that is the collective sport we are doing. So — and what we are playing for. So now I get a second chance to do it and will do better.
Q: What has your experience with the Galaxy and MLS been like? Is it better than you expected?
A: I think it's in progress. It's a growing sport in the U.S. I mean, it's not like Europe, but Europe now is very extreme. So to compare with Europe, that has a tradition of many, many more years than MLS, it's not fair. But if you see over the time that has been existing at MLS, I think it's good, it's very good. And it should be attractive for the players to come over here to play. The only negative I would say is all the rules you have. Because that blocks — that puts, how do you say, hesitations in decisions of the players from Europe. Especially with the bigger ones. Because if you have all these rules it's difficult to.come, it's difficult to make out a whole good team. Because for me it's not a one-man show; it's, you need a good team to perform and to do good things.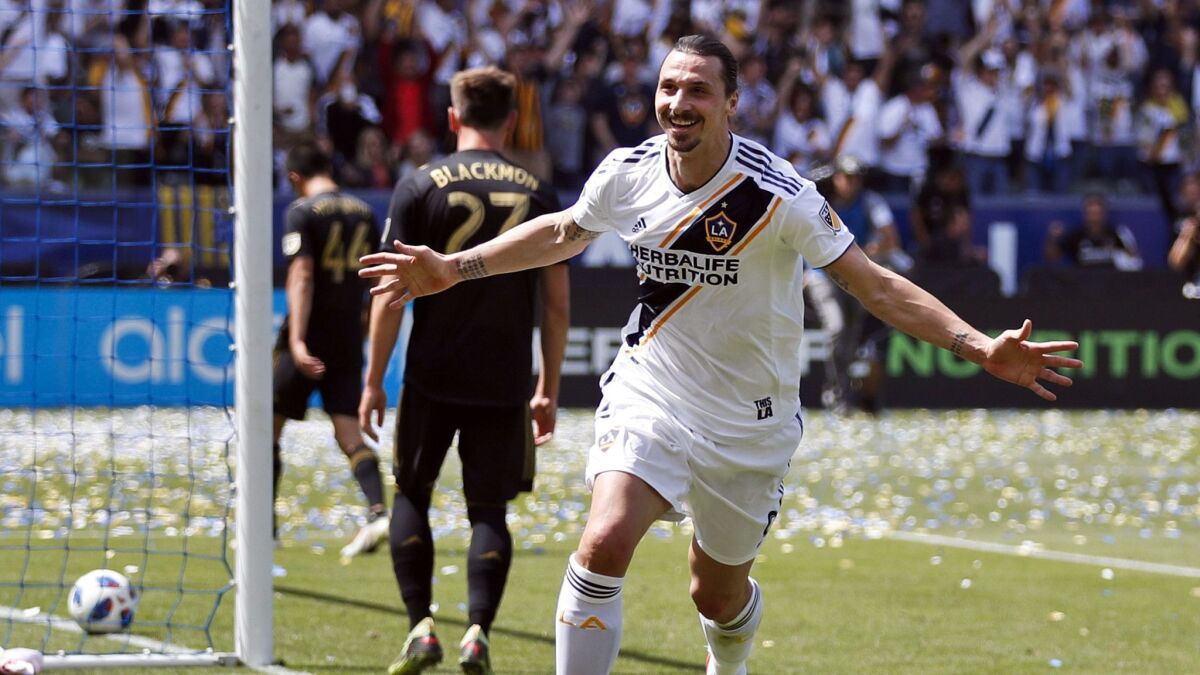 Q: When you left Manchester United you could've gone anywhere — China; a lot of money in China. You could've gone to the Middle East. Why the Galaxy?
A: Because a couple of years ago I had a talk with Galaxy, and I saw myself here, playing here. And I see all these big players have been playing here. And I was like, 'they need to see me, because they will see something different.' And when I got the opportunity I said I will not say no to this challenge and opportunity. I want to take it, and I want to come here. And I don't come here for vacation, Hollywood, the sea, the weather. I come here for the results. I come here to perform. And if I don't perform, I'm not doing a good job. So all this, L.A., good weather, stars and that, if I didn't come to perform I could stay in Sweden, and I have a good life in Sweden, and I still have football. But I come because I want to perform. Because even if I achieved as much as I did, I want to achieve more, and much more. That is who I am.
Listen to Ibrahimovic on the Arrive Early, Leave Late podcast »
Q: You just said that your family's happy here. You told me your dog is happy here, too.
A: Even he is happy.
Q: So everything's good in Southern California?
A: Everything is very good.
Q: Speaking of your family, you have two boys, right, 13 and 10?
A: Yes.
Q: So are you a strict father?
A: I'm demanding. I'm demanding in the things we do. Because it's all about discipline, respect, and independence. One day they need to be independent, but they need to learn how to be independent. Because I think my kids, they could do whatever they want. They have these opportunities, possibilities, to choose whatever they want, to do whatever they want. They have a good life, but it's not the way I do it. I do it — you work for your things, you get credit … and you need to learn. Because they're in a phase where they are learning and growing, and eventually becoming independent. So one day they will take care of themselves. So I don't like that you spoil your kid and, yeah, you make your kid feel something that he is not ready for. So for example, I don't have social media for my kids. That for me doesn't exist, because putting my kids out in the public, they don't know how the world works. They didn't meet all the people in the world. I mean, we meet good people when we meet people, but not everybody's good like that. So the world is not what they think it is through social media. Because for me social media is part of the new generation, it's part of the world now, but it's not the real life. I think too many people live their life on social media and becoming something that is not realistic, is not real, and for me is not in my head to give them that.
Q: Would your life have been different if you hadn't grown up in a fourth-floor apartment in Rosengard (an crime-plagued immigrant district in Malmo, Sweden)?
A: I mean … difficult to answer that. Because if it was like that or that it's difficult to answer. I cannot say yes, and I cannot say no. Hopefully I would have the same kind of [upbringing] like the parents gave me, and have this mentality, and take the same road like I've done.
Q: When you talk about the braggadocio, when you compare yourself to God and all those other things, people see you as arrogant. People get to know you...
A: Ignorant people see me as arrogant.
Q: Because I — when you get to...
A: Intelligent people see me as confident.
Q: Well, then I must be intelligent, because I see you...
A: Why is that?
Q: When I get to meet you and I hear you talk that way, I do see confidence. And it seems to me a way for you to remain confident. Do you use that as fuel?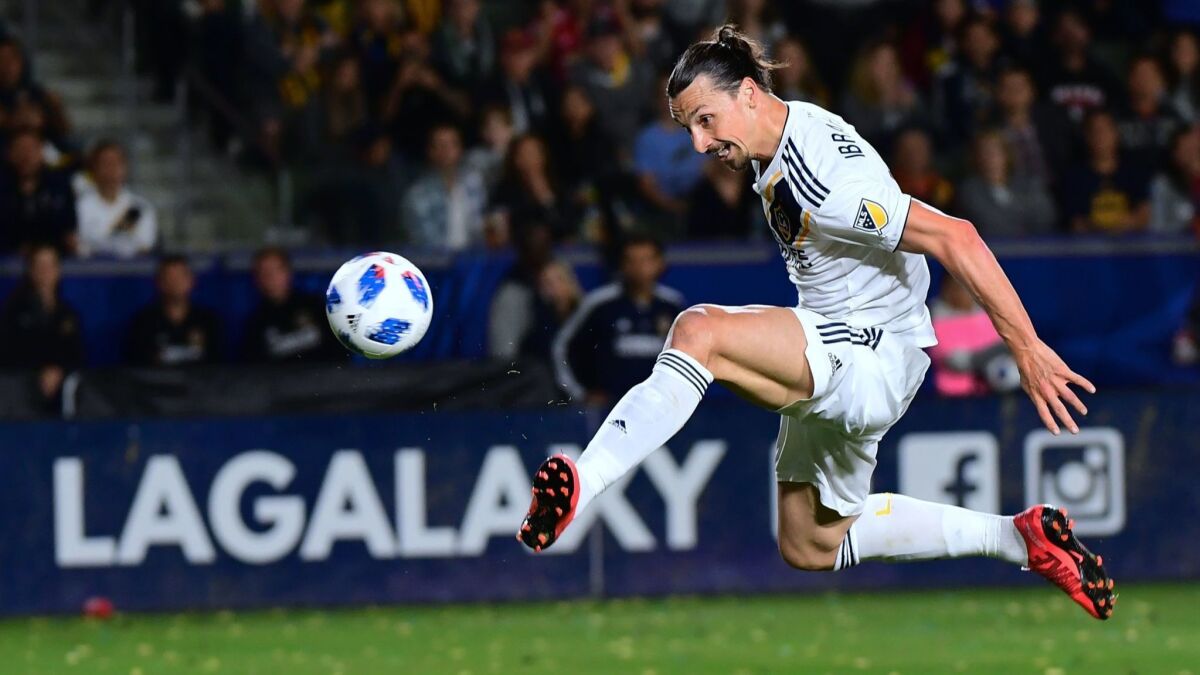 A: Yes, absolutely. I mean, I don't need to have other people to convince me for who I am or how good I am. I know by myself how good I am. But by saying that it doesn't mean that I'm not doing nothing. I'm working for what I am. I'm working for what I'm doing. And it's a lot of hard work behind it. So it's not like me talking and not performing, and not doing. I'm doing both. Because I don't talk because I talk to be seen; I talk because I'm confident. I believe in what I'm doing. I have a vision for what is coming. And everything I do I do it with confidence. So everybody that says, 'He's arrogant,' that is the ignorant people. It's not arrogance; it's confidence. And the intelligent people they know that.
Q: Do you play better when you're angry? I think about that game against England (a 2012 friendly in which Ibrahimovic scored four goals, the fourth a long-distance bicycle kick that has been called one of the most spectacular in soccer history).
A: I feel alive. I feel alive when I'm angry. But you have to see it in a different way. Angry doesn't mean I go out and I want to hit somebody. Angry means I am on my toes, I am more focused, I am more alive, I am more ready in my head. And I want to do more — I am more hungry. That is my anger. My anger is not coming out and knock out three people on the field. No, that is not my anger. So we have to say it in the right way when I'm angry.
Q: It's been almost two years since the knee injury at Manchester United. That was devastating. Your career was supposed to be over, but here you are.
A: Here I am. Hard work pays off.
Q: I heard a story that when you first went to Italy you were lonely and homesick, and you used to go eat at Ikea. There's an Ikea right here.
A: Ah, yes. Ah, yes.
Q: Do you ever go there?
A: That was actually in Holland. That was my first move, not in Italy. That was my first move. I went, I didn't know nobody. I had this thing: I need a big TV. I bought the biggest TV I could see. And I was playing a lot of video games to lose time, like, above the training, because I had nothing to do. But I was totally lonely, and I became homesick and wanted to move back home. I was not performing good. I didn't get the help I needed, and I was not playing. And I had Ikea, and I was eating there often because it was Swedish, and I didn't cook at home. I'm still not a good cooker, so it's nothing I can brag with or say I'm the best cooker. No. I'm the best in what I'm doing, but cooker, no.
Q: Do you still go to Ikea?
A: [laughs] I have my wife going and getting the supplies we need for the food. So yes, it's part of our life, and it will always be.
Q: Your first season in MLS, 22 goals, 10 assists in 27 games. One of the greatest seasons, especially first seasons, ever. What do you have for an encore?
A: I mean, I always try and demand from myself to do better than the last season, wherever I am, wherever I go. So [the] season went good individually. Collectively, no. And I prefer a collective good season. But same thing there what is a good season? You come sixth, we were fighting for the sixth position. We win the playoff. Is that a good season? For me, no. I want to come number one in the table, regular season, and then win the playoff. That is a good season. So it's a little bit tricky how you see the good — what is a good season? So we can lose a lot of games and say, 'Yeah, but we still have a chance to make it to the playoffs.' I don't want to hear that. I want to hear we had a good game every game. We won every game. Like, that we are focused every game. I don't want to come to a game and relax and say, 'We can afford to lose this one because we're still in the playoffs.' That is not who I am. I am demanding from myself, and I demand a lot from my teammates. And I put a lot of pressure on my teammates, and I put a lot of pressure on myself. Because I believe in the way you're trained is the way you play your games. And every day should be a performance — a positive performance. I mean, sometimes less good, sometimes more good, but it's part of the game.
Q: So if you don't win the MLS Cup is it a failure?
A: Yes.
Q: OK. Is there going to be a third MLS season in 2020?
A: I mean, if it was for the club it would be more years. But I say I feel good now. I feel I can give back - I will not disappoint you. And let's take one season at a time. So if you ask me next year about this, maybe one month before this day — and maybe two — and I will answer honestly. I will say, 'Listen, I feel good. I'll not disappoint you. Let's do another year.' That is how I want it. I don't want to (lock) the club in a situation where they have me and they are not able to use me. I don't want that, and I don't need that.
Q: Have you thought eventually you will be done playing? Have you thought about what you want to do then? You'd be a great movie villain, for example.
A: I don't know. I mean, I'm curious. I'm curious about that world, to do a little bit [of] acting, movies, how it works. And I think I would be an amazing actor. ... In an actual movie I would destroy everybody, smash people — the villain, the hero, doesn't matter, as long as I'm in the movie and showing people who I am.
Q: You grew up in an immigrant family in Sweden, and you've played in seven countries. You speak, what, six languages? And you're only 37. You're a citizen of the world. But … politically this is a bad time for an immigrant. Are you a lesson that people need to look beyond where you were born and at who you are?
A: I'm a perfect example for the people in my situation, that everything is possible. You just need to believe and work hard. And I think I'm a living proof of that, and I will continue to be who I am, to be a role model and example for all those people that is in this situation, that by hard work, belief, a lot of will, and confidence — not arrogance — confidence, that it's possible. And not only in soccer; in whatever you do. Different categories. As long as you have those motives in your mind you will succeed.
Q: You call yourself the lion but you're really a teddy bear, aren't you?
A: I'm a teddy bear when I want to be a teddy bear. And I'm a lion when I'm ... in the field. So it's two different things.
kevin.baxter@latimes.com | Twitter: @kbaxter11
All about the beautiful game
Go inside the L.A. pro soccer scene and beyond in Kevin Baxter's weekly newsletter.
You may occasionally receive promotional content from the Los Angeles Times.