Zlatan Ibrahimovic stays behind with Achilles issue as Galaxy head to Dallas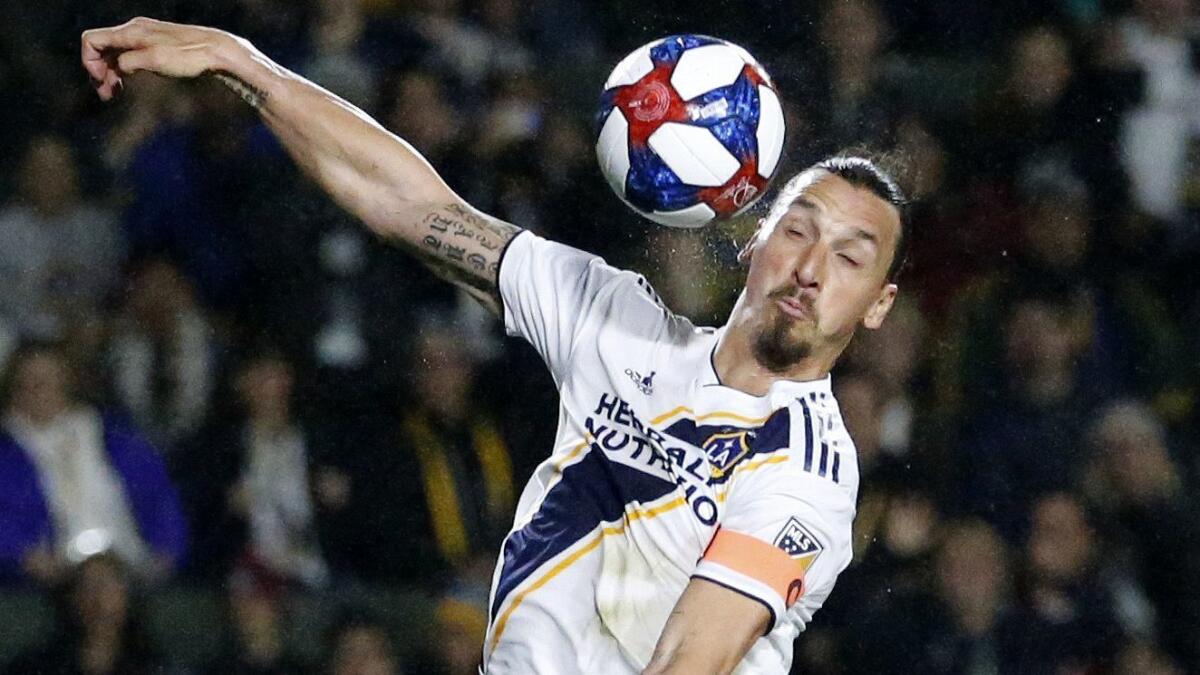 The Galaxy will be without captain and leading scorer Zlatan Ibrahimovic on Saturday when they play their second game of the MLS regular season in Dallas.
Ibrahimovic, 37, who scored the deciding goal in last week's 2-1 win over Chicago, was bothered by an Achilles issue 10 minutes into the game and is one of two starters who did not make the trip to Texas. The Galaxy also lost midfielder Romain Alessandrini to a hamstring injury 20 minutes into that match, which was played on a rain-soaked field.
Ibrahimovic, who led the team with 22 goals and 10 assists last season, did not train this week and the Galaxy said they are unsure how long he will be out. His absence leaves the team thin at forward since Ola Kamara, the team's second-leading scorer last season, left for the Chinese SuperLeague on a $3.5-million transfer last week, two days before the team bought out the designated-player contract of Gio dos Santos.
Sign up for our weekly soccer newsletter »
Veteran Chris Pontius, who started 15 games last season, most likely will take Ibrahimovic's place Saturday. As backup the Galaxy promoted 20-year-old forward Ethan Zubak from their USL affiliate Friday and took him to Dallas, although it's uncertain whether he will suit up for the game.
The team also added national team midfielder Joe Corona last week on a free transfer from Tijuana of Mexico's Liga MX.
The Galaxy, decimated by injuries the last few seasons, are shorthanded again, adding Ibrahimovic and Alessandrini to the missing after opening the season without midfielders Perry Kitchen (ankle), Juninho (knee) and Sebastian Lletget (hamstring).
Lletget is expected to play Saturday and Juninho has returned to training, but Alessandrini will miss at least two matches, possibly more, and Kitchen is out until April.
kevin.baxter@latimes.com | Twitter: @kbaxter11