U.S., Mexico headed in opposite directions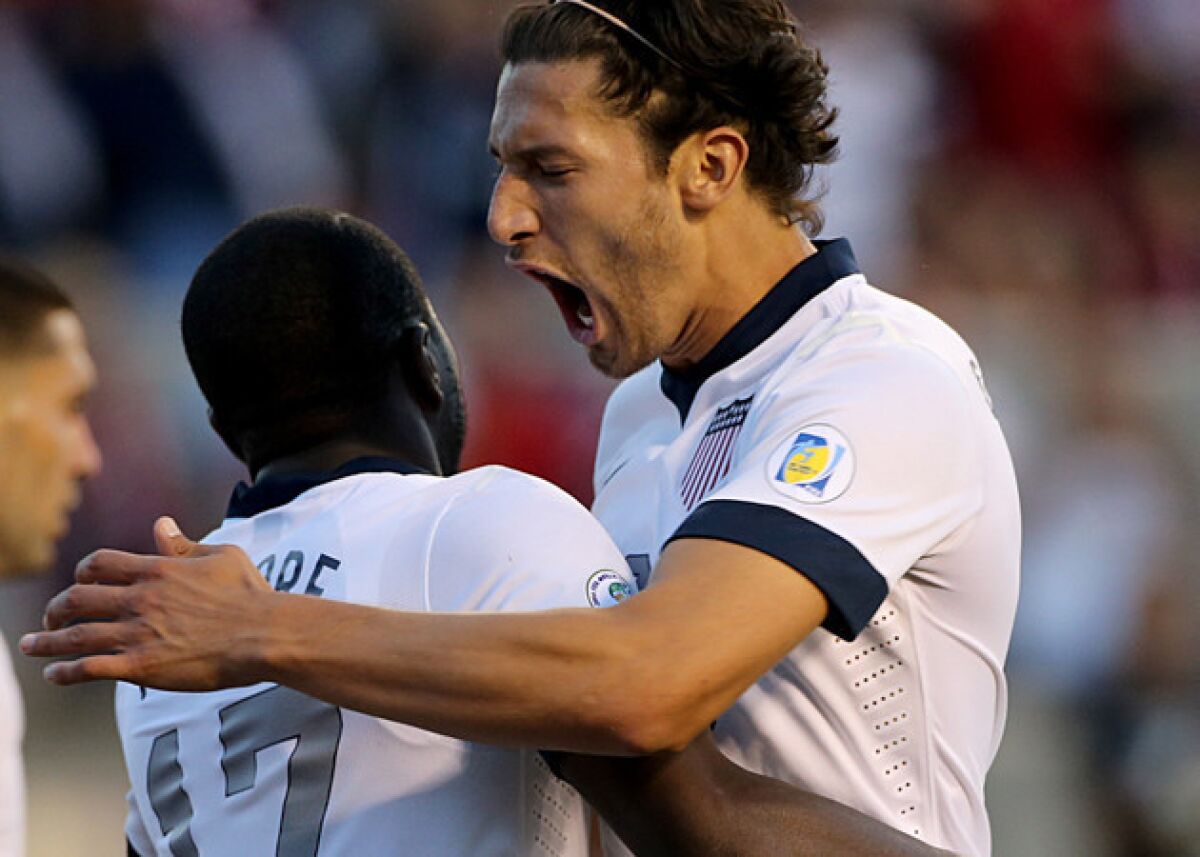 June was a very good month for Juergen Klinsmann and the U.S. national soccer team, with the Americans winning all three of their World Cup qualifiers, vaulting over three teams to the top of the table in their qualifying group, virtually assuring themselves of an invitation to next summer's tournament in Brazil and finding a dangerous striker in Jozy Altidore.
But the month was disastrous for Mexico and its coach, Jose Manuel de la Torre. El Tri scored only once in its three qualifiers, lost consecutive games in the Confederations Cup and now finds itself in danger of missing out on the World Cup for the first time since 1990.
Oh, and De la Torre could be fired as well — though Javier "Chicharito" Hernandez might have bought his coach a little time with two goals in Saturday's 2-1 face-saving Confederations Cup win over Japan.
For the U.S., it was a case of a talented team finally coming together after months of underachieving. For Mexico, it was a case of a talented team coming completely unglued.
"We're growing with every game," Klinsmann said after Tuesday's 1-0 win over Honduras, his team's third shutout in its last four qualifiers. "Mentally we're getting stronger, we're getting tougher.
"Every game is a new game. We're always going to talk about the same principles, but I think we see here a group that is really sticking together."
Or, in the case of Altidore, separating himself from the pack.
Since making his debut with the national team in 2007, just 11 days after his 18th birthday, Altidore's international career has been defined more by promise than performance. Although he set a record for goals by an American abroad, scoring 31 times for AZ Alkmaar in the Dutch Eredivisie last season, Altidore went nearly 18 months without a goal for the national team. And he was shut out in the last World Cup, when the U.S. did not get a goal from a forward.
But playing as a lone striker this month he has been unstoppable, scoring in four consecutive games and accounting for the winner against Honduras.
"We are very happy for Jozy," Klinsmann said. "We always told him from a coaching perspective that it takes a lot of hard work, it takes a lot of adjustment, it takes the right moment to be there, it takes a hunger.
"The energy he put in now in the last four or five games has been tremendous. It's not only that he scored those goals but the work that he does for the team is awesome."
As a result, the U.S. can begin looking ahead to Brazil next summer.
"It's hard not to," goalkeeper Tim Howard said.
The U.S. must finish in the top three in its six-team regional qualifying group to advance to the World Cup. And with four games remaining, the U.S. is six points — or two wins — clear of fourth-place Honduras.
Mexico is in much worse shape. Although El Tri is the only unbeaten team in the qualifying tournament, five of its six games have ended in draws — including four in which Mexico failed to score.
After last year's qualifying semifinals, in which Mexico won all six of its matches and led the tournament with 15 goals, an overconfident De la Torre said his aim in the final round was to remain perfect. Now he's simply hoping to remain employed.
Mexico opens the fall phase of qualifying against Honduras, which would jump over De la Torre's team into third place with a win. And four days later Mexico travels to Columbus, Ohio — where it has never won — to play a U.S. team that hasn't lost a home qualifier since 2001.
Losses in both those games could leave El Tri needing victories its final two matches — the last one on the road in Costa Rica — to earn an automatic berth in the World Cup.
"We are in third place. At the moment we're in," De la Torre, more commonly known as "Chepo," told reporters in Brazil. "The main thing is qualification."
But the odds on De la Torre lasting that long are growing bigger.
In the last four decades, only one Mexican coach — Ricardo La Volpe, in 2002-06 — has lasted an entire four-year World Cup qualifying cycle.
"We are a long way from where we want to be," said Hernandez, who scored 32 times in his first 48 games with the national team but found the net in only one of Mexico's six qualifiers this year.
Although many members of the Mexican team have played with one another for years — 11 players on this year's squad took part in the 2010 World Cup in South Africa — over the last six months they've played as if they've never been introduced. Some passes sail wildly long while others bend behind players as they begin a run. Defenders lose track of one another and the midfielders seem content to stay right there — in the middle of the field — rather than push forward on offense.
"We too are responsible on the field, not just Chepo," said Francisco "Maza" Rodriguez, the Mexican captain. "He has confidence in us, as we do in him."
And now it looks like Mexico's problems might not be limited to what happens on the field. Reports from Brazil say some prominent Mexican players visited a strip club after the team's opening loss to Italy —reports De la Torre strongly denied.
"It's not like there's even time to do that," he told reporters.
Time could be running out on De la Torre's World Cup hopes as well.
Twitter: @kbaxter11
All about the beautiful game
Go inside the L.A. pro soccer scene and beyond in Kevin Baxter's weekly newsletter.
You may occasionally receive promotional content from the Los Angeles Times.