Chicharito scores twice to spur Galaxy to comeback win in season opener
Javier "Chicharito" Hernández admits his first year with the Galaxy was a bust. He scored two goals in 12 games, sustained a calf injury that sidelined him for two months and endured enough off-field drama to fuel a telenovela.
The encore season, this season, would be better, he pledged, and Sunday he made a down payment on that promise, scoring twice late in the second half to rally the Galaxy to a 3-2 win over Inter Miami before an announced crowd of 7,939 at DRV PNK Stadium in Fort Lauderdale, Fla.
The game-winner came from Sacha Kljestan in the 81st minute while Jonathan Bond made six saves in his MLS debut in goal. But the day clearly belonged to Hernández, who needed just 11 minutes to equal his goal production from all of last season.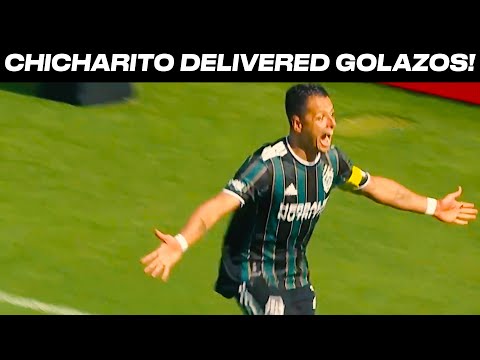 Javier 'Chicharito' Hernández scores twice in the Galaxy's 3-2 win over Inter Miami on Sunday.
"If we don't have bad moments, where is there improvement?" Hernández said. "I never felt I was the worst player last season. And right now I don't feel that I'm the best player. I'm just Chicharito."
The Galaxy expected that would be enough when they brought in Hernández, Mexico's all-time leading scorer, to replace Zlatan Ibrahimovic. But Hernández wilted under the pressure and the ill-conceived offensive strategy of former coach Guillermo Barros Schelotto, slumping to his worst season since he left Mexico for Europe a decade ago.
And that was just the on-field part. Off the field, he lost his grandfather, welcomed his second child, then saw his wife return to her native Australia with the children before Christmas.
"I never faced the death of someone. And that happened last year. I've been a father for the second time. So I've been through a lot of stuff. I'm human," he said. "That doesn't mean that because I scored two goals that everything is forgotten."
No, but it might be a start.
Nothing went right for Galaxy striker Javier 'Chicharito' Hernández in 2020, so he's taking responsibility to make this season better.
"These are reminders that I'm in the correct direction of how I'm doing things in my personal life and my emotional state and what is in my hands," said Hernández, who has surrounded himself with a team of trainers and nutritionists. "Nothing is completely sure. [That] would be boring."
Boring is one way to describe a game that was scoreless two minutes into first-half stoppage time when a Galaxy defensive lapse opened the door for a Miami breakaway, one that ended with Gonzalo Higuain slipping the ball to Robbie Robinson in the center of the penalty area for an easy finish.
Inter Miami had to wait out a lengthy VAR review before referee Chris Penso determined the buildup to the goal wasn't offside, allowing the score to stand. Higuain scored Miami's second goal on a penalty kick midway through the second half and that score was questioned as well, with Penso again consulting VAR official Alan Kelly to confirm a foul against the Galaxy's Jorge Villafaña just inside the box.
Hernández evened the game both times and Ethan Zubak, whose entry into the game in 58th minute changed everything, was involved in both scores.
On the first he brought the ball up the left wing before spinning a pass into the penalty area for Hernández, who fought off defender Leandro Pirez and fired a left-footed shot pass Miami keeper John McCarthy from the edge of the six-yard box. The second came after a long Víctor Vázquez cross overshot a leaping Zubak, who appeared to shield McCarthy just enough that the keeper misplayed the ball to the feet of an unmarked Hernández, who bundled it in at the far post.
Eight minutes later Kljestan provided the game-winner, curving a left-footed shot just inside the left post from the top of the box for this first score in more than two years, making a winner of Greg Vanney in his Galaxy coaching debut.