Cristian Arango scoring early and often, boosting LAFC's playoff hopes
The pulse might be weak and the heartbeat faint, but LAFC's playoff hopes are far from dead. And you can credit Cristian Arango for giving the team new life.
The Colombian newcomer scored a pair of first-half goals Sunday, sparking a 3-2 win over Real Salt Lake that lifted the team into eighth place in the Western Conference. Goal differential is the only thing keeping it from the seventh and final playoff berth.
When Arango joined the team a month ago, LAFC was four games into an eight-game winless streak. But with Arango starting — and scoring in — the last three, LAFC is unbeaten.
Want more proof LAFC's fortunes have changed? The deciding goal Sunday was a gift, with Real Salt Lake's Tori Datkovic missing keeper David Ochoa with a soft back pass, sending the ball into the net for an own goal and sending LAFC off with the victory.
U.S. Soccer, in an open letter addressing an ongoing pay inequality dispute, suggests the U.S. men's and women's team split FIFA money evenly.
But that mistake might not have mattered if not for Arango, who has provided the offensive spark LAFC has long been missing.
"He made such a good first impression," LAFC coach Bob Bradley said of Arango, who played the last two seasons with Millonarios in Colombia's first division. "He wanted to be here. And from the beginning, you could tell that he's got strong character, he's got a great mentality. That part just rubs off in a good way on everybody.
"You can just tell when a player shows up and he's motivated, he's into it. Then he goes onto the field and is ready to do anything to help the team. That's a big statement. And he's done that from the start."
With Carlos Vela, the 2019 league scoring leader, out most of the season because of an injury, LAFC hadn't scored more than two goals in a game before Arango arrived. In his last three starts, the team hasn't scored fewer than three. He wasted little time in getting his new team started Sunday, giving LAFC a lead 20 seconds in.
Teammate Bryce Duke sent a low feed into the box for Danny Musovski but Salt Lake defender Justen Glad got a boot on it, redirecting the ball directly into the path of the onrushing Arango, who reached back with his left foot to control it, then used his right foot to push a shot past Ochoa.
It was the quickest goal in team history and the eighth-fastest in MLS history.
The USMNT turned it around in the second half to score four straight goals to beat Honduras 4-1 on Wednesday.
Damir Kreilach evened things for Salt Lake in the 28th minute but the tie didn't last long with Arango, surrounded by a trio of defenders, leaping to head in a cross from fellow Colombian Eduard Atuesta.
A giveaway by Duke at midfield three minutes into the second half set up a game-tying breakaway, with Anderson Julio knocking in an Albert Rusnak through ball from the center of the box. The next goal, in the 59th minute, was also scored by Real Salt Lake but it counted for the opponent, as Datkovic gave LAFC its second score on an own goal in six games.
It also gave LAFC (8-9-6) its second two-game winning streak of the season.
"It was a big win," said defender Sebastian Ibeagha. "But we've still got a long way to go."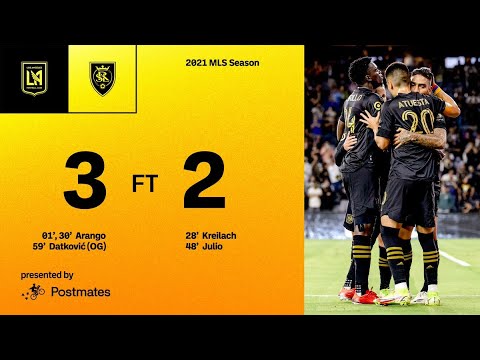 Highlights from LAFC's 3-2 win over Real Salt Lake on Sunday night.