Gio Reyna's parents reported Gregg Berhalter's domestic dispute to U.S. Soccer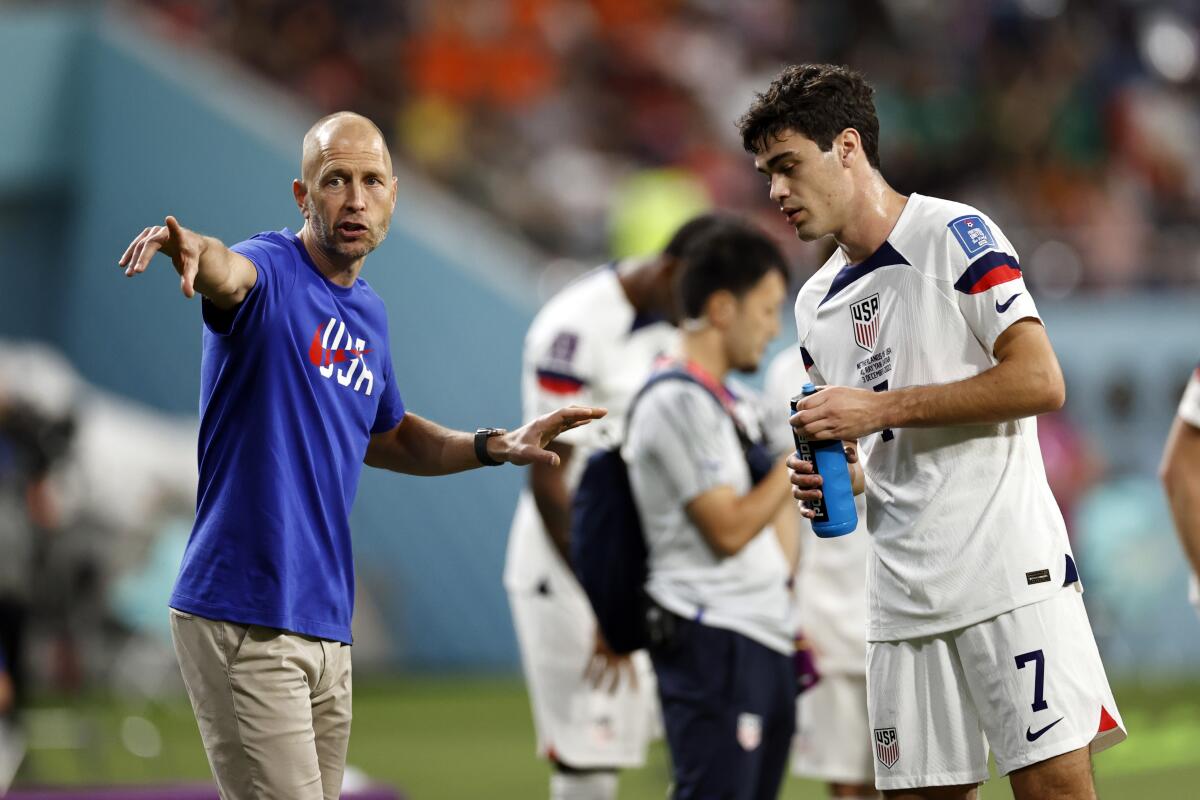 Claudio Reyna and Gregg Berhalter were once the best of friends. High school classmates, they played together in two World Cups. Reyna was the best man at Berhalter's wedding and their wives were roommates and soccer teammates at North Carolina.
But now a personal feud between the families threatens both men's careers and has thrown U.S. Soccer into turmoil just as the program enters a new World Cup cycle that will end with the tournament being played in the United States for the second time.
U.S. Soccer is investigating a potential blackmail plot involving men's national team coach Gregg Berhalter, who says he struck his wife 31 years ago.
The bizarre soap opera began shortly after the U.S. was eliminated from last year's World Cup in the round of 16. Claudio Reyna's son, Gio, was part of the U.S. team, which was coached by Berhalter, but he played only 52 minutes off the bench in four games. After returning from the tournament, Berhalter spoke at a summit on moral leadership where he referenced some internal issues in Qatar involving a player he did not name. The player did not display sufficient intensity in training, Berhalter said, and was nearly sent home.
That player was later identified as Gio Reyna and his parents, by their own admission, said they felt betrayed by Berhalter. So they approached U.S. Soccer with a previously unreported story of a physical altercation involving the coach and the woman he would later marry.
In a statement sent to multiple media outlets, Reyna's mother Danielle, 49, said she called Earnie Stewart, U.S. Soccer's sporting director and a former teammate of both Claudio Reyna and Berhalter, after the coach's comments at the summit were reported.
"I did call Earnie Stewart just after the news broke that Gregg had made negative statements about my son Gio at a leadership conference," Danielle Reyna, who made six appearances for the women's national team under her maiden name, Egan, said. "I have known Earnie for years and consider him to be a close friend. I wanted to let him know that I was absolutely outraged and devastated that Gio had been put in such a terrible position."
But, she said, telling Stewart about a 31-year-old incident that was never reported to authorities and didn't stop Rosalind Santana from marrying Berhalter eight years later, wasn't blackmail.
U.S. Soccer is investigating a potential blackmail plot involving men's national team coach Gregg Berhalter, who says he struck his wife 31 years ago.
"I want to be very clear that I did not ask for Gregg to be fired, I did not make any threats, and I don't know anything about any blackmail attempts," she said.
What she did hope to accomplish, she said, was to stop Berhalter from talking about her son, a player on a team that he coaches. But rather than call someone she has known for more than three decades and ask him to lighten up, she went to his boss, knowing that Berhalter's contract with U.S. Soccer was expiring in three weeks and that he was hopeful of being asked back for another World Cup cycle.
Berhalter, 49, a two-time World Cup selection as a player, took over the national team in December 2018. In his four years in charge, he overhauled the roster, auditioning 88 players and leading the U.S. back to the World Cup after an eight-year absence. He also won the Gold Cup and Nations League tournaments, going 37-11-12.
That's the best winning percentage of any U.S. men's national team coach in charge for more than two games.
Now his future must await the results of a report from the Atlanta-based law firm of Alston & Bird LLP, which was hired by U.S. Soccer to conduct an independent investigation into the original incident as well as "potential inappropriate behavior towards multiple members of our staff by individuals outside of our organization," the federation said in a statement.
Berhalter certainly considered the call attempted blackmail, saying on social media Tuesday that an unnamed individual contacted U.S. Soccer to say "they had information about me that would 'take me down' — an apparent effort to leverage something very personal from long ago to bring about the end of my relationship with U.S. Soccer."
Berhalter went on to admit he had a physical altercation with Santana, kicking her in the legs outside a bar during an argument. He said he sought counseling in the wake of the incident.
"There are zero excuses for my actions that night; it was a shameful moment and one that I regret to this day," Berhalter wrote.
Also shameful were Danielle Reyna's actions, which has forced the Berhalters to relive that moment — and possibly to explain it to their four children for the first time. The phone call has also paused discussions within U.S. Soccer about Berhalter's future with the team.
Claudio Reyna issued a statement supporting his wife's actions.
"I, too, was upset by Gregg's comments about Gio after the U.S. was out of the World Cup and I also appealed to Earnie Stewart … asking him to prevent any additional comments," he said. "While in Qatar, I shared my frustrations about my son's World Cup experience with a number of close friends."
But he apparently didn't call Berhalter, once one of his closest friends, to discuss the matter. Instead, he, too, went around the coach's back in an attempt to interfere with the dynamics of the U.S. locker room, something Reyna, as a former national team captain, knows to be wrong.
Reyna, 49, currently sporting director for MLS club Austin FC, probably will see this week's revelations scar his career as well.
Despite losing to the Netherlands in the round of 16, the young USMNT knows they've gained experience and confidence heading into the 2026 World Cup.
And then there's Gio Reyna, whose best interests his parents thought they were defending. At 20, he is already in his fourth season with Borussia Dortmund. He is the youngest American to play in the German Bundesliga and youngest to record an assist in Champions League play. Berhalter gave him his first call-up to the national team and his first appearance. His future is blindingly bright.
But now coaches calling him up the national team will know it could be fraught with unexpected consequences.
In Qatar, Reyna said he was told his role with the team would be limited and he admitted that impacted his performance and commitment in training. He eventually apologized to his teammates and the coaching staff for the lack of effort. He, too, must live down the fact his family — like a pair of out-of-control AYSO parents, not former national team players — went around the coach to share a private, personal incident from three decades ago in an obvious attempt to embarrass Berhalter.
Unlike their son, the elder Reynas have not apologized for their actions.
It's hard to see how any of this ends well — for the Berhalters, the Reynas or for U.S. Soccer.
U.S. Soccer president Cindy Parlow Cone; JT Batson, the federation's CEO and secretary general; and Stewart held a 35-minute conference call with more than 150 reporters Wednesday during which they promised transparency while side-stepping the simplest of questions.
"It's not a fun period," Stewart said.
Cone said she didn't know how long the investigation would take and said everything would remain on hold until it was completed. In the meantime Anthony Hudson, who coached the national teams of Bahrain and New Zealand, and in MLS with the Colorado Rapids, will direct the national team during this month's training camp in Southern California. Hudson will be joined by fellow World Cup assistant coach B.J. Callaghan and Mikey Vargas, the coach of the U.S. U-20 national team.
Those men will choose the roster for the training camp, which probably will be announced next week. Gio Reyna, who is with his club team in Germany, will not be called up.