Amid U.S. men's soccer turmoil, Anthony Hudson tries to keep team on course
When you're caught in a big storm, sometimes the best thing to do is try not to worry about the weather.
As acting coach of the men's national soccer team, Anthony Hudson is surrounded by dark, ominous storm clouds. And they're proving difficult to ignore.
Hours before Hudson presided over his first training session Saturday, multiple news outlets reported that Brian McBride, the team's general manager, was out after three years. The status of Gregg Berhalter, the head coach who led the U.S. to its first World Cup in eight years, remains uncertain while the federation investigates a domestic violence incident from 1991.
In the eye of that storm stands Hudson, a former national team coach with Bahrain and New Zealand and an assistant on Berhalter's staff the last two years.
The USMNT's 24-man roster was announced for first training camp of the new World Cup cycle, which included five players from the 2022 World Cup roster.
"There's no coaching course or anything, really, to guide you in moments like this," Hudson said. "This is a really different situation. Irrespective of the circumstance, I also have a job to do. I have a responsibility to help these players have a good camp, good experience.
"So I'm kind of just putting myself to the side, really, and doing what I think is the right thing."
No reason was given for McBride's departure, although it comes at the end of a tumultuous two-month stretch that saw the U.S. eliminated from the Qatar World Cup in the round of 16 before Berhalter became embroiled in a Shakespearean drama involving former U.S. team captain Claudio Reyna and his son Gio, a national team forward who was limited to 52 minutes in Qatar.
Claudio Reyna, the best man at Berhalter's wedding, complained about his son's lack of playing time during the tournament. Then after the World Cup, Berhalter gave a talk in which he said a player, whom he did not name, had become such a distraction in Qatar he was nearly sent home.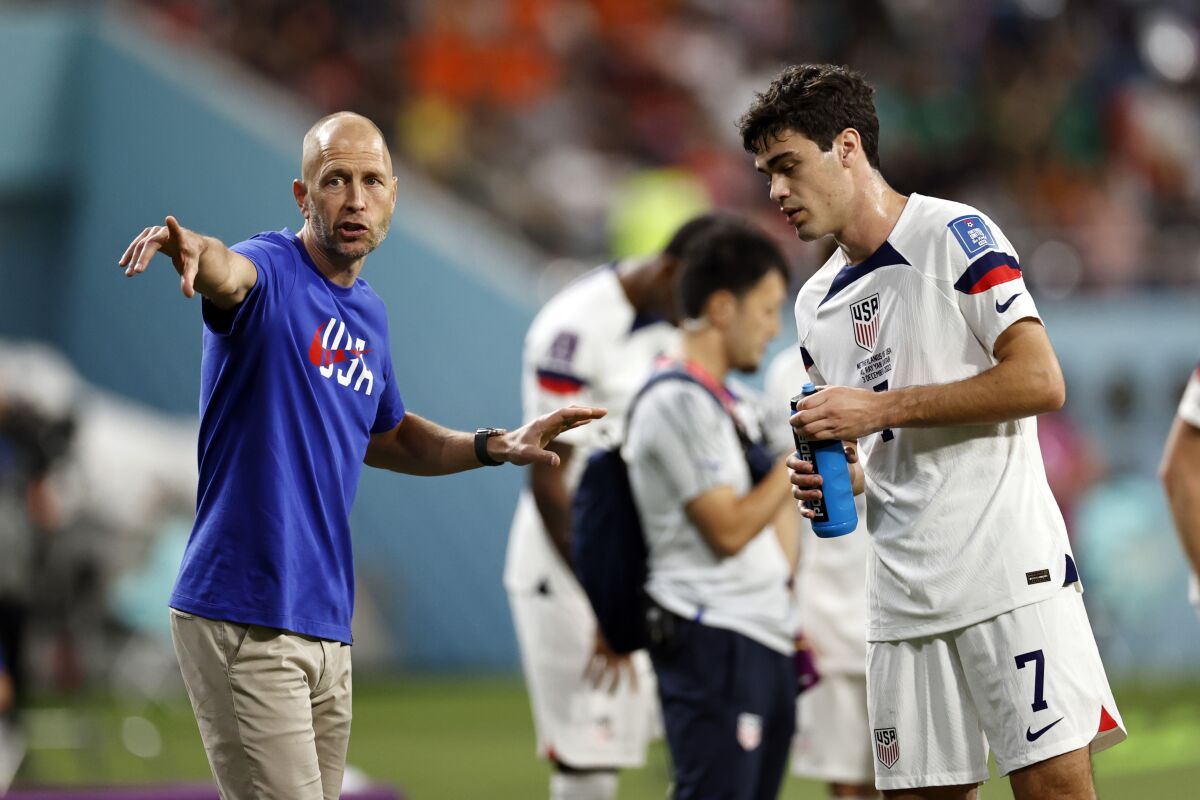 When several news outlets confirmed the player in question was Gio Reyna, Claudio's wife Danielle reacted by telling U.S. Soccer about a 31-year-old physical altercation involving Berhalter and his future wife Rosalind, Danielle's college roommate at the time. The federation hired an Atlanta law firm to look into the situation, leaving Berhalter's future with U.S. Soccer in limbo while McBride, a teammate of both Berhalter and Reyna on two World Cup rosters, is out.
Meanwhile, the job of getting the focus back on soccer has fallen to Hudson, a 41-year-old who was born in the U.S., grew up in Great Britain, and has played and coached in both places. Hudson has called up 24 players — only 15 participated in Saturday's workout at Dignity Health Sports Park with the rest arriving over the next two days — for a weeklong training camp and friendlies against Serbia and Colombia.
"Look, it's been different for me. My role for a long time has been assistant coach, so I tend not to get into the, the outside noise and controversy," he said.
"This might not sound believable, but I can assure you in my case right now, I'm literally not focused on anything other than the next two games."
Some U.S. men's team players have voiced their support for former coach Gregg Berhalter
The camp falls outside a FIFA competition window, which limited the players Hudson could call in; as a result, more than half come from MLS teams. Two others, forwards Brandon Vázquez and Alejandro Zendejas, are dual nationals who have played for teams in both the U.S. and Mexico.
But the roster also includes five veterans from last month's World Cup team and Hudson and his players are hoping to continue the momentum the tournament established.
"We're excited to kind of build upon what happened in the World Cup and what has kind of happened over the past four years," said Vancouver Whitecaps defender Julian Gressel, 29, named to the national team for the first time after securing U.S. citizenship last November. "Everyone's eager to kind of step in and make a name for themselves. And this is a great opportunity to do that."
Provided they can ignore the storm swirling around them.
"We're going to continue what we do on and off the field," Hudson said. "Obviously the delivery of it is going to look different and sound different. Gregg has a very specific way of working. I'm not Gregg. I can't be Gregg. I'll be myself.
"But certainly, the way we want to play and our principles of play, that's consistent."
---
All about the beautiful game
Go inside the L.A. pro soccer scene and beyond in Kevin Baxter's weekly newsletter.
You may occasionally receive promotional content from the Los Angeles Times.