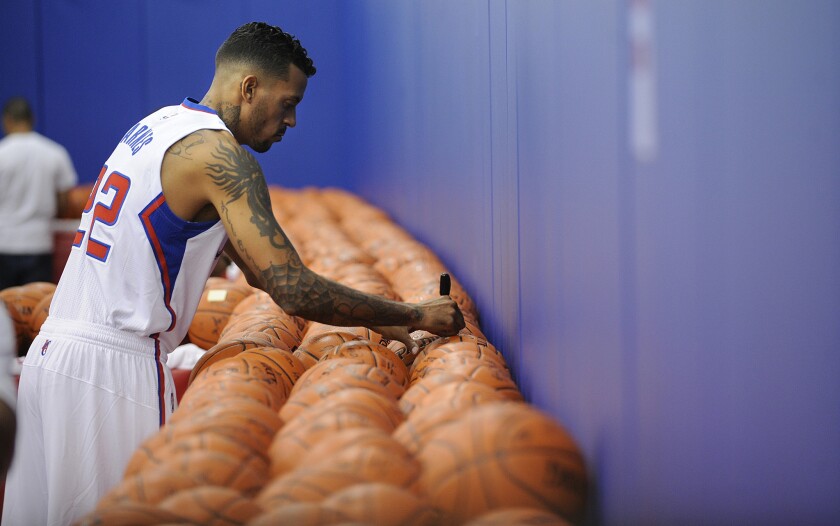 Matt Barnes the tough guy?
Not so fast.
During the offseason, the tattooed enforcer opted for a more spiritual route. He started practicing yoga.
"I wish it could have been filmed," he said during Clippers' media day Monday. "I went to a weird yoga class. It was all ladies that were 45 to 60 and I'm in there with a wife beater on and tattoos and my shorts, and these ladies were like, 'Are you lost?'"
Quite the contrary.
Barnes said yoga helped him take off 20 pounds.
"Right now I weigh 210 pounds," he said. "I haven't weighed 210 pounds since 10th grade or 11th grade."
Barnes, who struggled with injuries the first half of last season, went on to average 9.9 points and 4.6 rebounds in 63 games. He said this time around he's 100% healthy.
Perhaps a lot more flexible too, thanks to his new yoga practice.
"At first we meditated and I could barely fold my legs and I'm getting coached up, and I'm just thinking, 'What the hell am I doing here?'" he said.
"But I kept going and the ladies kept giving me tips and were helping me stretch, and it was a surreal experience to have women that I don't even know, that don't even know me be there and kind of coach me through it. I wish I could have filmed the looks on their faces when they saw me in there not being able to do anything and where I ended up."
---