Lawsuit by former top recruit Brian Bowen II accuses Adidas, others of racketeering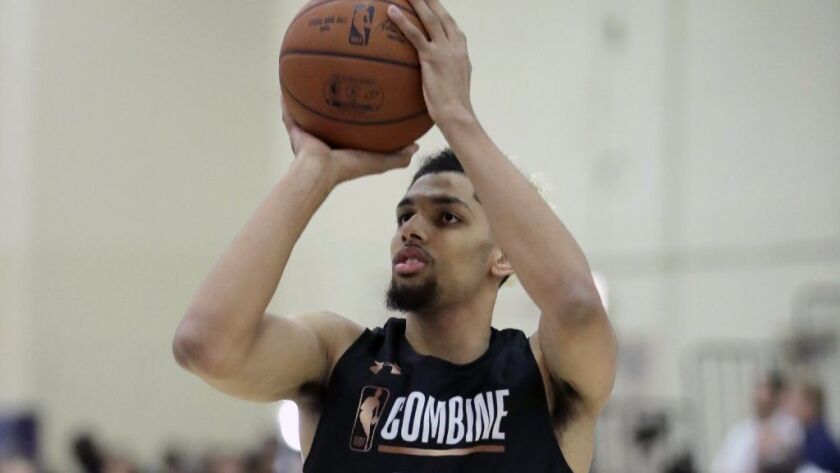 Fallout from the federal investigation into college basketball bribery and corruption continued Monday when Brian Bowen II, the sought-after recruit thrust into the middle of the case, accused Adidas of racketeering in a lawsuit filed in U.S. District Court in South Carolina.
The 85-page complaint also named current or former Adidas employees Merl Code, T.J. Gassnola, Jim Gatto and Christopher Rivers in addition to middleman Christian Dawkins and financial advisor Munish Sood.
"The purpose of this action is to hold Adidas America … and its criminal co-conspirators liable for the harm they have wrought on the life and career of Brian Bowen II," the complaint said.
Federal prosecutors alleged that Adidas representatives agreed to pay $100,000 to Brian Bowen Sr., the recruit's father, to steer his son to attend Adidas-sponsored Louisville and retain the sports management company started by Dawkins and Sood when the player turned professional.
The son agreed to play for Louisville in June 2017 and became a last-minute recruiting coup for then-head coach Rick Pitino. But Bowen never played a game in college. He was suspended indefinitely after the federal investigation became public in September 2017, transferred to South Carolina, then joined an Australian professional team in August.
"Brian had no knowledge of the Adidas bribery scheme and had no reason to believe that Adidas and co-conspirators were engaged in criminal acts to secure his commitment to the University of Louisville," the complaint said.
The lawsuit accuses Adidas and the six other defendants of violating the Racketeer Influenced and Corrupt Organizations Act. It doesn't seek a specific amount in damages, but wants the court to ban Adidas from sponsoring men's college basketball teams.
"We have reviewed these allegations and believe they have no merit," Adidas said in a statement. "As we have stated previously, Adidas is committed to ethical and fair business practices, and we look forward to continuing to work with the NCAA and other stakeholders to improve the environment around college basketball."
The lawsuit leans on previous accusations by prosecutors that Dawkins, Code, Gatto and others worked together to get the $100,000 to Brian Bowen Sr., including funneling the money through a club team and the sports management company.
Sood delivered the first installment of $19,400 to the father, prosecutors said, in a Morristown, N.J., parking lot in July 2017. An undercover FBI agent posing as an investor in the sports management company fronted the cash, the lawsuit said, then Adidas directed the money back to the company through a sham purchase order for a club team.
A federal jury in New York found Dawkins, Code and Gatto guilty last month of wire fraud and conspiracy to commit wire fraud in connection with the payment to Bowen and payments to associates of players at Kansas and North Carolina State.
Gassnola and Sood previously pleaded guilty and are cooperating with prosecutors.
During the trial, Brian Bowen Sr., who wasn't named in his son's lawsuit, testified he was paid tens of thousands of dollars in exchange for his son joining certain club teams, accepted money from a Louisville assistant coach and had lucrative offers for his son to play for other colleges.
Evidence introduced by the government showed that Dawkins directed money to the father, a longtime family friend, long before his son's commitment to Louisville. A text message from Dawkins also used by the government indicated the father wanted $2,000 a month as long as his son played at Louisville.
Brian Bowen Sr. agreed to cooperate with prosecutors before the trial and testified that he believed his son was a victim.
That's the lawsuit's message, too.
"Through this exploitation of the young players' images and likenesses to consumers wishing to purchase shoes and apparel worn by their favorite teams and players," the complaint said, "Adidas profited."
Twitter: @nathanfenno
---
Get our high school sports newsletter
Prep Rally is devoted to the SoCal high school sports experience, bringing you scores, stories and a behind-the-scenes look at what makes prep sports so popular.
You may occasionally receive promotional content from the Los Angeles Times.