Possible Clippers arena has many Inglewood residents worried they may lose their homes or businesses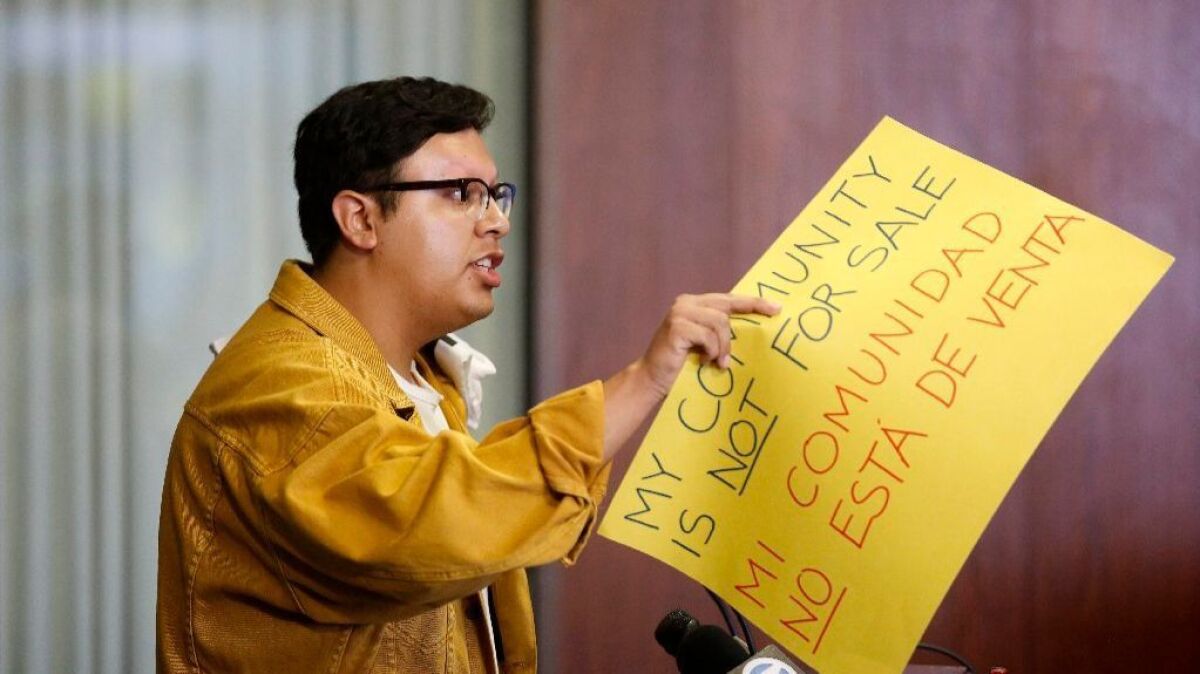 When construction started on the $2.6-billion stadium for the Rams and Chargers last year, Bobby Bhagat figured his family's commitment to Inglewood would finally pay off.
For more than 40 years, they've owned the Rodeway Inn and Suites on busy Century Boulevard. The tidy 36-room property sits across the street from the 298 acres where the vast sports and entertainment district is starting to take shape.
"We've got a gold mine now that the stadium is coming," said Bhagat, whose father and uncle originally purchased the building. "This is what we worked for. We've been waiting for something like this to happen. Now with the Clippers project, it's all up in the air."
The family's gold mine could face a bulldozer.
When a Clippers-controlled company and Inglewood agreed in June to explore building an arena, the 22-page deal sent panic through the neighborhood. Some residents are praying for the project to fail, losing sleep, participating in protests, consulting lawyers.
All this because of the legalese buried in the agreement broaching the possibility of using eminent domain to supplement land already owned by the city. The site map attached to the document shows 100 "potential participating parcels" over a four-block area where the arena might be built. Eminent domain allows cities and other government agencies to pay fair market value to take private property from residents or business owners against their wishes for public uses.
The map doesn't indicate there are an estimated 2,000 to 4,000 people, predominately Latino, who live in the four-block area. Same for the scores of children — schools are a short walk away — and blue-collar residents who have been in the same houses for decades. Many residences include multiple generations of the same family. The median income hovers around $30,000.
The area includes the Inglewood Southside Christian Church, more than 40 single-family homes, apartment buildings with about 500 units, several businesses and the Rodeway Inn and Suites.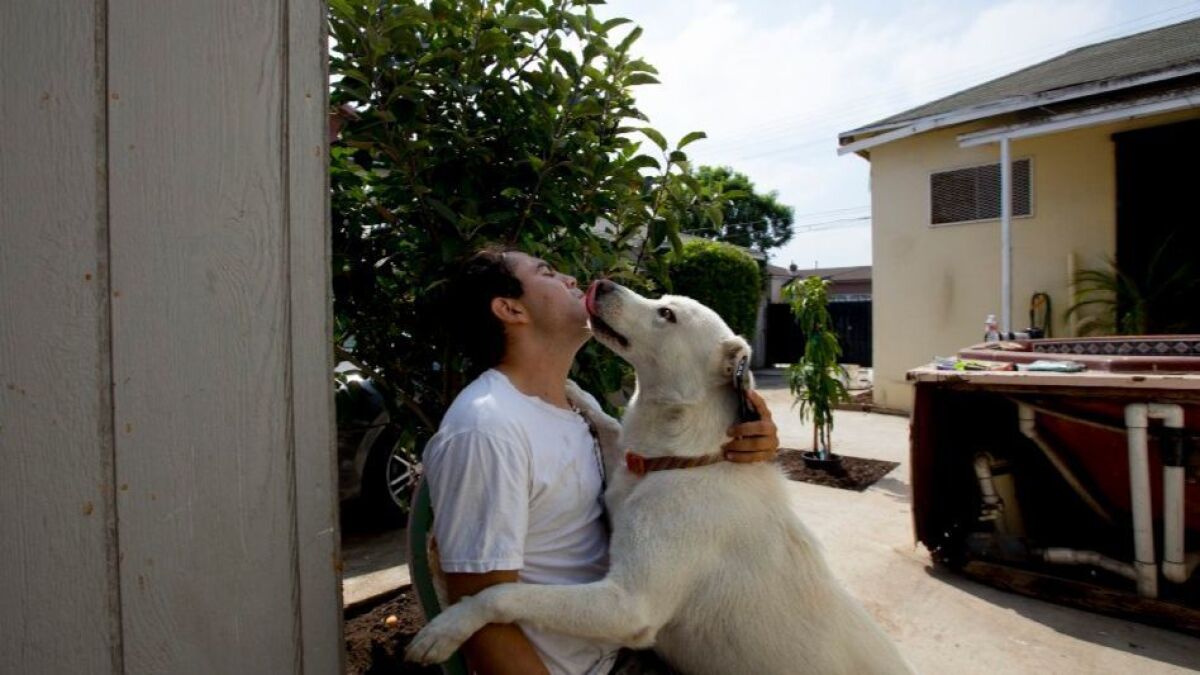 The city owns large parcels of land in the area around the business, making it one of the most plausible arena sites.
"It's not an eyesore, it's not blighted, it's well-kept, well-maintained and we don't want to go anywhere," Bhagat said. "We're going to fight tooth and nail to stop the project."
He is among a growing number of business owners and residents pushing back against Clippers owner Steve Ballmer's proposal to construct the "state of the art" arena with 18,000 to 20,000 seats alongside a practice facility, team offices and parking. Ballmer, worth an estimated $32 billion, has said the team will honor its lease to play at Staples Center through the 2024 season.
The Inglewood deal isn't final — some speculate it could be a negotiating ploy by Ballmer to wangle a better deal from the Anschutz Entertainment Group-owned Staples Center — but that hasn't slowed opposition.
One community group sued Inglewood last month in Los Angeles County Superior Court alleging the project should have been reviewed under California's Environmental Quality Act before the council approved the agreement. The group also distributed fliers urging Inglewood Mayor James T. Butts Jr. to "stop this land grab." Another group, Uplift Inglewood, organized community meetings and protests. The Madison Square Garden Co., which owns the nearby Forum, issued a sharply-worded statement, accused the city of fraud in a claim for damages (usually the precursor to a lawsuit) and sued to obtain public records about the project.
In an email to The Times, Butts described the litigation as "frivolous" and said negotiations for the arena are "proceeding well."
At an Inglewood City Council meeting last month, the mayor insisted "no one is being displaced with the sales of these parcels." But opponents question how enough space exists to build an arena in four blocks without seizing private property. About 20 acres of city-controlled parcels are scattered across the 80-acre area.
The arena and associated structures would likely require at least 20 connected acres — and possibly more. That doesn't include any ancillary development or larger roads to handle increased traffic. The largest contiguous piece of land controlled by the city in the four-block area is only five acres. More would be needed for the project.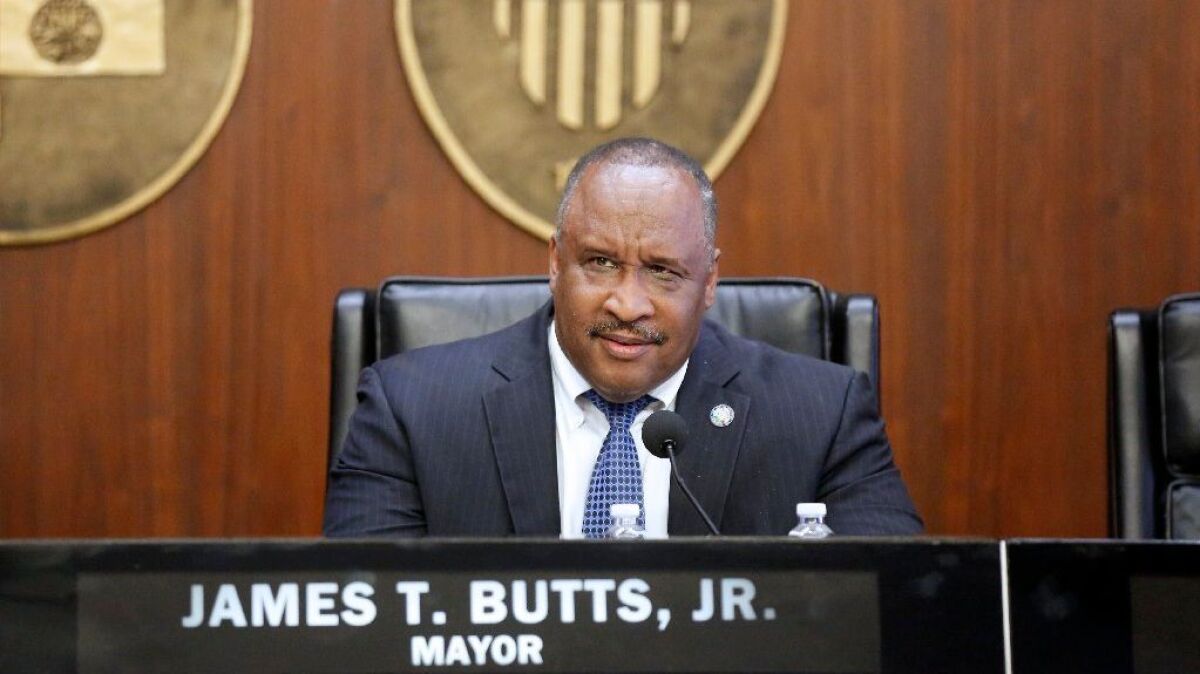 "In my opinion, there will not be any eminent domain proceedings of residential property or of church property," Butts wrote in an email. "As negotiations continue, there will be an opportunity for the City Council to make that clear at some point in the near future. That is not the intent of the project. I personally will not support the use of eminent domain proceedings to take any residential property."
But the response by some residents is a contentious departure from the groundswell of support 2½ years ago for Rams owner Stan Kroenke's plan to build his stadium on the site of the old Hollywood Park racetrack. Kroenke isn't involved with the Clippers project, though Wilson Meany, the sports and entertainment district's development manager, is filling the same role for the possible arena.
"This is something more than just bulldozing houses, this is a network of people and relationships that would also be destroyed," said Douglas Carstens, a Hermosa Beach land use attorney who sued Inglewood on behalf of the group Inglewood Residents Against Taking and Eviction that goes by the acronym IRATE. "It may be lower income and underserved, but they have a sense of community that's thriving."
One person who works with neighborhood residents was blunt: "They're sitting on poverty."
On the second Saturday of each month, the church gives away clothing and food to neighbors in need — food usually runs out at each event — and hosts 30 to 40 people for a free breakfast every Friday.
The church owns about two acres along West 104th Street, the largest single parcel in the four-block area that's not controlled by the city or a business. Herbert Botts, pastor of the church for 17 years, said the congregation doesn't want to move, but they're waiting until more details emerge before deciding on what, if any, action to take.
"We will do what we can to fight it, of course we will," Botts said. "But right now we're just keeping our eyes and ears open."
A half-block away, Gracie Sosa has witnessed the neighborhood's evolution from a two-bedroom home on Doty Avenue where she's lived with her parents since 1985. Crime and violence in the area have dwindled in recent years, replaced by a calmer, family-oriented atmosphere.
Sosa, who works for the American Red Cross, learned of the potential arena from a friend. No representatives of the city or team have contacted the family. She takes care of her disabled parents who are in their 70s. The family has no intention of leaving.
"It's about the money," Sosa said. "Let's just say it like it is. They're not thinking about how many people would lose their homes. I don't think our voices are heard. We're not billionaires. We're just residents of a not-so-great neighborhood. But it's our neighborhood.
"We're saying 'No, no, no' until the end."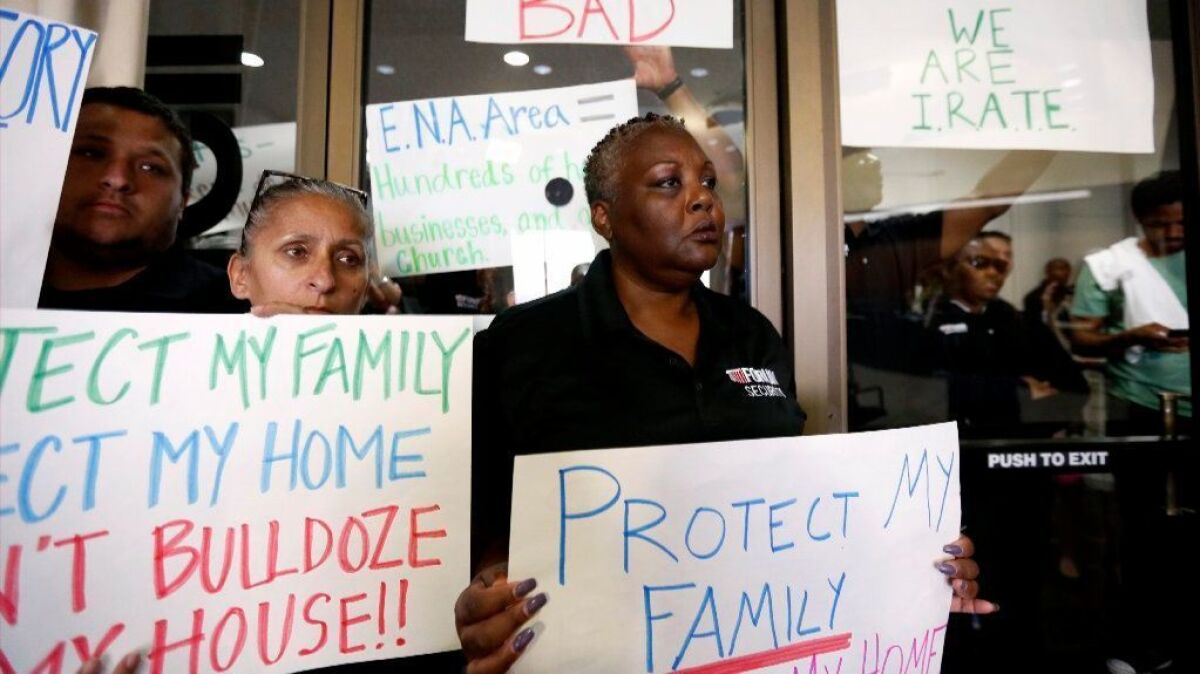 Irma Andrade agrees. The concession stand manager at Staples Center has lived on Yukon Avenue for 20 years.
"It's unfair for people like us who worked really hard to buy our houses," she said. "I pray for it not to happen. But the money and power is really, really strong. We don't have that power."
Nicole Fletcher resides nearby in an apartment on 104th Street. She walks around the block at night and sees a neighborhood that's come a long way, but holds the potential for more improvement. In her eyes, that doesn't include an arena.
"My biggest concern is how it will impact the families," Fletcher said. "I would hate to see a lot of people move out because they want to build a sports arena."
But little is known about the project other than that Ballmer would fund it himself. The agreement between Inglewood and the Clippers-controlled company, which included the team giving the city a $1.5-million nonrefundable deposit, runs for three years with the possibility of a six-month extension. No renderings have been made public, usually the first step in any public campaign for a new venue. Even the possible location of the arena on the four-block site is a mystery.
A Clippers spokesman declined comment about the project or opposition.
The uncertainty hasn't helped many of the residents, business owners and landlords. There are worried conversations with neighbors. Trips to organizing meetings. And, most of all, questions.
"In our experience with eminent domain, they never give you fair market value," said Bhagat, whose pride in the family business is reflected in his preference to call it a hotel instead of a motel. "We already know we're going to be shortchanged."
He's concerned about the potential lost income from the business that advertises "fresh, clean guest rooms" and touts its proximity to L.A. International Airport. His cousin who operates the business, John Patel, lives on site with his wife and two young children. What would happen to them?
Airplanes descend over the palm tree-lined parking lot. Cranes sprout across the street from the sports and entertainment district scheduled to open in 2020.
"How are we going to replace this business with another business in Southern California with that great of a location?" Bhagat said. "It literally is impossible."
Twitter: @nathanfenno
ALSO
Two hikers found dead in the Mojave Desert
Terrorists, hackers and scammers: Many enemies as L.A. plans Olympics security
Despite California's strict new law, hundreds of schools still don't have enough vaccinated kids
---
Get our high school sports newsletter
Prep Rally is devoted to the SoCal high school sports experience, bringing you scores, stories and a behind-the-scenes look at what makes prep sports so popular.
You may occasionally receive promotional content from the Los Angeles Times.