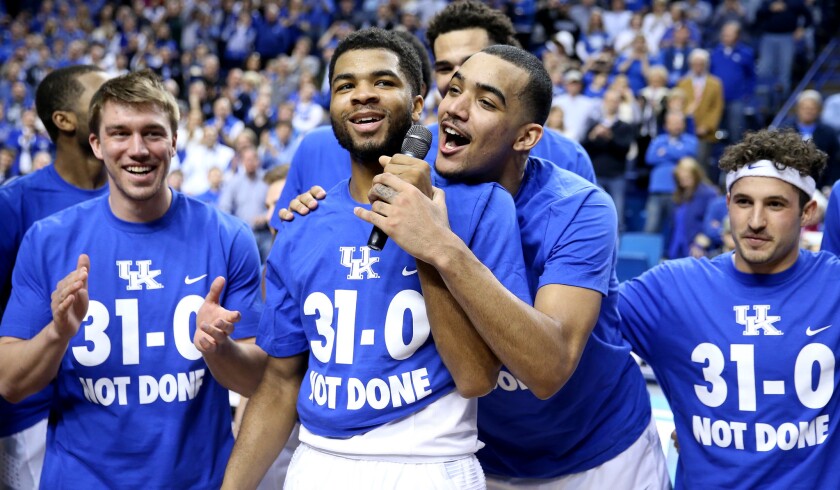 Trey Lyles scored 14 points, Karl-Anthony Towns finished with 13 points and nine rebounds and No. 1 Kentucky pulled away from Florida, 67-50, at Lexington, Ky., on Saturday to complete the storied program's first unbeaten regular season.
A blue-clad sellout crowd cheered loudly as the final seconds wound down on the eight-time NCAA champions' milestone achievement. Players soon donned blue T-shirts with "31-0" in white and the phrase "not done yet."
Towns, who missed last month's matchup in Gainesville with strep throat, was essential in getting the Wildcats going toward history with 10 first-half points. He also grabbed six rebounds that were critical in helping Kentucky (31-0, 18-0 Southeastern Conference) slowly pull away.
Kasey Hill scored 15 points and Dorian Finney-Smith had 12 for Florida (15-16, 8-10), which couldn't keep up with the Wildcats' depth in the final 10 minutes. The Gators were outscored 46-13 in bench points alone and shot just 43 percent.
Aaron Harrison added nine points while Willie Cauley-Stein and Andrew Harrison each had eight for Kentucky, which shot 47% and outrebounded the Gators, 31-26.
Cauley-Stein had seven rebounds, while Towns had six of the Wildcats' eight blocks.
No. 16 Louisville 59, No. 2 Virginia 57
Mangok Mathiang made a 15-footer with 2.7 seconds left to give the Cardinals a stunning victory at Louisville, Ky.
Evan Notle's inbounds pass went wide to end the Cavaliers' chance for a last-second win, giving Louisville the ball back underneath its own goal. Terry Rozier made a free throw for the final margin.
Virginia's Malcom Brogdon hit his fourth 3 of the half to give Virginia a 57-56 lead with 13 seconds left. Rozier then drew a double team and found Mathiang open at the free throw line for the winner and his only points of the game. It was Mathiang's second field goal since Jan. 31.
Montrezl Harrell had 20 points and 12 rebounds in his last home game to help Louisville (24-7, 12-6) clinch the fourth seed in the Atlantic Coast Conference tournament.
Brogdon scored 16 of his 17 points in the second half for regular-season conference champion Virginia (28-2, 16-2).
No. 3 Duke 84, No. 19 North Carolina 77
Tyus Jones had a big second half to help the Blue Devils, who shot 59% after the break, to the victory at Chapel Hill, N.C.
Jones scored 17 of his season-high 24 in the second half for Duke (28-3, 15-3 Atlantic Coast Conference), which capitalized on a handful of key turnovers by the Tar Heels (21-10, 11-7) to finally get a fragile hold on a game in which neither team could get many second-half stops.
Quinn Cook added 20 points for Duke, including a tough floater to beat the shot clock with about 4 minutes left as the Blue Devils worked to hang on for their 11th straight win.
The latest renewal of the fierce rivalry was a competitive fight throughout, with UNC shooting 58 percent after halftime but unable to catch up once Duke finally got the game turned with about 6 1/2 minutes left.
No. 4 Villanova 105, St. John's 68
Daniel Ochefu had 21 points and nine rebounds, JayVaughn Pinkston scored 18 points and the Wildcats rolled to their 12th straight victory with the win in Philadelphia.
Villanova (29-2, 16-2 Big East) now has the most regular-season wins in team history and head to New York as the No. 1 seed in the conference tournament. The Wildcats have won 12 straight Big East games for the first time in program history.
Villanova is rolling, its aim on a No. 1 seed in the NCAA Tournament. The Wildcats just might earn a top spot with the way they're playing. They shook off a slow start and dominated the Red Storm (21-10, 10-8) in the second half. Villanova went on a 23-4 run to put the game away. Rysheed Jordan led St. John's with 21 points.
No. 7 Gonzaga 81, San Francisco 72
Przemek Karnowski scored a season-high 24 points and Kyle Wiltjer added 19 to lead the Bulldogs to victory in the West Coast Conference tournament in Las Vegas.
The Bulldogs (30-2) will play Pepperdine in the semifinals Monday night. The Waves defeated San Diego 50-47 earlier Saturday.
Gonzaga struggled offensively in the first half and trailed 41-39 six minutes into the second half before going on a 16-0 run. At that point, the Zags led 58-42 and were never threatened.
Tim Derksen and Mark Tollefsen led USF (14-18), the tournament's eighth seed, with 21 points each. Devin Watson scored 17.
Zags point guard Kevin Pangos, the WCC player of the year, scored 10 points and added five assists before fouling out.
Illinois State 65, No. 8 Wichita State 62
Daishon Knight capped a 25-point game with two critical free throws in the closing seconds and the Redbirds rallied from an eight-point halftime deficit to beat the Shockers in the semifinals of the Missouri Valley Conference tournament in St. Louis.
Reggie Lynch added 11 points, seven rebounds and five blocks for the fourth-seeded Redbirds (21-11), who were 0-2 against the regular season champions in conference play and trailed by 12 in the first half. Illinois State has won six straight and will play either No. 11 Northern Iowa, the second seed, or Loyola, the No. 6, for the Valley's automatic bid to the NCAA Tournament in the final on Sunday.
Fred VanVleet had 19 points, seven rebounds and five assists for Wichita State (28-4), which was 17-1 in the conference with the lone loss at Northern Iowa. VanVleet had a tough look and was offline on a 3-point attempt with 1 second remaining.
No. 15 Oklahoma 75, No. 9 Kansas 73
Buddy Hield scored on a tip-in with 0.2 seconds left to give the Sooners the win at Norman, Okla.
Hield got up high and got both hands on Jordan Woodard's missed layup. Hield finished with 18 points and seven rebounds to help the Sooners (21-9, 12-6 Big 12) clinch at least a tie for second in the conference.
Isaiah Cousins added 16 points, TaShawn Thomas had 13, and Ryan Spangler finished with nine points and 11 rebounds for Oklahoma.
Frank Mason III tied a season high with 21 points for Kansas (24-7, 13-5).
Kansas scoring leader Perry Ellis sat out after spraining his right knee against West Virginia on Tuesday night. A Kansas spokesman said Brannen Greene was suspended for irresponsible behavior, and forward Cliff Alexander didn't make the trip because if an ongoing NCAA investigation.
No. 11 Northern Iowa 63, Loyola 49
Seth Tuttle led a balanced, methodical attack with 13 points and the Panthers were stingy again defensively in the Missouri Valley Conference tournament semifinals in St. Louis.
Marvin Singleton and Jeremy Morgan added 11 points apiece for the Panthers (29-3), who held Bradley to 46 points in the quarterfinals. Northern Iowa is fourth in the nation in scoring defense, allowing 54 points, and has won 18 of 19 headed into the title game against fourth-seeded Illinois State (21-11), which upset top-seeded and eighth-ranked Wichita State earlier Saturday.
Northern Iowa beat Illinois State by one and 19 points in the regular season.
The Panthers shot 51 percent, scored 14 points off turnovers and held Loyola (19-13) without an offensive rebound. The Ramblers, who entered with a three-game winning streak and scored 81 points in the quarterfinals, shot 46 percent but were outrebounded 27-18 overall.
No. 12 Notre Dame 81, Clemson 67
Jerian Grant had 19 points and eight assists, Zach Auguste added 19 points and the Irish shot 55% in cruising to the win at South Bend, Ind.
Jaron Blossomgame kept Clemson in the game for a while, scoring the first seven points and 13 of the Tigers' first 17. But Blossomgame added just nine more points the rest of the way after Steve Vasturia started defending him, finishing with 22 points.
Auguste scored five points during a 7-0 run late in the first half to open an 11-point lead and the Irish hit three 3-pointers early in the second half and used a 10-3 spurt to go ahead 55-38. Notre Dame (26-5, 14-4 Atlantic Coast Conference) finished with the most regular-season victories in school history. Clemson (16-14, 8-10) lost for the sixth time in its last eight games.
Louisiana State 81, No. 18 Arkansas 78
Keith Hornsby hit a 3-pointer at the buzzer to give LSU the win at Fayetteville, Ark. The Tigers (22-9, 11-7 Southeastern Conference) hit 3-pointers on their final two possessions to erase a 3-point deficit. Jalyn Patterson's 3-pointer with 57.8 seconds left tied the score, 78-78.
Alandise Harris made six free throws and Anthlon Bell added a 3-pointer in the closing minutes to give Arkansas the lead. The Razorbacks (24-7, 13-5) trailed by as many as 12 points in the first half.
No. 20 West Virginia 81, Oklahoma State 72
Devin Williams tied a career-high with 22 points to lead the Mountaineers to the win in Morgantown, W.Va., in the teams' regular-season finale.
Daxter Miles Jr. added 15 points for the Mountaineers (23-8, 11-7 Big 12), who were without injured senior guards Juwan Staten and Gary Browne in their final home game. Williams had 13 rebounds for his eighth double-double of the season. Most of Williams' work came from the free throw line, where he went 14 of 15.
Jeff Newberry scored a career-high 23 points on 8 of 11 shooting for Oklahoma State. Anthony Hickey added 17 points, Phil Forte had 13 and Le'Bryan Nash 10. The Cowboys (18-12, 8-10) head into the conference tournament with losses in five of their last six games.
No. 21 Butler 68, No. 24 Providence 64
Roosevelt Jones scored 16 points and Kellen Dunham had 15 as the Bulldogs hung on for the win at Providence, R.I.
Reserve Kelan Martin added 14 points for the Bulldogs (22-9, 12-6 Big East), who won for the ninth time in 12 games.The teams entered the final day of conference season in a three-way tie for second in the Big East with Georgetown.
Kris Dunn led Providence (21-10, 11-7) with 23 points, six assists and four steals. Tyler Harris had 17 points on 7 of 12 shooting. LaDontae Henton, a senior and the Big East's leading scorer, had eight points on 2 of 10 shooting.
Belmont 88, No. 25 Murray State 87
Taylor Barnette hit a 3-pointer with 3.2 seconds left, and Belmont upset Murray State to win the Ohio Valley Conference tournament championship in Nashville, Tenn., and clinch its seventh NCAA Tournament berth.
The Bruins (22-10) improved to 7-1 in conference tournament finals — all in the past decade. Murray State had one last chance, but T.J. Sapp's deep 3 came nowhere near the basket before the buzzer.
Murray State (27-5) couldn't add a perfect run through the tournament to the first undefeated league record in the program's history. The Racers snapped a 25-game winning streak that had been second only to No. 1 Kentucky.
Belmont clinches NCAA bid with OVC title
Gabas Maldunas banked in a layup in the final second and Dartmouth rallied past Yale, 59-58, spoiling the Bulldogs' hopes of clinching the Ivy League title outright. Yale (22-9) will face Harvard (21-7) in a tiebreaker game next Saturday for the Ivy League's automatic NCAA berth. The Ivy is the only league that doesn't have a tournament.
Wooden Award
Willie Cauley-Stein of No. 1 Kentucky, Malcolm Brogdon of No. 2 Virginia and Jahlil Okafor of third-ranked Duke are among the nominees for the John R. Wooden Award, given to the nation's top player. Others on the ballot are: Ron Baker of Wichita State, Rakeem Christmas of Syracuse, Jerian Grant of Notre Dame, Tyler Haws of Brigham Young, Buddy Hield of Oklahoma, Frank Kaminsky of Wisconsin, Georges Niang of Iowa State, Bobby Portis of Arkansas, D'Angelo Russell of Ohio State, Seth Tuttle of Northern Iowa, Kyle Wiltjer of Gonzaga and Delon Wright of Utah. Five finalists will be announced March 30, with the winner named April 10.
---