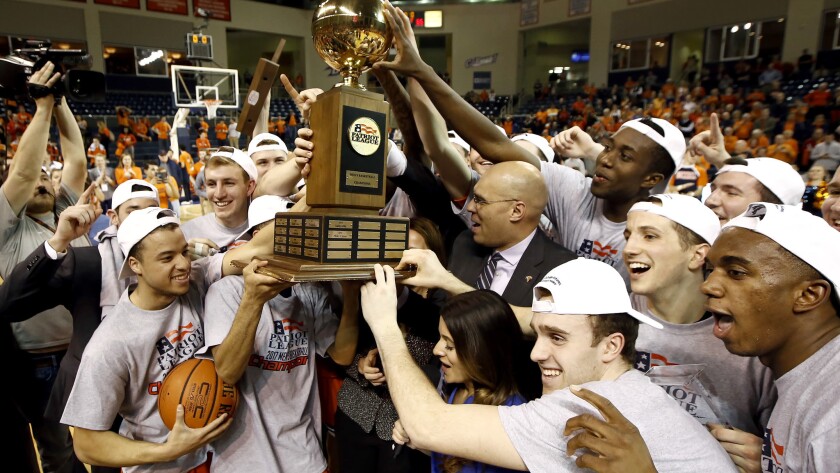 Kimbal Mackenzie scored 18 points to help send Bucknell into the NCAA tournament with an 81-65 victory over Lehigh in the Patriot League final Wednesday night.
The Bison (26-8) are back in the tournament for the first time since 2013 and seem ready to shake up the brackets one more time. Bucknell beat Kansas in 2005 and Arkansas in 2006 to earn a reputation as March upset masters.
They were knocked out in the first game each of the last two trips. But scouting reports can wait until after Sunday's field is announced. Nana Foulland and Zach Thomas had the electric home crowd ready to taste the tournament from the opening tip.
Bucknell opened the second half on a 12-0 run that turned Sojka Pavilion into zoo, complete with a dancing Bison (mascot) and a gyrating shark. The Mountain Hawks (20-12) didn't fare as well and lost in the Patriot League Tournament championship game for the second straight season.
ACC
No. 14 Duke 79, Clemson 72: Luke Kennard made two clutch jumpers in the final 2:04 to help No. 14 Duke thwart a rally by Clemson and advance to the quarterfinals of the Atlantic Coast Conference tournament. The fifth-seeded Blue Devils (24-8) play fourth-seeded and No. 8-ranked Louisville on Thursday at Barclays Center.
Kennard took a while to find his shot but finished with 20 points. Freshmen Jayson Tatum and Frank Jackson each scored 20 and picked up the slack while Kennard was cold. Jaron Blossomgame led Clemson (17-15) with 19 points and eight rebounds.
In other ACC games, Zach LeDay had a career-high 31 points to go with 15 rebounds as Virginia Tech (22-9) stopped the late-season charge of Wake Forest (19-13) with a 99-90 victory while Kamari Murphy had 16 points and 10 rebounds as Miami (21-10) dealt a serious blow to the NCAA tournament chances of Syracuse (18-14) with a 62-57 win.
BIG TEN
Rutgers 66, Ohio State 57: Nigel Johnson scored 21 points and made all eight free throws to lead the Scarlet Knights to a win in the first round of the conference tournament in Washington. Rutgers (15-17) now has won back-to-back games after a six-game skid.
Now in its third season in the Big Ten, it's the first time the Scarlet Knights have won consecutive conference games. Rutgers outrebounded Ohio State 47-31 to overcome its shooting woes. Jae'Sean Tate scored 18 points for 11th-seed Ohio State (17-15), which will miss the NCAA tournament for the second consecutive season.
Penn State 76, Nebraska 67 (OT): With his cousin rapper Flavor Flav cheering loudly from the third row, Shep Garner scored seven of the Nittany Lions' 16 points in overtime in the first Big Ten game to be held in the nation's capital.
Penn State (15-17) never trailed and ended a five-game losing streak. The 13th-seeded Nittany Lions advanced to face Michigan State in the second round. Evan Taylor led 12th-seeded Nebraska (12-19) with 15 points.
BIG 12
Texas Christian 82, Oklahoma 63: Vladimir Brodziansky had 20 points, Kenrich Williams added 19 and the Horned Frogs won in the opening round of the conference tournament in Kansas City, Mo. The Horned Frogs will play top-ranked Kansas in the quarterfinals Thursday.
Alex Robinson added 17 points and Jaylen Fisher had 11 for the Horned Frogs (18-14), who used a 15-2 run to close the first half and assume control, then punched the Sooners (11-20) again with a big run in the second half to put the game away.
Texas 61, Texas Tech 52: Andrew Jones scored 15 points, Kerwin Roach Jr. had all 13 of his in the second half and the 10th-seeded Longhorns rallied for the win. Texas will play No. 11 West Virginia on Thursday night.
Keenan Evans had 11 points and Anthony Livingston and Matthew Temple scored 10 apiece for the seventh-seeded Red Raiders (18-14), whose NCAA tournament hopes have evaporated over the last few weeks. The Longhorns (11-21) trailed by 12 points in the first half but went on a 16-2 run in the second half to surge into the lead.
BIG EAST
St. John's 74, Georgetown 73: Shamorie Ponds scored 17 points and the Red Storm snapped a six-year losing streak in the conference tournament with the opening win in New York. St. John's will face top-seeded and second-ranked Villanova in Thursday's quarterfinals.
The Red Storm (14-18) led for most of the second half but they didn't have the win in hand until Georgetown's L.J. Peak and Marcus Derrickson both missed shots in close and the buzzer sounded. Peak led the Hoyas (14-18) with 24 points, 22 coming in the second half.
In the other Big East game, Trevon Bluiett scored all 17 of his points in the second half and Xavier (20-12) kept alive its hopes for an NCAA Tournament bid with a 75-64 victory over DePaul (9-23), losers of 11 of their last 12.
SEC
Mississippi State 79 Louisiana State 52: Quinndary Weatherspoon scored 19 points and the 12th-seeded Bulldogs won the conference tournament opener in a rout in Nashville, Tenn. The Bulldogs (16-15) will play fifth-seeded Alabama on Thursday.
Reserve Tyson Carter added 18 points for the Bulldogs. Xavian Stapleton had 13, and Lamar Peters 10. No. 13-seed LSU (10-21) wraps up the season losing 17 of its final 18 with this possibly being Coach Johnny Jones' final game at his alma mater.
Missouri 86, Auburn 83 (OT): Kevin Puryear made a three-pointer just before the buzzer as Missouri rallied to keep Coach Kim Anderson working at least one game longer. The 14th-seeded Tigers (8-23) snapped a six-game skid by rallying from 10 points down in the final five minutes of regulation, including hitting back-to-back three-pointers within the final 17 seconds to force overtime. They came away with their first win since Feb. 11 to advance to Thursday and a game against sixth-seeded Mississippi.
T.J. Dunans hit only one free throw for Auburn with 1:36 left, then missed a layup with 29 seconds left with the game tied at 83. Missouri took a timeout with 15.3 seconds left to setup the final shot, and Puryear knocked down the shot before running to mid-court to celebrate. Auburn (18-14) missed its final four shots of overtime.
Etc.
A plane carrying the Michigan men's basketball team slid off a runway during an aborted takeoff Wednesday, causing extensive damage to the aircraft and forcing passengers to exit through emergency doors onto wings and slides at Willow Run Airport. The 109 passengers and seven crew members didn't suffer injuries, according to the Wayne County Airport Authority, which said the airport in Ypsilanti about 15 miles from campus was closed. Michigan was due to face Illinois in the Big Ten Tournament in Washington, D.C., at noon Thursday and the Wolverines said they would be able to make it — even though they will arrive later than planned. … Kansas suspended star freshman Josh Jackson for the opening game of the Big 12 Tournament Wednesday after he backed into a parked car and fled the scene, the latest in a string of distracting legal troubles for the top-ranked Jayhawks. Coach Bill Self said Jackson would be eligible to play in the semifinals if the Jayhawks advance.
---