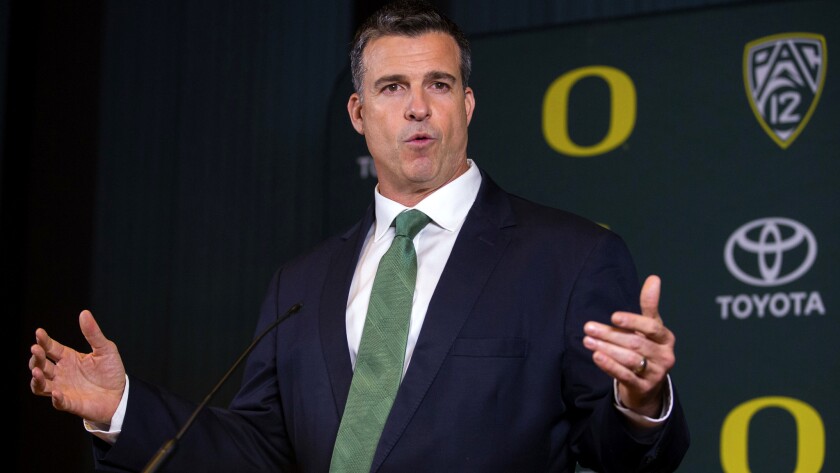 Oregon assistant Mario Cristobal was officially promoted to head coach a year to the day after Willie Taggart was introduced.
Taggart bolted Tuesday for the top job at Florida State, and Cristobal — the co-offensive coordinator and offensive line coach — was named interim coach for the Las Vegas Bowl. But after a groundswell of support from the players, that interim label was removed on Friday.
The 47-year-old Cristobal becomes Oregon's 34th head coach.
"I know this, and I think everyone that knows me will also know this: You'll receive every ounce of effort, sweat — whatever it takes to ensure our student-athletes have the finest experience, from an academic standpoint, from a football standpoint," he said at an introductory press conference late Friday afternoon.
Before coming to Eugene, Oregon, with Taggart, Cristobal had spent four seasons as offensive line coach at Alabama. He has six seasons of head coaching experience at Florida International, where he went 27-47, including 20-26 in conference, with two bowl appearances from 2007-12. He was also an assistant at Miami, his alma mater.
Cristobal joined Taggart's staff just 11 months ago.
Rob Mullens, Oregon's athletic director, said he interviewed several candidates for the job.
"Something separated Mario from the group," Mullens said. "His commitment to the full student-athlete experience, his fierce desire to compete, his passion for recruiting, his love for Eugene and this university."
Etc.
Duke kicker/punter Austin Parker has been kicked off the football team after he was suspended from school for a violation of the university's academic policy. Team officials announced Parker's dismissal Friday. … Receiver James Robinson's playing days are over at Florida because of a heart condition. The Gators announced Friday that the freshman, one of the state's top recruits last February, will not be medically cleared to return. Florida did not provide details about Robinson's diagnosis. …
East Tennessee State coach Carl Torbush announced his retirement. The 66-year-old Torbush had been ETSU's coach since the school relaunched its football program in 2015 after shutting it down for financial reasons in 2003. Torbush led ETSU to an 11-22 record in three seasons, including a 4-7 mark this season. … New Nebraska coach Scott Frost is bringing his entire on-field cadre of assistants with him from Central Florida, including offensive coordinator Troy Walters. He will serve as Nebraska's offensive coordinator and receivers coach. Sean Beckton will coach Nebraska's tight ends. That brings to nine the number of UCF assistants who will be coming with Frost to Lincoln once the bowl game against Auburn is over. A third assistant, strength and conditioning coach Zach Duval, worked at UCF and Nebraska in the past.
---