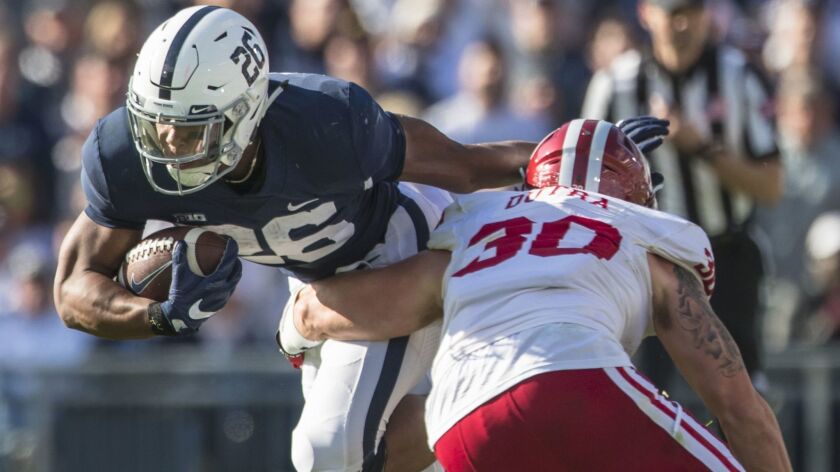 Need some help deciding which college football games to watch? Look no further. Each Friday, Times contributor Chuck Schilken handicaps what's worth watching, and skipping, on the weekend's menu of games:
FRIDAY
4 p.m.: Memphis at Connecticut, ESPN.
7:15 p.m.: Boise State at Brigham Young, ESPN.
SATURDAY MORNING
No. 4 Penn State (5-0) at Northwestern (2-2), 9 a.m., Channel 7
Saquon Barkley makes any Penn State game worth watching. He's the Nittany Lions' top rusher and receiver, plus he threw a touchdown pass last week. Northwestern's fourth-quarter rally against Wisconsin on Saturday fell short.
No. 5 Georgia (5-0) at Vanderbilt (3-2), 9 a.m., ESPN
Despite being shut out by Alabama two weeks ago, Vanderbilt is averaging almost 20 points per game. But the Commodores may struggle again this week against a Georgia defense that has given up a total of three points in the past two weeks.
9 a.m.: Wake Forest at No. 2 Clemson, ESPN2; Iowa State at No. 3 Oklahoma, Channel 11; Mississippi at No. 12 Auburn, SEC Network (SEC); Temple at East Carolina, ESPNU; Eastern Michigan at Toledo, CBS Sports Network (CBSSN); Illinois at Iowa, Big Ten Network (Big Ten); Texas Tech at Kansas, FS1.
9:15 a.m.: Duke at Virginia, KDOC.
9:30 a.m.: Pittsburgh at Syracuse, Prime.
SATURDAY AFTERNOON
No. 13 Miami (3-0) at Florida State (1-2), 12:30 p.m., ESPN
Miami quarterback Malik Rosier leads the Atlantic Coast Conference in passing efficiency. Florida State quarterback James Blackman passed for only 121 yards against Wake Forest last week but threw a 40-yard pass in the final minute for the game-winning touchdown.
Louisiana State (3-2) at No. 21 Florida (3-1), 12:30 p.m., Channel 2
Florida and its much-improved offense have won three straight after opening with a loss to Michigan. But the Gators will be without top receiver Tyrie Cleveland. After two losses in the last three weeks, LSU Coach Ed Orgeron could use a win.
Air Force (1-3) at Navy (4-0), 12:30 p.m., CBSSN
It's pretty safe to say these teams will run the ball a lot. They have combined to throw only 76 passes this season, compared to 499 running plays. Navy is the country's top rushing team, averaging 400 yards a game.
Maryland (3-1) at No. 10 Ohio State (4-1), 1 p.m., Channel 11
J.T. Barrett has passed for 13 touchdowns without having a pass intercepted during Ohio State's victories — and didn't throw for a touchdown with one interception during its loss. Maryland quarterback Max Bortenschlager, who started the year as a third-stringer, was impressive against Minnesota last week.
Kansas State (3-1) at Texas (2-2), 4 p.m., FS1
This could be a low-scoring game. Kansas State has the Big 12 Conference's top-ranked defense, allowing 15 points and 308.5 yards a game. Texas gave up just seven points to Iowa State, which scored more than 40 in its first three games.
Michigan State (3-1) at No. 7 Michigan (4-0), 4:30 p.m., Channel 7
It's tough to move the ball on Michigan, which has the Big Ten Conference's top-ranked defense. The Wolverines hold opponents to an average of 203 yards per game. But Michigan will be going with a backup quarterback, John O'Korn, so it might have a tough time against a Michigan State defense that allows an average of 248 yards per game.
No. 11 Washington State (5-0) at Oregon (4-1), 5 p.m., Channel 11
Because of a scheduling quirk, Washington State hasn't played a road game all season. With Justin Herbert out with a broken collarbone, Oregon has yet to name a starting quarterback between Taylor Alie and Braxton Burmeister.
12:30 p.m.: No. 23 West Virginia at No. 8 Texas Christian, FS1; No. 21 Notre Dame at North Carolina, Channel 7; Minnesota at Purdue, ESPN2; Charleston Southern at Indiana, Big Ten.
1 p.m.: Oregon State at No. 14 USC, Pac-12 Networks (Pac-12); Arkansas at South Carolina, SEC.
3:30 p.m.: Army at Rice, beIN1.
4 p.m.: Southern Methodist at Houston, CBSSN.
4:15 p.m.: No. 1 Alabama at Texas A&M, ESPN; No. 16 Virginia Tech at Boston College, ESPN2.
4:30 p.m.: Missouri at Kentucky, SEC.
5 p.m.: No. 9 Wisconsin at Nebraska, Big Ten; Arizona at Colorado, Pac-12; No. 25 Central Florida at Cincinnati, ESPNU.
SATURDAY EVENING
Stanford (3-2) at No. 20 Utah (4-0), 7:15 p.m., FS1
Stanford's Bryce Love, who averages 217 yards rushing per game, faces a Utah run defense that holds opponents to an average of 87 yards per game. Utah's Darren Carrington is averaging 121 yards receiving per game and faces a defense that allows 254 yards receiving per game. Advantage Utah?
7:30 p.m.: Hawaii at Nevada, CBSSN.
7:45 p.m.: California at No. 6 Washington, ESPN; No. 19 San Diego State at Nevada Las Vegas, ESPN2.
Twitter: @chewkiii
---