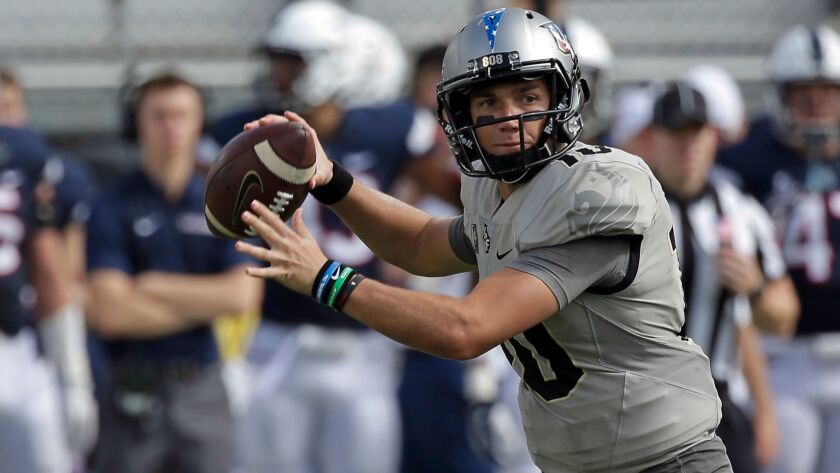 Need some help deciding which college football games to watch? Look no further. Each week, Los Angeles Times contributor Chuck Schilken handicaps what's worth watching, and skipping, on the weekend's menu of games.
FRIDAY
5 p.m.: Middle Tennessee at Western Kentucky, CBS Sports Network (CBSSN). 6:30 p.m.: Nevada Las Vegas at New Mexico, ESPN2.
SATURDAY MORNING
No. 24 Michigan (8-2) at No. 5 Wisconsin (10-0), 9 a.m., Channel 11
Wisconsin has the nation's top-ranked defense against the rush (81.5 yards per game) and overall (247.6). Michigan's defense is elite as well — No. 2 against the pass (144.5) and No. 3 overall (254.8). Wisconsin needs a win to remain in the playoff conversation.
No. 15 Central Florida (9-0) at Temple (5-5), 9 a.m., ESPNU
Central Florida quarterback McKenzie Milton (2,720 yards, 22 touchdowns) leads the nation's top-scoring offense (48.6 points per game). Milton has been sacked eight times, but is going against a defense that has gotten to the quarterback 28 times.
Texas (5-5) at West Virginia (7-3), 9 a.m., ESPN
West Virginia quarterback Will Grier (3,440 yards, 34 touchdowns) knows how to spread the ball around. Mountaineers receivers Gary Jennings and Ka'Raun White each have more than 900 yards, and David Sills leads the nation with 18 touchdown receptions.
9 a.m.: Mercer at No. 1 Alabama, SEC Network (SEC); Virginia at No. 3 Miami, Channel 7; Louisiana Monroe at No. 6 Auburn, ESPN2; No. 12 Texas Christian at Texas Tech, FS1; No. 16 Mississippi State at Arkansas, Channel 2; Minnesota at No. 23 Northwestern, Big Ten Network (Big Ten); Southern Methodist at No. 21 Memphis, ESPNews; Cincinnati at East Carolina, CBSSN; the Citadel at No. 2 Clemson, KDOC.
SATURDAY AFTERNOON
Kentucky (7-3) at No. 7 Georgia (9-1), 12:30 p.m., Channel 2
After getting blown out by Auburn and tumbling from the top of the College Football Playoff rankings, Georgia needs to win for a chance at climbing back into the top four. Sophomore Benny Snell is the first Kentucky player to rush for more than 1,000 yards in consecutive seasons.
Navy (6-3) at No. 8 Notre Dame (8-2), 12:30 p.m., Channel 4
Quarterback Brandon Wimbush accounted for three turnovers and was benched for a portion of Notre Dame's crushing loss to Miami a week ago. Navy's Malcolm Perry ran for 282 yards with four touchdowns in his first start at quarterback last week.
Kansas State (5-5) at No. 13 Oklahoma State (8-2), 12:30 p.m., ESPN2
Oklahoma State is 3-0 in games decided by seven points or fewer; Kansas State is 1-4 in games decided by the same margin. Oklahoma State's Mason Rudolph, averaging a nation-best 369.0 yards per game passing, faces the Big 12 Conference's worst pass defense (303.4).
Nebraska (4-6) at No. 10 Penn State (8-2), 1 p.m., FS1
Nebraska athletic director Bill Moos has said: "Mike Riley deserves to finish the 2017 season." That doesn't sound like a resounding vote of confidence in his third-year coach. An upset here wouldn't hurt.
No. 20 Louisiana State (7-3) at Tennessee (4-6), 4 p.m., ESPN
Michigan fans may want to watch Brady Hoke's debut as Tennessee's interim head coach, just to see what he looks like wearing a headset on the sideline. Hoke's refusal to wear one during his tenure as the Wolverines' coach was an issue for some of the team's supporters.
Noon: Arizona State at Oregon State, Pac 12 Networks (Pac-12). 12:30 p.m.: No. 4 Oklahoma at Kansas, ESPN; Illinois at No. 9 Ohio State, Channel 7; Purdue at Iowa, Big Ten; San Jose State at Colorado State, CBSSN; Syracuse at Louisville, ESPNU. 1 p.m.: Maryland at No. 17 Michigan State, Channel 11; Alabama Birmingham at Florida, SEC; Houston at Tulane, ESPNews. 3:30 p.m.: Army at North Texas, beIN1. 4 p.m.: Arizona at Oregon, Pac-12; Texas A&M at Mississippi, ESPN2; Boston College vs. Connecticut, CBSSN. 4:30 p.m.: No. 19 North Carolina State at Wake Forest, ESPNU; Missouri at Vanderbilt, SEC.
SATURDAY EVENING
UCLA (5-5) at No. 11 USC (9-2), 5 p.m., Channel 7
Any NFL team with a need at the quarterback position likely will be tuned in to this game, as UCLA's Josh Rosen (3,094 yards, 21 touchdowns, nine interceptions) goes against USC's Sam Darnold (3,198 yards, 24 touchdowns, 11 interceptions) for the first, and possibly only, time.
California (5-5) at No. 22 Stanford (7-3), 5 p.m., Channel 11
Stanford running back Bryce Love, the nation's leading rusher, makes any game worth watching. Plus, California is capable of an upset, just ask Washington State. A win keeps Stanford's Pac-12 championship hopes alive.
7:15 p.m.: Air Force at No. 25 Boise State, ESPN2. 7:30 p.m.: Utah at No. 18 Washington; Nevada at San Diego State, CBSSN.
Twitter: @chewkiii
---