Former USC kicker Matt Boermeester asks court to reverse expulsion; school says girlfriend alleged previous abuse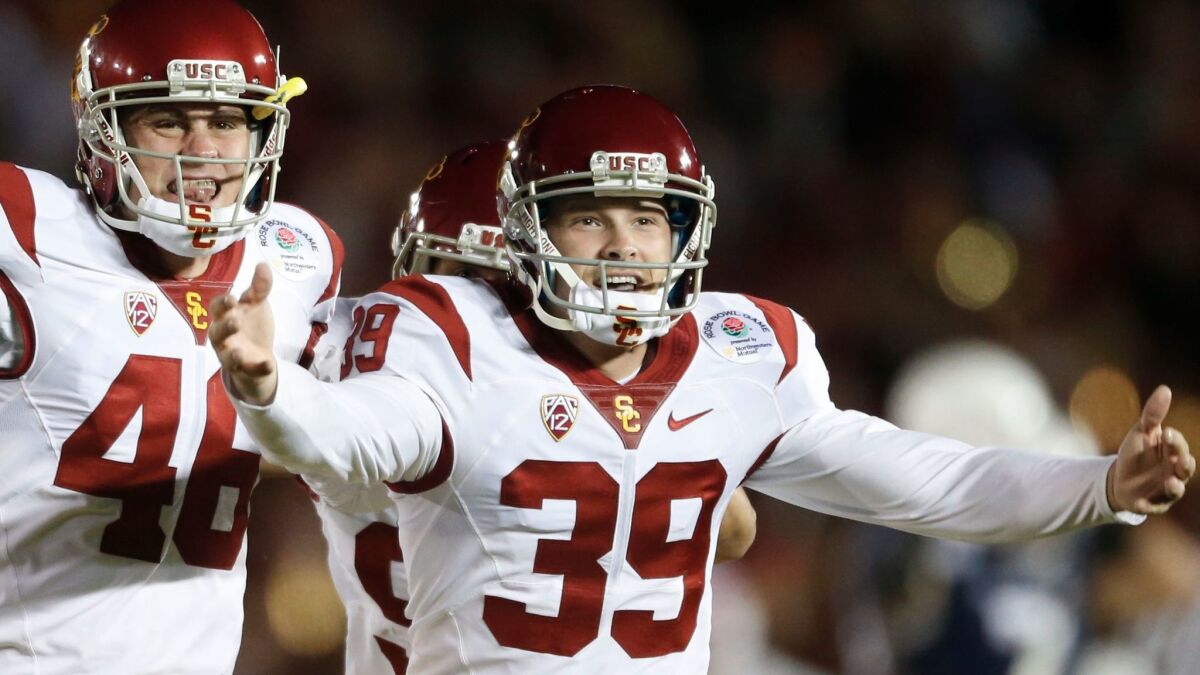 Attorneys for former USC kicker Matt Boermeester have filed a petition in Los Angeles County Superior Court seeking to have his expulsion from the school overturned.
Boermeester, who kicked the winning field goal in the Rose Bowl in January, was removed from the football team later that month after an alleged incident with his girlfriend, Zoe Katz, outside her home. The kicker was expelled in July after an investigation by USC's Title IX office, though an anonymous appellate panel recommended a two-year suspension.
USC and vice provost for student affairs Ainsley Carry are named in the petition, which was filed on Aug. 11.
The dispute spilled into public last month when Katz called the investigation "horrible and unjust" to her and Boermeester in a statement to The Times. She was adamant that she has "never been abused, assaulted or otherwise mistreated by Matt."
Los Angeles attorney Mark M. Hathaway, who represents former USC football player Bryce Dixon in a similar case, filed the petition. The court documents provide the most detailed account of what did — or didn't — occur between Boermeester and Katz.
The petition said the couple "briefly engaged in loud, consensual horseplay and laughing" in an alley near her residence after getting French fries at a McDonald's restaurant around midnight on Jan. 21.
"Ms. Katz never made any report to USC; rather another student looking out the window thought he saw a physical altercation, told another student about what he thought he saw, and that student told his father, who then contacted the USC Title IX Office," the petition said.
The petition identified the father as Peter Smith, the USC men's tennis coach. Smith was required by law to pass what he had been told to campus authorities. He declined comment on Tuesday. Katz was captain of USC's women's tennis team.
Boermeester — who wrote in a declaration filed in court that he was "presumed guilty" by USC's Title IX office — was never arrested or charged with a crime.
In a court document filed last week, USC said Boermeester placed his hands around Katz's neck and twice pushed her against a wall during the alleged incident. According to the document, two male students witnessed it, heard her scream, and later described the encounter as "aggressive, not playful."
When the two students spoke to Katz shortly afterward, she was crying and said she returned to her apartment because "she didn't want to make [Petitioner] more mad."
The filing said Katz, referred to as "Jane Roe" in the document, initially confirmed the witnesses' version of events and reported she "often had bruises on her legs or arms from Petitioner because he would hit or grab her tightly when he was angry."
"She reported that the physical contact had become 'more often and more hurtful' and that bruising had become more commonplace recently because Petitioner had become 'more angry,'" the filing said. "She said that when she did not do what Petitioner wanted, she would get bruised."
Katz also told investigators, the document said, Boermeester "had torn her down so she felt dependent on him."
Hathaway disputed this account. The attorney said "Zoe Katz never changed her story" from denying any altercation or previous abuse occurred.
Later, Katz sent text messages to the Title IX investigator at USC expressing concern Boermeester would learn she discussed the matter. One text, the filing said, read: "He can't know I made a statement. Can you not tell him I made a statement."
The kicker was placed on an interim suspension Jan. 26, banned from all school activities, told not to contact Katz and escorted off campus.
"USC later charged Petitioner with violating the interim measure because Ms. Katz and Petitioner continued their private relationship, which should be of no concern to the University," Boermeester's petition said.
The investigation lasted two months, the petition said, but there weren't audio recordings or transcripts of witness interviews and Boermeester wasn't allowed to possess copies of the documents or evidence in the matter.
"USC provided no process for [Boermeester] to question, if even indirectly, the complaining witnesses against him," the petition said.
It added that Boermeester's and Katz's repeated assertions that nothing untoward occurred is supported by video from a security camera that USC allowed them and others to view in an on-campus office. The school wouldn't turn over a copy of the video to their representatives, the petition said.
"When I told the truth about Matt, in repeated interrogations, I was stereotyped and was told I must be a 'battered' woman, and that made me feel demeaned and absurdly profiled," Katz said in the statement last month.
In a declaration filed in court last week, she wrote that "during the Title IX process I felt so misled, harassed, threatened and discriminated against by USC's Title IX personnel ... that I had to retain my own attorney to protect myself and try to get USC's Title IX office to listen to me."
Katz's declaration, which noted she is still dating Boermeester, alleged her statements and those of witnesses were "misrepresented, misquoted and taken out of context."
The investigation found Boermeester violated school policies on intimate-partner violence and violated the order barring contact with Katz.
"Whether you intended to cause the Reporting Party harm or did so recklessly, expulsion is appropriate given the nature of the harm inflicted upon the Reporting Party, as well as your violation of the University's Avoidance of Contact order," Carry wrote in a July letter to Boermeester notifying him of the final decision in the matter.
The letter said the appellate panel concluded Boermeester physically harmed Katz — no further details were provided — but wasn't clear if the harm was "intentional or simply reckless."
USC declined to comment beyond its court filing.
Boermeester would have been a senior on the football team this season and the presumptive starter at kicker. USC has one scholarship kicker remaining, Mike Brown, and has brought in a walk-on, Chase McGrath. Both have struggled at times during training camp.
In Boermeester's declaration, attached to a filing asking the court to stay his expulsion pending a full review of the petition, he said the situation kept him from graduating and will "severely hinder" his pursuit of a professional football career.
"I am now known as the Rose Bowl kicker who got expelled for student conduct code violations," he wrote.
Staff writer Zach Helfand contributed to this report.
Twitter: @nathanfenno
ALSO
USC ranks fourth in the preseason Associated Press top 25 poll
To eliminate mistakes, USC acts like a startup: 'I came up with this new app,' Tee Martin says
Review: Disneyland meets Hogwarts at $700-million USC Village
---
UPDATES:
4:40 p.m.: This article was updated with details from declarations by Boermeester and Katz.
3:35 p.m.: This article was updated with documents from the case and more details.
1:28 p.m.: This article was updated with comment from Hathaway.
12:30 p.m.: This article was updated with more details from court documents.
11:50 a.m: This article was updated with additional details from Boermeester's petition.
This article was originally published at 10:25 a.m.
Get our high school sports newsletter
Prep Rally is devoted to the SoCal high school sports experience, bringing you scores, stories and a behind-the-scenes look at what makes prep sports so popular.
You may occasionally receive promotional content from the Los Angeles Times.