Tennis: Roger Federer, Caroline Wozniacki reach semifinals at Miami Open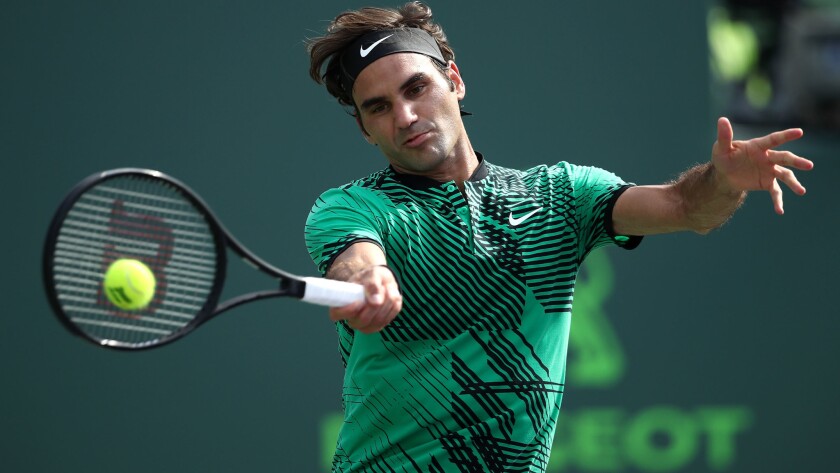 Roger Federer and Caroline Wozniacki rolled through the first few matches of the Miami Open, never facing any significant challenges. That changed Thursday, and both survived.
The fourth-seeded Federer fought off two match points before beating No. 10 Tomas Berdych 6-2, 3-6, 7-6 (6) in a quarterfinal matchup. Wozniacki rallied with far less drama, the No. 12 seed topping second-seeded Karolina Pliskova 5-7, 6-1, 6-1 to reach the final at Key Biscayne for the first time in her 10 appearances at the tournament.
"I'm happy today to have come through somehow," Federer said. "I definitely got very lucky at the end. But I think I showed great heart today, Tomas really started to step it up and it was a great match at the end."
Federer is now 4-0 in tiebreakers at this tournament, none of the first three as pressure-packed as the one he needed Thursday. He was serving for the match at 5-3 and got broken, had a match point in the next game and couldn't convert, then was down 6-4 in the breaker before winning the final four points.
"I just lost by one point. That's what happened. Very simple, very straightforward," Berdych said. "He was the one serving out the match, didn't make it. I had a match point, didn't make it. I had two, didn't make it. So what else to say?"
Federer improved to 17-1 this year and will face No. 12 Nick Kyrgios in the semifinals on Friday.
Kyrgios defeated 16th-seeded Alexander Zverev, 6-4, 6-7 (9), 6-3, in the last of the men's quarterfinals, a match that lasted 2 1/2 hours. Kyrgios had 16 aces, no double faults and never faced a break point, though his 19-year-old opponent saved five match points before falling.
Zverev fought off three match points in the second-set tiebreaker, and won the set when Kyrgios — who pulled off two between-the-legs shots on the same point in the first set — tried another that didn't work.
Wozniacki got her trouble out of the way early, winning 12 of the final 14 games in her semifinal matchup.
Wozniacki will play No. 10 Johanna Konta in Saturday's championship match. Konta topped No. 11 Venus Williams, 6-4, 7-5, in the second semifinal, one that ended just after midnight.
"This is one of the few tournaments where I've never made a finals," Wozniacki said. "I think my best result here was semifinals five years ago. It's always been a tournament where I wouldn't say I struggle, but I've just not had the results I wanted."
That's not the case this year.
The part-time South Florida resident — she has a place in nearby Miami Beach, practices at Key Biscayne sometimes, even has been courtside at Miami Heat games — was clearly the fresher player as the match unfolded on a sunny, 80-degree afternoon. She wasted three set points in the opening set, won the first three games in the second set and kept rolling.
"I got a good start to the second set and that kind of got me fired up," Wozniacki said.
In Federer's case, the second set is where things started going awry.
He needed only 26 minutes to take the first set, before Berdych — battling through a gimpy left ankle — found his stride. Federer broke for 4-2 in the third, was serving for the match at 5-3 and got broken at love, then let a match point get away later.
But he held on, joining Rafael Nadal and Fabio Fognini in the semifinals.
"Sick atmosphere," Federer told the crowd afterward. "Thanks for making it very special."
This will be the second consecutive time two double-digit seeds make the women's final at Key Biscayne, after No. 13 Victoria Azarenka beat No. 15 Svetlana Kuznetsova a year ago.
No. 11 Venus Williams and No. 10 Johanna Konta were to play for the other spot in the women's final later Thursday night.
"It's extremely special," Wozniacki said. "Having a place here, training here in the offseason, playing kind of on home advantage, it's special to be in my first finals here. I'm extremely excited."
---
Get the latest on L.A.'s teams in the daily Sports Report newsletter.
You may occasionally receive promotional content from the Los Angeles Times.