Morning Briefing: Hey everyone, LaVar Ball is back!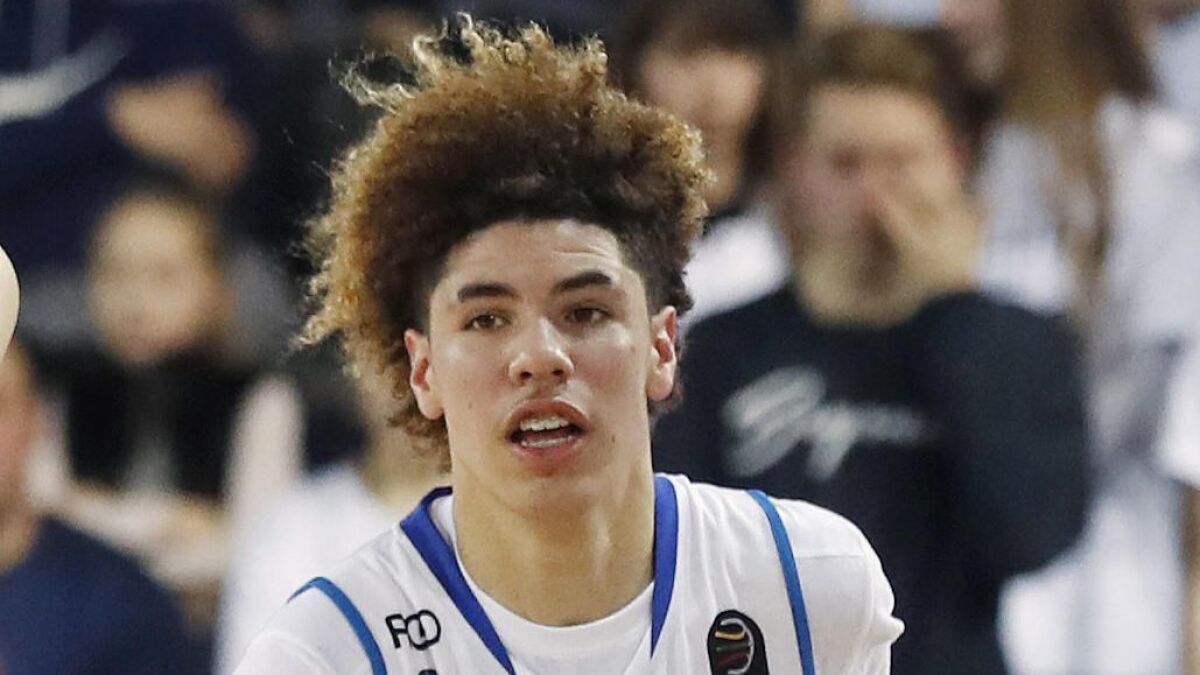 Remember LaVar Ball? The guy who descended from the heavens to gift us with the three greatest basketball players the world will ever see? He's back in the news.
LaMelo Ball, one of LaVar's sons, is back from playing in Lithuania and is going to SPIRE Institute, a high school in Ohio. SPIRE's boys basketball team is going to play in a tournament in Kentucky this weekend. However, if you are a member of the media and want to shoot video of LaMelo, it will cost you $3,500.
According to a media guide for the event, as tweeted by Adam Zagoria of the New York Times, "All games are free to film except for the SPIRE Institute games. To film either of the 2 SPIRE Institute games, you will have to present $3,500 at the gate as per rules of the Big Baller Brand media credential."
And the only reason SPIRE is playing in Kentucky is apparently because a representative of the Big Baller Brand asked for a $10,000 appearance fee for SPIRE to play in a tournament in Massachusetts.
Greg Procino, the organizer of the Hoophall Classic, told Forbes in an email: "The school/program did not request money. An outside 'consultant' who requested the change in terms did have certain financial requests. We did not pay them to participate and SPIRE decided not to honor the original agreement for Hoophall Classic. We replaced SPIRE with The Patrick School after the final conversation took place."
The consultant, the story continues, is allegedly a man named Alan Foster, who serves as the managing director of the Ball Sports Group.
Gee, the least the Ball family could have done was throw in a couple pairs of Big Baller Brand sneakers if they truly wanted $10,000.
Back to your day job
If you haven't been watching "The Masked Singer" on Fox, well, you haven't missed much. The show, which is similar to what every LSD nightmare must be like, has become an internet sensation as people try to guess who each masked singer is.
Wednesday night, the guy dressed up in the deer costume (and I'm pretty sure an actual deer would have been a better singer) was voted off the show and was revealed to be Hall of Fame quarterback Terry Bradshaw.
Bradshaw promptly thanked everyone for voting him off because he said he couldn't take the pressure anymore.
Close call
Former NHL player John Scott almost died recently when he tried to skate on Cedar Lake in Traverse City, Mich. Scott told the Athletic's Chris Kuc that the ice cracked as soon as he stepped on it.
"I tried to hoist myself up but I couldn't do it, and there was no way I could get to a part where I could walk up because at the end of my dock it's probably 20 feet deep and I couldn't get around to where the beach starts, so I was like, 'Either I get up on the dock or I don't get up at all.' I managed to find a somewhat solid piece of ice to put my foot up on and kind of hoist myself up luckily."
My apologies to the King
It has been a week of apologies for Boston Celtics standout Kyrie Irving. Earlier this week, he apologized for calling out his teammates publicly. Wednesday night, after Boston's 117-108 victory over Toronto, he said he called LeBron James not long after his first apology to apologize to James for not understanding how leadership works on a championship-level team.
"I had to call [LeBron James] and tell him I apologize for being that young player who wanted everything at his fingertips," Irving said. "I wanted everything to be at my threshold. I wanted to be the guy that led us to the championship. I wanted to be the leader, I wanted to be all that. The responsibility of being the best player in the world and leading a team is something that's not meant for many people. LeBron was one of those guys who came to Cleveland and tried to show us how to win a championship, and it was hard for him, and sometimes getting the most out of the group is not the easiest thing in the world."
Irving wanted out of Cleveland in 2017 because he was bristling under James' leadership and criticism of him.
---
Get our high school sports newsletter
Prep Rally is devoted to the SoCal high school sports experience, bringing you scores, stories and a behind-the-scenes look at what makes prep sports so popular.
You may occasionally receive promotional content from the Los Angeles Times.