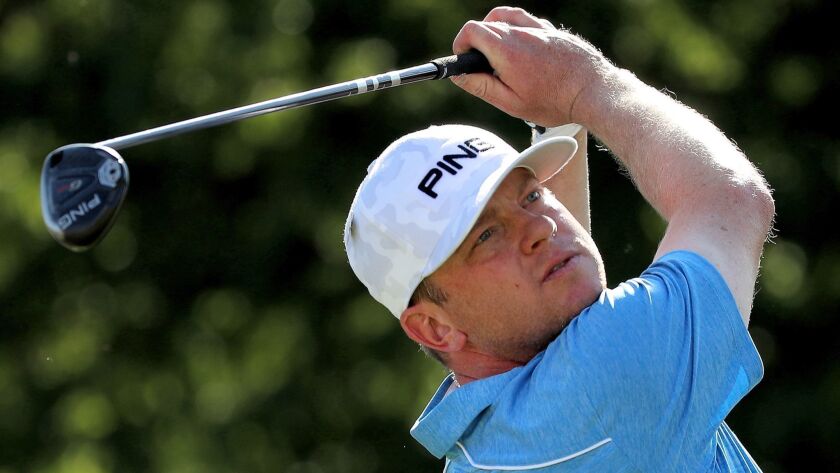 Nate Lashley won the PGA Tour's Rocket Mortgage Classic over the weekend. It was his first victory on the tour. He's 36. All of those things are noteworthy. But what made the victory truly remarkable is how he even got into the tournament.
In 2004, Lashley was playing golf for the Arizona Wildcats. He was competing in an NCAA regional in Nebraska. His parents and girlfriend watched him play, but tragically were killed in a plane crash on the return trip home.
Understandably, Lashley lost a lot of his desire for golf after that. He played off and on, but to play golf on the PGA Tour requires almost total dedication. So he played in a few mini-tour events and sold real estate before deciding to re-dedicate himself to golf. In 2015, he qualified for the PGA Tour Latinoamerica. He played well enough to qualify for the PGA Tour's Web.com Tour, which is one level below the PGA Tour. He played well enough there to be eligible for tournaments, but usually had to settle for being an alternate.
David Berganio Jr. was supposed to play in the Rocket Mortgage Classic, but he didn't. His golf clubs got lost in the familiar "Where's my luggage" airport game and Berganio didn't get them in time to play a practice round before the tournament started.
"A friend of mine always says, 'Fail to prepare, prepare to fail,' " Berganio told the Associated Press. "I know some kid behind me was waiting to get in, and I didn't want to take up a spot."
Yep, Berganio, who is 50, and Lashley both played for Arizona.
Berganio had no idea who was replacing him in the tournament until he got home and saw it was Lashley and that he had opened with a 63. Then he learned he also went to Arizona.
"I texted my coach [Rick LaRose] and said, 'Who is this kid from Arizona?' " Berganio said. "He told me the whole story and I was like, 'Holy smokes.' "
Thanks to the win, Lashley has a two-year exemption on the main PGA Tour and will be able to play in the Masters, the British Open and the PGA Championship.
The streak is over
John Sterling has been the radio play-by-play man for the New York Yankees since 1989. Since the start of the 1990 season, he has missed a total of zero games. Until this Thursday.
"For the moment, I'm a little under the weather," Sterling told The New York Post. "I've put in the time. I want to feel better and they think this is the time for me to do it — and I agree."
I don't know how you put up with a guy who misses a game every 30 years. The Yankees need to get someone a little more reliable to do the job.
our daily email sports newsletter (you can sign up for it online at latimes.com/newsletters) in which readers share their favorite sports memory involving L.A.-area events or teams. (Yes, that includes the Angels and Ducks, etc.). We are expanding the feature to Morning Briefing and will run responses occasionally here too. To take part, email your favorite sports moment to houston.mitchell@latimes.com. Here's the next one:
Dan Diamond, Santa Barbara: "It was the fall of 1965. I was 14 and supposed to be sleeping on a school night. I had my transistor radio under my pillow listening to Vinnie calling Sandy Koufax's perfect game. After the final pitch, I screamed with amazement and delight. My father came into my room to find out what was wrong and confiscated my little radio."
---