'Hard Knocks' recap: A reminder to go easy on Gurley, plus heart-wrenching moments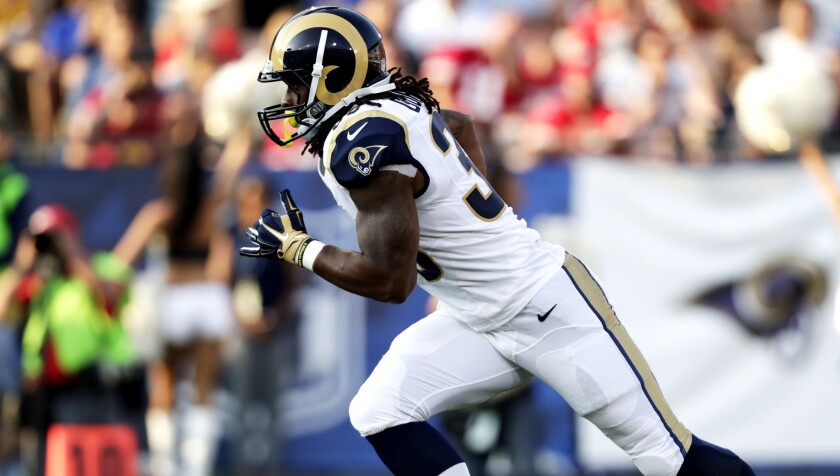 Do not breathe on Todd Gurley, do not touch Todd Gurley, and most important, do not tackle Todd Gurley.
HBO's "Hard Knocks: Training Camp With the Los Angeles Rams" took a turn for the serious this week as receiver Paul McRoberts learned about the death of his stepbrother, receiver Austin Hill's daughter was in tears longing for her father and the Rams trudged on through training camp and a second preseason game.
Coach Jeff Fisher made it abundantly clear in a staff meeting that Gurley, the Rams' star running back and 2015 offensive rookie of the year, was to make it through camp unharmed.
"We need to treat him like a freakin' quarterback," Fisher told coaches.
It's been apparent to reporters that maintaining Gurley's health was a priority, but a glimpse into Fisher's meeting made it clear that the organization knows its success hinges on keeping Gurley injury free.
Episode three of the five-part series opened with McRoberts, a rookie free agent, in Fisher's office. The scene served as a sobering reminder that there is life outside of football training camp. McRoberts told Fisher that he discovered on Facebook that his 18-year-old stepbrother was slain. "We just have to talk through this and take a deep breath," Fisher said.
Later in the episode, heartstrings were tugged again as Hill, a free agent who joined the team during camp, played with his young daughter on the practice field. She burst into tears when he handed her off to her mother. Hill has become a focal point of the series, but it seems unlikely the receiver from Arizona, who has yet to make a catch in an exhibition game, will make the final roster.
Quarterback Jared Goff's grandmother hopefully didn't watch the episode or at least covered her ears for a good portion of it. Goff's family told The Times' Sam Farmer earlier this week that the profanity throughout the series has been difficult to hear.
But come on, that's football.
Defensive coordinator Gregg Williams told the defense, in so many words, during a film breakdown that it was soft. "When you don't do what you're told to do, you get fired in other jobs. You'll get fired here too," Williams said.
Defensive assistant Mike Singletary, who seems to have a somewhat mild-mannered lexicon but a very aggressive practice routine, sternly spoke with middle linebacker Alec Ogletree about his "ability to be an off-the-chart player."
Mike Waufle, the defensive line coach, saved his harshest words for the Kansas City Chiefs. Waufle yelled at the Chiefs' No. 75, offensive tackle Jah Reid, after he was penalized for a chop block. Rams defensive lineman Ethan Westbrooks was injured on the play.
"You suck, 75," Waufle yelled, among other words, from the sideline.
As for Goff, the first overall pick in the draft, he mostly avoided using profanity throughout the episode and opted instead to share his love of crunchy peanut butter sandwiches with a touch of honey on lightly toasted bread.
Several conversations were aired between Fisher and the staff about the need to get Goff repetitions with the starters during the practice week and preseason game.
Coaches and players commented on the sideline as Goff practiced with the starters.
"Oh, there we go, 16," said one player after Goff completed a pass.
"He can really throw that football, man," said a coach.
Said quarterbacks coach Chris Weinke in a coaches meeting: "We see flashes of, obviously, why we took him No. 1, and you also see rookie lapses throughout the course of each practice."
A few other memorable scenes: Linebacker Akeem Ayers and defensive lineman William Hayes rode a roller coaster at Disneyland; offensive lineman Eric Kush, "Man of a thousand tank tops," has two small sons, who apparently share his affinity for the sleeveless shirts; and Fisher gave the coldest stare one might ever see, presumably to the Chiefs' sideline.
Follow Lindsey Thiry on Facebook and Twitter @LindseyThiry
---
Get the latest on L.A.'s teams in the daily Sports Report newsletter.
You may occasionally receive promotional content from the Los Angeles Times.