Vikings place Adrian Peterson on exempt list, barring him from team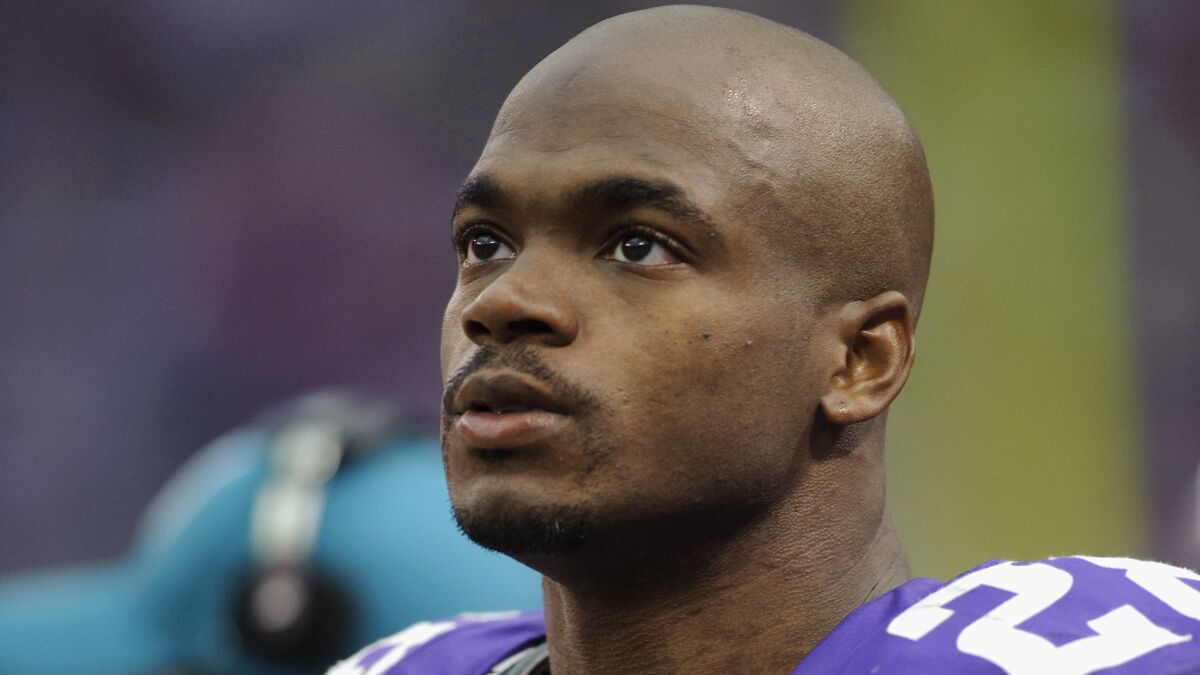 Two days after announcing that running back Adrian Peterson could return to practice following his indictment last week on a felony child-abuse charge, the Minnesota Vikings reversed their decision.
The Vikings placed Peterson on the exempt/commissioner's permission list, preventing him from taking part in any team activities for an indefinite period, the team announced early Wednesday morning.
The Vikings previously announced that Peterson would remain with the team as he waited for the legal process to continue. After holding him out of Sunday's game against the New England Patriots, the Vikings reinstated Peterson on Monday.
Vikings owners Zygi and Mark Wilf said they changed their position on Peterson's status after further consideration. Their initial decision was met with heavy criticism.
"While we were trying to make a balanced decision yesterday, after further reflection we have concluded that this resolution is best for the Vikings and for Adrian," the Wilfs said in a statement. "We want to be clear: we have a strong stance regarding the protection and welfare of children, and we want to be sure we get this right. At the same time we want to express our support for Adrian and acknowledge his seven-plus years of outstanding commitment to this organization and this community.
"We will support Adrian during this legal and personal process, but we firmly believe and realize this is the right decision. We hope that all of our fans can respect the process that we have gone through to reach this final decision."
Late Wednesday, Peterson's attorney, Rusty Hardin, released the following statement:
"Adrian wants to continue his work in the NFL and contribute to his team and community. In order to do so, he is prepared to resolve this matter in the appropriate legal forum rather than the court of public opinion. I have spent my entire career asking people to wait until all the facts are in, and I'm doing so again today. Ultimately, it will be up to a judge and jury to decide this case, which is the way it should be. Ours is the greatest legal system in the world, and Adrian is confident that a just result will emerge once all the facts are presented."
Being deactivated by the team is "the best possible outcome given the circumstances" for Peterson, the running back's agent, Ben Dogra, told the Associated Press.
"Adrian understands the gravity of the situation and this enables him to take care of his personal situation," Dogra said.
Tuesday was a difficult day for the Vikings. It included the Radisson hotel chain suspending its sponsorship with the franchise. Several companies and organizations, including Castrol Motor Oil, Special Olympics Minnesota and Mylan Inc. have cut their ties to Peterson.
Peterson was released on $15,000 bond Saturday after turning himself in to authorities. Prosecutors in Texas allege that he used a "switch" or stick to discipline his 4-year-old son. Phil Grant of the Montgomery County district attorney's office said Peterson left the child with cuts on his thighs and hand and bruises on his lower back and buttocks.
Peterson said he did not intend to hurt his son.
"I am not a perfect parent, but I am, without a doubt, not a child abuser," Peterson said in a statement released Monday.
A Texas grand jury returned an indictment against Peterson, charging him with causing an injury to a child. The incident took place May 18, according to a copy of the indictment.
Peterson could face up to two years in prison and a $10,000 fine if convicted, according to Grant, who said probation could also be an option. Peterson's arraignment is scheduled for Oct. 8.
The Associated Press contributed to this report.
Get our high school sports newsletter
Prep Rally is devoted to the SoCal high school sports experience, bringing you scores, stories and a behind-the-scenes look at what makes prep sports so popular.
You may occasionally receive promotional content from the Los Angeles Times.