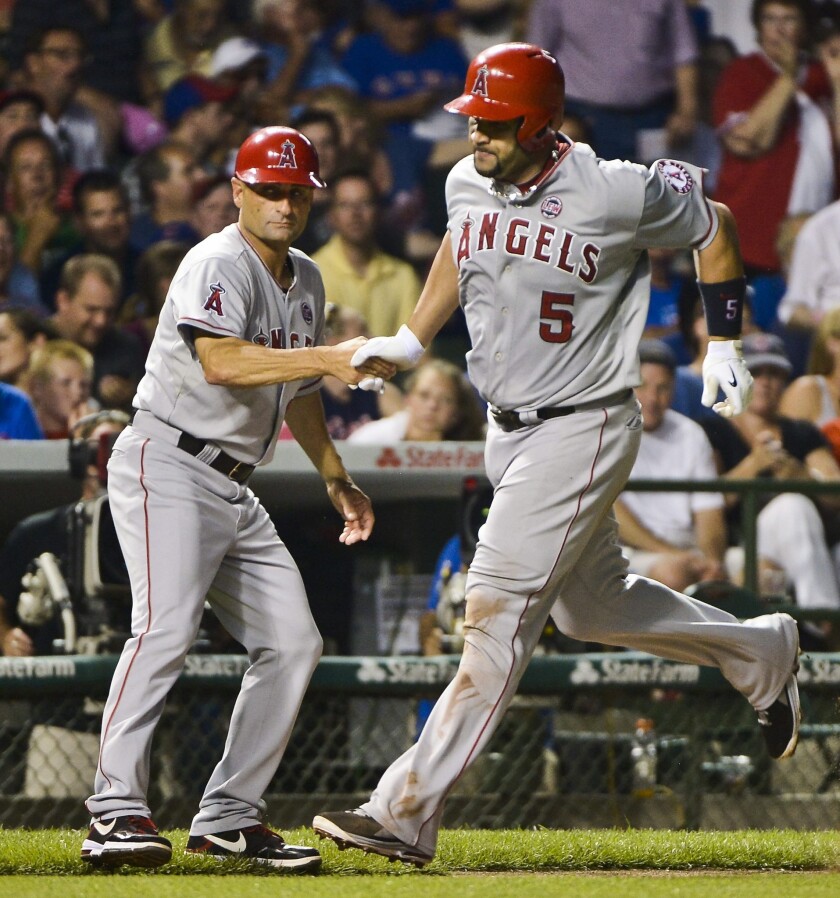 OAKLAND -- Albert Pujols has partially torn the plantar fascia ligament in his left foot and was placed on the 15-day disabled list Sunday morning. The injury is expected to sideline the Angels slugger for several weeks and possibly for the rest of the season.
Pujols will be replaced on the roster by outfielder Kole Calhoun, who was called up after hitting .354 with 12 homers and 49 RBIs in 59 games for triple-A Salt Lake.
Pujols has been hobbled all season with plantar fasciitis, and he aggravated it on a ninth-inning, two-run single against the Oakland Athletics on Friday night. He returned to Southern California on Saturday to undergo an MRI test and be examined by a doctor.
There was no immediate word from the Angels on how Pujols' injury will be treated or how long he might be out, but surgery to completely cut the ligament to release tension and relieve inflammation is an option. Pujols could also receive a cortisone injection and try to play the remainder of the season.
The injury relegated the first baseman to designated hitter for 65 of his 99 starts, but he was still somewhat productive, hitting .258 with 17 home runs and 64 runs batted in this season while going 12 for 34 (.353) with two homers and seven RBIs in eight games after the All-Star break.
Pujols, 33, has eight years and $212 million left on his 10-year, $240-million contract.
ALSO:
Donovan McNabb to officially retire as a member of the Eagles
David Ortiz ejected after destroying dugout phone in fit of rage
Danica Patrick: 'It's about baby steps' in the big leagues of NASCAR
---