Boxer Terrel Williams is deeply shaken by bout that left opponent Prichard Colon in coma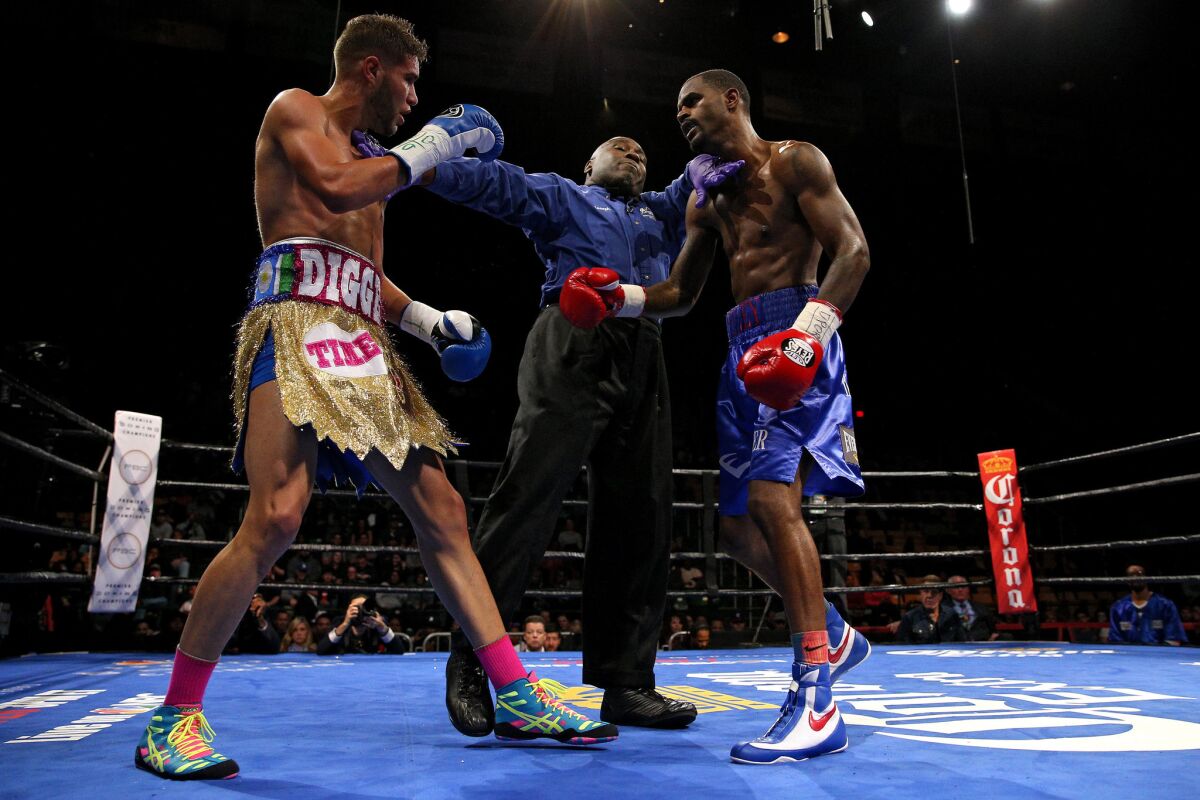 Terrel Williams claimed the most impressive victory of his career Saturday night, but before he could emerge from postfight meetings to celebrate, he was floored by heartbreaking news.
Prichard Colon, the 23-year-old Puerto Rican who Williams knocked down twice en route to a victory by disqualification in Fairfax, Va., had fallen ill after suffering his first loss and was transported to a hospital.
Colon required brain surgery to relieve swelling and remained in a coma Tuesday, his family keeping vigil.
"I just wanted to go home [Saturday] and enjoy my victory with my family, just like I'm sure he wanted to go home and be with his family," Williams, 31, told The Times on Tuesday in a telephone interview from his Woodland Hills home.
Williams said he has cried several times since learning of Colon's condition, and paused to collect himself while talking about hearing how dire Colon's plight was.
.My heart dropped, my stomach dropped. I'm praying for him multiple times daily to make a full recovery. I cannot enjoy this victory. I'm worried about Prichard.
— Terrel Williams
"My heart dropped, my stomach dropped. I'm praying for him multiple times daily to make a full recovery," Williams said. "I cannot enjoy this victory. I'm worried about Prichard."
Williams (15-0, 12 knockouts) took the fight on three weeks' notice and found himself in a scrap against Colon, who modeled himself after legendary countryman Felix Trinidad.
"It was like fighting a mirror of me. The guy was sharp, strong, fast," Williams said. "I knew he was a great fighter, a future world champion. I didn't see any flaws in him. I told myself this fight is going to be difficult because I wanted to win and knew I was going to have to go through punches to do so. I had to be strong and stick to the game plan."
But the plan was wrinkled by unexpected turns.
Colon was disciplined in the fifth round after striking Williams with a low blow deemed so severe that referee Joseph Cooper deducted two points from Colon.
Williams hit Colon with punches behind the head that caused Colon to take an extended break, and then forced Cooper to deduct a point from Williams in the seventh round.
A spokeswoman for the Virginia Department of Professional and Occupational Regulation told The Times that the department is launching an investigation into "the situation, the incident and the cause" of Colon's injury.
Mary Vaughan added that Virginia Boxing Commissioner David Holland told the respective corners "to get [the] fighters under control and not to engage in stall tactics."
Williams said he can't remember what was said by officials as the point deductions were distributed.
"It's a lot different when you're fighting. Your emotions and your adrenaline are going, so a lot of the things you see on the outside looking in, I don't remember," Williams said. "We were in a fight, a tough fight, and I just wanted to win.
"There was never any thinking that I was going to do some dirty tactics … he didn't have to do that, either, and I know he didn't do anything maliciously. It's just that when you're in the heat of the moment, you're fighting, you're boxing, you're landing punches, and sometimes punches land where they're not supposed to land.
"But I know from my end, I didn't do anything maliciously, just like I know he didn't do anything to try to damage me permanently. … I have nothing but respect for the fighter."
In the ninth round, Williams took control, twice knocking down Colon. Colon's cornermen cut off his gloves after the round, thinking it had been the 10th and final round, and Cooper disqualified Colon.
Williams retreated to his hotel room after learning of Colon's condition, and was advised by his manager to avoid trying to visit Colon in the hospital out of respect to Colon's situation and his family.
"We chose this sport and we know it's dangerous, but we're human beings at the end of the day. … I'm a family man myself, have a young son. I just feel compassion," Williams said. "We're competitors, but it's a sport. It's not out of any maliciousness or anger. It's called the sweet science.
"I'm praying for this young man, praying for his family. Nothing else in fighting matters to me right now. My priority, my No. 1 concern, is for Prichard Colon to make a full recovery."
When the fight was over, Williams said he spoke briefly to Colon, telling him words he said still ring true: "You're a true champion. Keep your chin up. Don't let this deter you. You're going to bounce back."
And when Tuesday's interview was over, Williams asked whether he could say something else.
"Prichard Colon, you're in my prayers. I wish you a full, speedy recovery and thank you for showing me so much about myself," Williams said. "You're a strong, great, gifted fighter and I wish you nothing but the best. I'm here to support you in any way I can. God bless you and your family."
Follow Lance Pugmire on Twitter @latimespugmire.
MORE SPORTS NEWS
Terence Crawford can punch ticket to a Pacquiao fight Saturday
Andrei Arlovski versus Stipe Miocic is co-main event of UFC 195
Unbeaten Cuban heavyweight Luis Ortiz to fight Bryant Jennings on Dec. 19
Get our high school sports newsletter
Prep Rally is devoted to the SoCal high school sports experience, bringing you scores, stories and a behind-the-scenes look at what makes prep sports so popular.
You may occasionally receive promotional content from the Los Angeles Times.