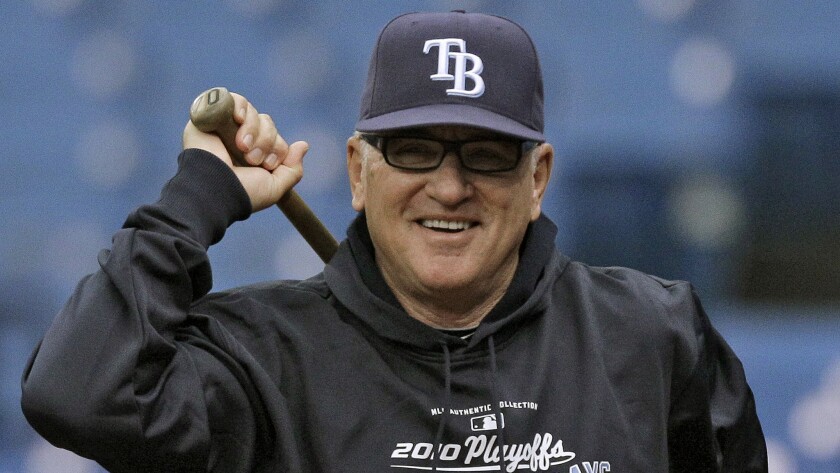 The Chicago Cubs, who have gone more than a century without a World Series championship, took what they hope will be a significant step toward ending that drought by officially hiring Joe Maddon as their manager on Friday, only hours after firing Rick Renteria.
It wasn't the most seamless of transitions — Maddon was linked to the Cubs within hours after he opted out of his contract with Tampa Bay on Oct. 24, and Renteria, who was highly regarded throughout the organization, was ousted after just one year at the helm.
But Cubs President Theo Epstein, who nearly hired Maddon to manage the Boston Red Sox before the 2004 season, felt he couldn't pass on an opportunity to hire Maddon, who led the Rays out of the American League East basement and to one World Series, two division titles and four playoff berths in nine years.
"Last Thursday, we learned that Joe Maddon — who may be as well-suited as anyone in the industry to manage the challenges that lie ahead of us — had become a free agent," Epstein said in a lengthy statement released Friday.
"We saw it as a unique opportunity and faced a clear dilemma: be loyal to Rick or be loyal to the organization. In this business of trying to win a world championship for the first time in 107 years, the organization has priority over any one individual. We decided to pursue Joe."
Maddon, who spent 31 years in the Angels organization and was the team's bench coach before the Rays hired him after the 2005 season, will be formally introduced at a news conference on Monday. His new deal is expected to be for at least five years with an average salary of about $5 million.
Epstein said Cubs General Manager Jed Hoyer flew to San Diego late last week to inform Renteria of the team's pursuit of Maddon, and Hoyer informed Renteria of Friday's move.
"Rick deserved to come back for another season as Cubs manager, and we said as much when we announced he would be returning for 2015," Epstein said. "We met with Rich two weeks ago for a long end-of-season evaluation and discussed plans for next season. We praised Rick to the media and to our season ticket holders. These actions were made in good faith.
"While there was no clear playbook for how to handle this type of situation, we knew we had to be transparent with Rick before engaging with Joe."
The Cubs have finished in fifth place in the National League Central for five straight years, but they have a strong nucleus of young players, led by 2014 All-Stars Anthony Rizzo and Starlin Castro, and an organization teeming with highly regarded prospects.
The situation in Chicago is similar to the one Maddon inherited in Tampa Bay, which finished last in the AL East in nine of the franchise's first 10 years from 1998 to 2007 but was able to stockpile talent through the draft and trades.
Three years after taking over, Maddon led the Rays to a 97-65 record, the division title and the World Series in 2008, and the Rays, despite having one of baseball's smallest payrolls, remained competitive throughout Maddon's tenure.
The Cubs hope Maddon, now 60, can repeat that success in Chicago.
"We have clung to two important ideals during our three years in Chicago," Epstein said. "The first is to always be loyal to our mission of building the Cubs into a championship organization that can sustain success. The second is to be transparent with our fans.
"As painful as the last week was at times, we believe we stayed true to these two ideals in handling a sensitive situation."
---