Chris Bosh back on blood thinners as blood-clot issue returns, source says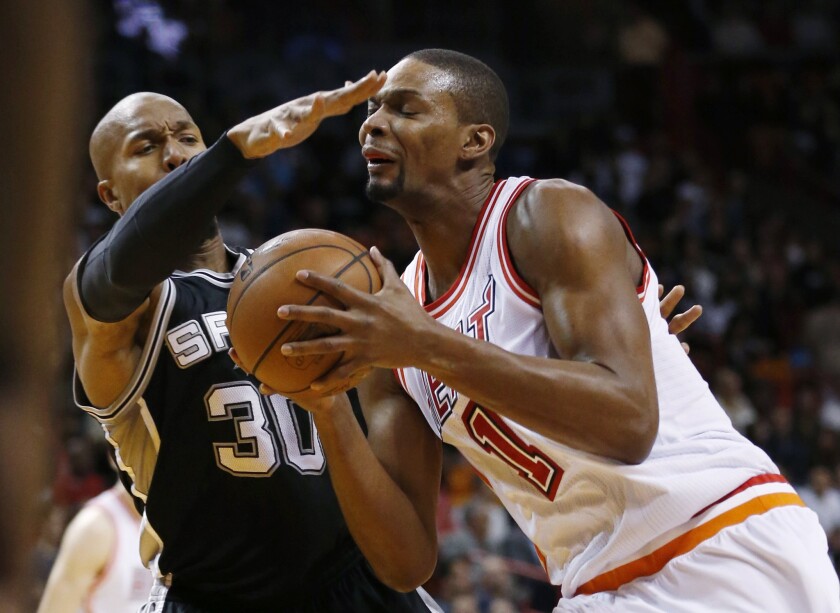 Miami —
Chris Bosh is back on blood thinners to treat a clot that formed in his leg, the second straight year the Miami Heat forward has dealt with such a situation over the All-Star break.
Bosh began the medication regimen in recent days after the clot was diagnosed and has hopes that he can continue playing at some point this season, a person with knowledge of the situation told The Associated Press on Tuesday.
Bosh has told the team that he will spend at least a few more days reviewing options and collecting information, said the person who spoke to the AP on condition of anonymity because neither the Heat nor the All-Star forward have yet to publicly reveal details of Bosh's condition.
"I hate it for him," said NASCAR driver Brian Vickers, who has also dealt with clotting issues that have impacted his career. "I would tell him the same thing again, just don't give up. Just keep fighting. Find a solution and keep going."
Athletes in contact sports are typically discouraged from playing while taking blood-thinning medication, because of the additional risk of bleeding and other issues.
A year ago at this time, the clot had traveled from Bosh's leg to his lung and he had a wave of other problems — including fluid in his lungs. It took about two months to properly diagnose last year's blood clot problem, with Bosh originally thinking it was a rib or back issue that was causing him such searing pain. This time, the diagnosis apparently came far quicker.
"I would not say he has to be excluded from sports because he's had a second (clot) event," said Robert Myerburg, a cardiologist and a professor of medicine at the University of Miami Miller School of Medicine.
But if Bosh is considering playing while taking a lower dose of blood-thinners — which could be one of many options on his table right now — Myerburg would advise otherwise.
"The problem is that if you lower the dose, you may perhaps lower the bleeding risk but you also lower the efficacy," Myerburg said. "You've giving up some benefit to reduce the risk of bleeding in someone who has already had a pulmonary embolism. I don't think that's wise."
Bosh is Miami's leading scorer at 19.1 points per game this season. He said over the weekend in Toronto that he was optimistic about playing again this season.
Vickers and Bosh have been in contact over the last year, since both are endorsers for the blood-thinning medication Xarelto and have worked on advertising campaigns for the product with actor Kevin Nealon and golfer Arnold Palmer.
"You really have to follow the advice of their doctors," Vickers said. "That's really what the campaign is about. We're involved with the campaign because we've had problems in the past. It can happen again. It can happen to anyone."
Bosh missed the final 30 games of last season after the clot was found, and the Heat missed the playoffs. At 29-24 this season, Miami is hardly a playoff lock and the task of getting in would be far more daunting without Bosh — who, even at 6-foot-11, is the team's most prolific 3-point shooter.
Bosh pulled out of the All-Star Game and the 3-point contest in Toronto because of what he and the Heat described as a calf strain, the first hint that something else may have been occurring. The clot that cost him the second half of last season, Bosh is convinced, started as a calf problem before working its way to the lung.
He went to Toronto expecting to participate in All-Star weekend, then was examined there and the NBA subsequently announced on Friday that Bosh was withdrawing from the game and the 3-point event. Bosh remained in Toronto to cheer on his Eastern Conference teammates, then returned to Miami to start seriously weighing options.
The Heat return to practice Wednesday.
"My prayers go out to Chris Bosh," Brooklyn's Willie Reed wrote on Twitter. "Get healthy."
---
Get our high school sports newsletter
Prep Rally is devoted to the SoCal high school sports experience, bringing you scores, stories and a behind-the-scenes look at what makes prep sports so popular.
You may occasionally receive promotional content from the Los Angeles Times.