Clippers star Chris Paul reveals his first love — Kelly Kapowski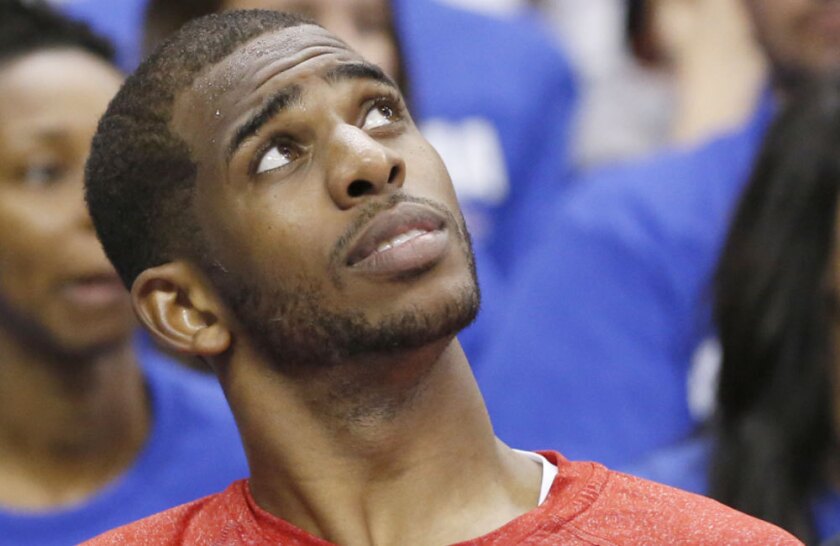 Now you've done it, Chris Paul.
Just when things were looking up for you, with the Clippers apparently on the verge of new ownership and ready to put the Donald Sterling era behind them.
But now you've gone and thrown yourself into the Kelly Kapowski derby, and ... well, you're in big trouble.
The Clippers star, who celebrated his birthday May 6, revealed on Instagram what he called "easily one of the best Bday gifts I've ever received in my 29yrs on this Earth!!!" — an autographed photo of actress Tiffani Thiessen from back when she played Kapowski on the classic kids' sitcom "Saved by the Bell."
Paul included several hashtags professing his love for the Bayside High beauty: "#KellyKapowski #My1stLove #WeWereTogether #SheJustDidntKnowIt #CuzImSavedByTheBell."
Chris, I know you're a superstar athlete and all, but do you really want to get on the bad side of Zack Morris? You might find yourself stuffed in a locker, dressed in women's clothing or sleeping on the cold, hard floor of a shopping mall — and that's just how Morris treats his friends.
You remember what happened when the mighty A.C. Slater tried to win Kelly's hand. He almost found himself shipped off to Hawaii (and while many might consider the 50th state tropical paradise, it's actually a living hell next to Bayside with the lovely Ms. Kapowski by your side).
And has anyone even heard from poor Professor Lasky since he tried to come between Zack and Kelly during the College Years?
But, then again, who am I to stand between a man and his dream girl? After all, Chris, if that pretty boy Jeff from the Max can woo Kelly away from Zack, perhaps you can too. Maybe you can start by getting her an autographed photo of Johnny Dakota for her birthday — he's her favorite actor, you know.
Just remember to look out for Morris. He didn't name his band Zack Attack for nothing, you know.
---
Get the latest on L.A.'s teams in the daily Sports Report newsletter.
You may occasionally receive promotional content from the Los Angeles Times.