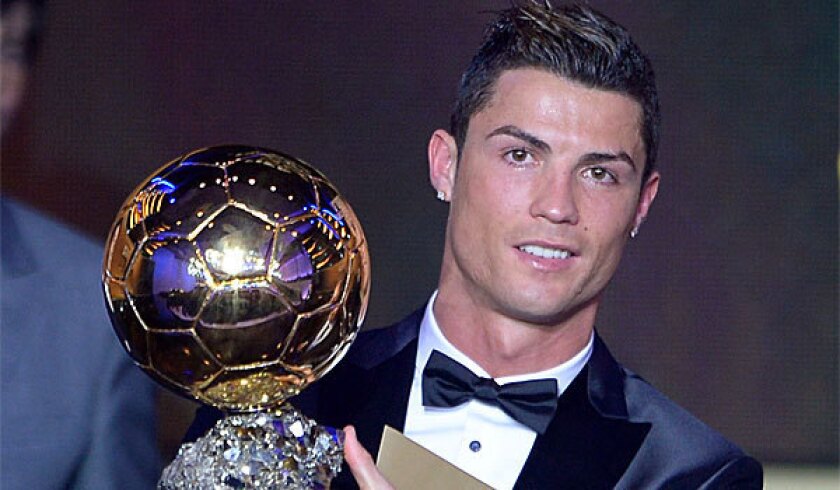 Cristiano Ronaldo recently opened a soccer museum is his Portuguese home of Madeira. And Monday he received something special to put in it when he was named winner of the Ballon d'Or, which goes annually to the player voted best in the world.
It was an honor the Real Madrid star clearly earned, scoring 66 goals in 56 games for club and country. And many of those goals came on soccer's biggest stages with Ronaldo scoring a record 14 times in Champions League play to help Madrid reach the tournament semifinals. He also scored all four of Portugal's goals in a two-leg sweep of Sweden in a playoff for a spot in this summer's World Cup in Brazil.
"I am deeply moved," Ronaldo said as he accepted the trophy at a gala in Zurich, Switzerland, marking the second time he has been selected as the world's top player in a vote of coaches and captains from international teams as well as journalists from around the globe.
Ronaldo's win ended an unprecedented streak by Argentina's Lionel Messi, who had won the award each of the last four years, with Ronaldo finishing second in three of those votes. The Barcelona star, who battled injuries in 2013, finished second in the balloting, just ahead of France's Franck Ribery.
On Monday, Ronaldo, who was named player of the year in 2008, said he has also settled his long-running feud with FIFA President Sepp Blatter.
"This is no longer an issue, neither for us nor for football," Ronaldo said.
Blatter was recorded in October telling a student audience in England that he preferred Messi's modest personality over that of Ronaldo, whose museum features a lifesize Ronaldo mannequin and more than 125 awards won by the 28-year-old striker. Ronaldo responded to Blatter's dig with a sarcastic message on social media that said the video "shows clearly the respect and consideration Fifa has for me."
Monday Ronaldo said that's all history now.
"We talked over the telephone and everything was cleared," he said.
Also Monday, German goalkeeper Nadine Angerer beat out 2012 winner Abby Wambach of the U.S. for the women's player of the year award. The honor figures to give a big boost to the flegdling Women's Professional Soccer League, which will see Angerer play this year alongside Alex Morgan, Christine Sinclair and Tobin Heath on a star-studded Portland Thorns team.
With Wambach also in the league with the Western New York Flash, the WSPL now has the last two FIFA Women's Players of the Year.
Coach of the Year honors went to former Bayern Munich manager Jupp Heynckes, while German national team manager Silvia Neid was named women's coach of the year.
And the FIFA First XI for 2013, a kind of international all-star team, became slightly more international than last year's version with the inclusion of players from outside Spain's La Liga.
The First XI goalkeeper was Germany's Manuel Neuer, who plays club soccer for Bayern Munich, while the defenders were Philipp Lahm (Germany, Bayern Munich), Sergio Ramos (Spain, Real Madrid), Thiago Silva (Brazil, Paris Saint-Germain) and Dani Alves (Brazil, Barcelona).
In the midfield were Spain's Andres Iniesta and Xaxi, teammates at Barcelona, and Ribery of Bayern Munich. The forwards were Ronaldo, Messi and Sweden's Zlatan Ibrahimovic of Paris Saint-Germain.
The First XI honors were the first for Neuer, Silva, Lahm, Ribery and Ibrahimovic. And for the second time in as many years, the team did not include a player from the English Premier League.
---