Corey Perry, Ducks say Mike Milbury should apologize for remarks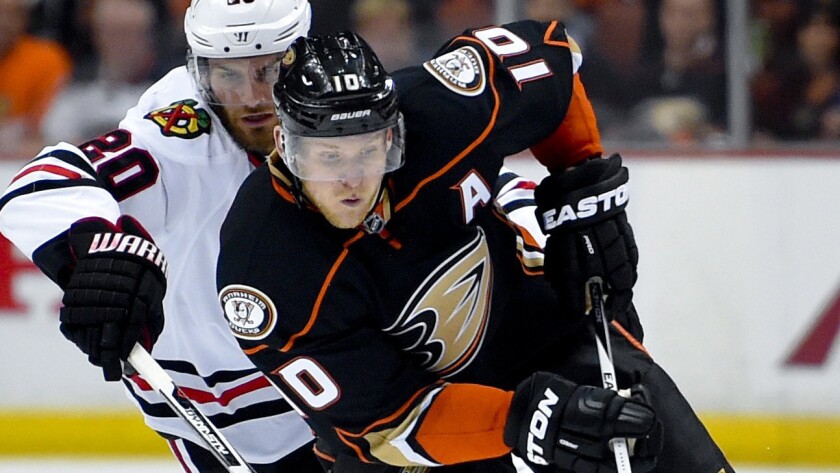 Reporting from Chicago —
Few players in the NHL like Corey Perry, unless they're playing alongside the Ducks' irksome but productive right wing. But NBC commentator Mike Milbury might have taken that sentiment a bit too far in comments that clearly annoyed the Ducks when they were made aware of his remarks Thursday.
Asked Wednesday how he would stop Perry, Milbury said, "If I were playing against him, I would want to hurt him in a painful and permanent way." Milbury, a former NHL player, coach and general manager, later seemed to soften his remarks by saying he would want to have Perry on his team, but Milbury's use of the word "permanent" seemed to take things over the line.
"Obviously it's not something that's been taken lightly," Perry said. "If somebody said something about his kid that way, how would he feel? It's kind of my response. It's all I'm going to say."
Asked if he would want an apology Perry replied, "Yeah, sure, but it is what it is."
NBC Sports/NBCSN executive producer Sam Flood issued a statement regarding Milbury's remarks: "I talked to Mike and told him that even though it was a tongue-in-cheek segment that built to a compliment -- with Mike saying that he'd want Corey Perry as a teammate -- word choice matters, even when attempting to be humorous. Mike understood."
An NHL spokesman said the league would have no comment on Milbury's remark.
Ducks Coach Bruce Boudreau said he didn't want to get into Milbury's comment but added, "I'm really happy Corey Perry's on my team."
Perry's teammates came to his defense. "It's a slip-up. Everyone knows what he's trying to say. Shouldn't be said about anybody," Ducks captain Ryan Getzlaf said. "You don't wish injury on anybody. I'm sure he feels bad about it. He made a mistake. It's not like I've ever made a mistake."
Getzlaf also said Milbury should apologize. "Hundred percent. I'm sure he will," Getzlaf said. "I'd expect nothing else. You go out and make a mistake on national TV, I expect you to make an apology. And life goes on."
Winger Andrew Cogliano also said Milbury slipped up. "I don't know what made him say something like that. He used the wrong words," Cogliano said. "He probably meant he'd want Perry on his team in terms of how he plays. He's one of those guys you don't want to play against."
Defenseman Francois Beauchemin said Perry's style of play has made the 30-year-old right wing one of the NHL's most effective players. Perry is tied for second in playoff scoring, with 16 points in 11 games. "He's playing hockey and that's how he's been successful for 10 years, being who he is and scoring goals," Beauchemin said. "He's scored 50 goals in this league before. It's not like he's out there just to distract players."
Staff writers Lisa Dillman and Lance Pugmire contributed to this report
Twitter: @helenenothelen
---
Get our high school sports newsletter
Prep Rally is devoted to the SoCal high school sports experience, bringing you scores, stories and a behind-the-scenes look at what makes prep sports so popular.
You may occasionally receive promotional content from the Los Angeles Times.