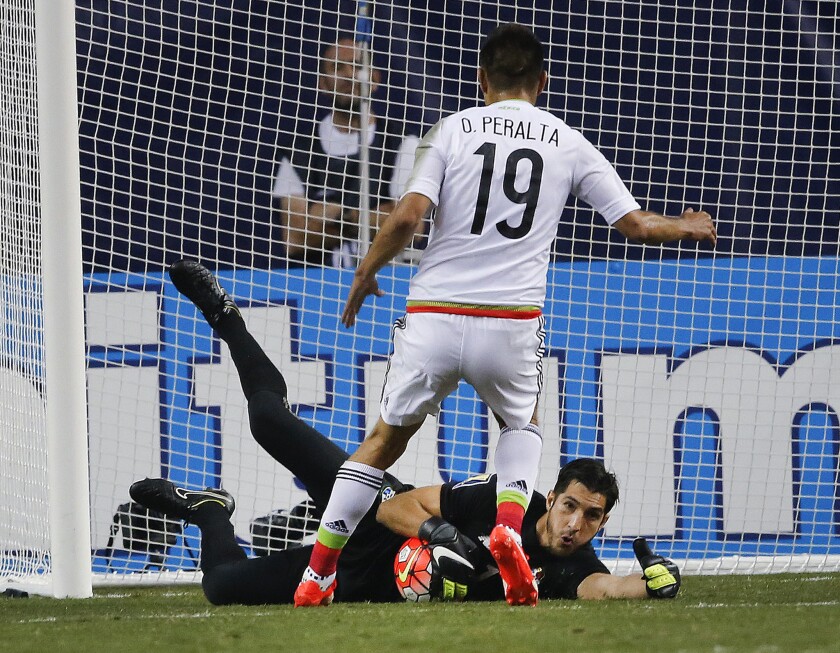 The Galaxy sent one goalkeeper out Wednesday and may soon be welcoming another in after a busy day in which it placed Jaime Penedo on waivers while accelerating talks to reacquire Donovan Ricketts from Orlando City in time for this weekend's game in Colorado.
Penedo, unhappy with the club's refusal to redo a contract that had been revised in February, asked to be released and the club granted that request.
"He wanted out," said Bruce Arena, the Galaxy's coach and general manager.
"At some point players need to live by the contracts they sign."
Penedo was to make $178,125 this season, a raise of $40,000 over last year according to the MLS players union. His agent, Eddie Rock, declined comment.
"He's a good person. We wish him the best. I think it's fair to say that Jaime feels this move is good for his family," Arena said, adding that he wasn't sure where Penedo was headed.
Without him, the Galaxy is thin in goal. With Brian Perk sidelined following ankle surgery, Brian Rowe has been the main back-up, going 3-3-1 with two shutouts in seven starts. He has just 14 games of MLS experience though and his back-up, Andrew Wolverton, has never played in an MLS game.
Ricketts, on the other hand, has a wealth of experience -- both with the Galaxy and the league. The 38-year-old Jamaican started 70 regular-season games for Arena, winning an MLS Cup in 2011 and league goalkeeper of the year honors in 2010.
After leaving the Galaxy, he played for Montreal and Portland before landing with expansion Orlando City, starting the team's first 10 games in place of the injured Tally Hall.
Another attractive thing about Ricketts is his contract. With Penedo's deal off the books, the Galaxy should have little trouble squeezing what remains of Ricketts' $260,000 annual salary under the MLS cap.
Doing the deal quickly also makes sense for Orlando City, which needs to create roster space after acquiring Swiss winger Adrian Winter and Spanish defender David Mateos.
Penedo, meanwhile, leaves after two years, having come to the Galaxy in the summer of 2013. He made 54 starts with the team, posting 17 shutouts, a 25-12-17 record and winning an MLS title.
He last played for the team in a June 27 loss to San Jose before rejoining the Panamanian national team for this month's CONCACAF Gold Cup.
Minutes before being placed on waivers, Penedo turned to Twitter to hint at the difficulty he would have in leaving the team.
"Sometimes circumstances lead you to make radical decisions, that the heart does not approve but reason and pride [do]," he tweeted in Spanish.
Follow Kevin Baxter on Twitter @kbaxter11
---