Holly Holm starts life after her win over Ronda Rousey with a Miesha Tate bout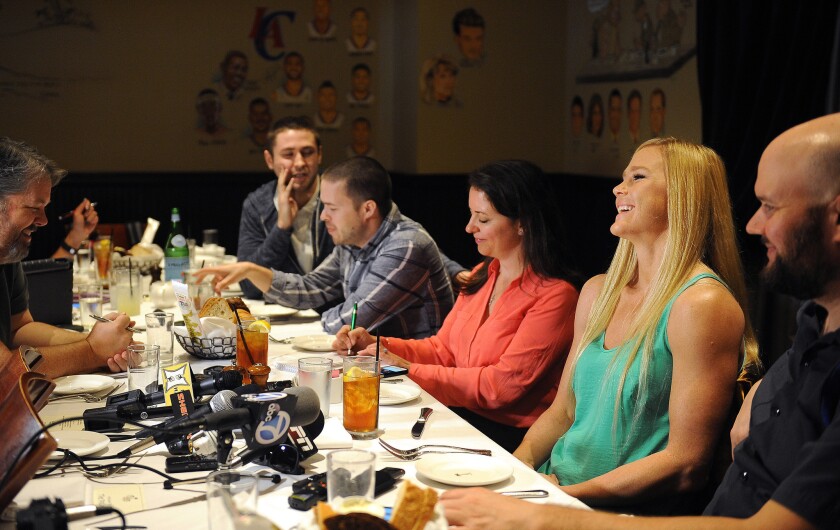 Holly Holm is eager to answer questions about anyone besides Ronda Rousey.
Holm, after delivering a stunning, fight-ending head kick to knock out Rousey and end her dominant 12-fight unbeaten run, will move on to face Miesha Tate on March 5 at UFC 196 at MGM Grand in Las Vegas.
"I don't want to be a one-hit wonder," Holm (10-0) said this week at a meeting with reporters in downtown Los Angeles. "I don't want everything based on this one performance. I want to show people that I'm here for a reason. I want to keep going and I want to get better."
See the most-read stories in Sports this hour>>
"Trust me, the last fight was one of the best moments of my life, but I don't want my whole career to be defined by one fight."
In Tate (17-5), Holm meets a No. 1 contender who was beaten twice by Rousey.
The first defeat came in a Strikeforce title fight when Rousey forced a submission with an armbar in the first round. Tate then became the first fighter to take Rousey past the first round, but eventually tapped out to another armbar in the third round of their rematch at UFC 168.
Tate campaigned for a third shot at Rousey, but UFC President Dana White and his matchmakers opted for a fresh look, appointing former world-champion boxer Holm the next title challenger.
Rousey congratulated Holm while hosting "Saturday Night Live" last month, but she's not scheduled to fight again until the fall, according to White, who said the opponent would be the Holm-Tate winner.
Rousey admitted last week on the "Ellen" show to experiencing suicidal thoughts after the Holm loss.
Holm said she can understand the heartbreak of such a loss, but couldn't relate to such a tragic reaction.
"I would never get that low after a loss," Holm said. "You deal with a lot of doubt in your mind and maybe 'I'm not as good as I thought I was.' Obviously, those are questions that go through your mind, but you have to be honest with yourself. … Obviously, you need to get better because this fighter [that just beat you] was better than you tonight.
See more of our top stories on Facebook >>
"It's a very serious subject [suicide]," Holm said. "I've never been in that position. I'm probably the worst person to ask for advice on that. I definitely don't want to sit here and feel sorry, because I know, for me, I have a competitive mind, and I'm confident Ronda is the same -- that you don't really want sympathy from the one that created this. That almost makes it even more frustrating."
Follow Alex Solano on Twitter @AlexSolano
ALSO
Plaschke: Reduction in spring telecasts is just the latest outrage in Dodgers' ongoing TV boondoggle
Reggie Miller says USC should be 'embarrassed and ashamed' of way it honors women
Why all the animosity toward Lakers Coach Byron Scott? Firing him won't change anything
---
Get our high school sports newsletter
Prep Rally is devoted to the SoCal high school sports experience, bringing you scores, stories and a behind-the-scenes look at what makes prep sports so popular.
You may occasionally receive promotional content from the Los Angeles Times.