Column: Why all the animosity toward Lakers Coach Byron Scott? Firing him won't change anything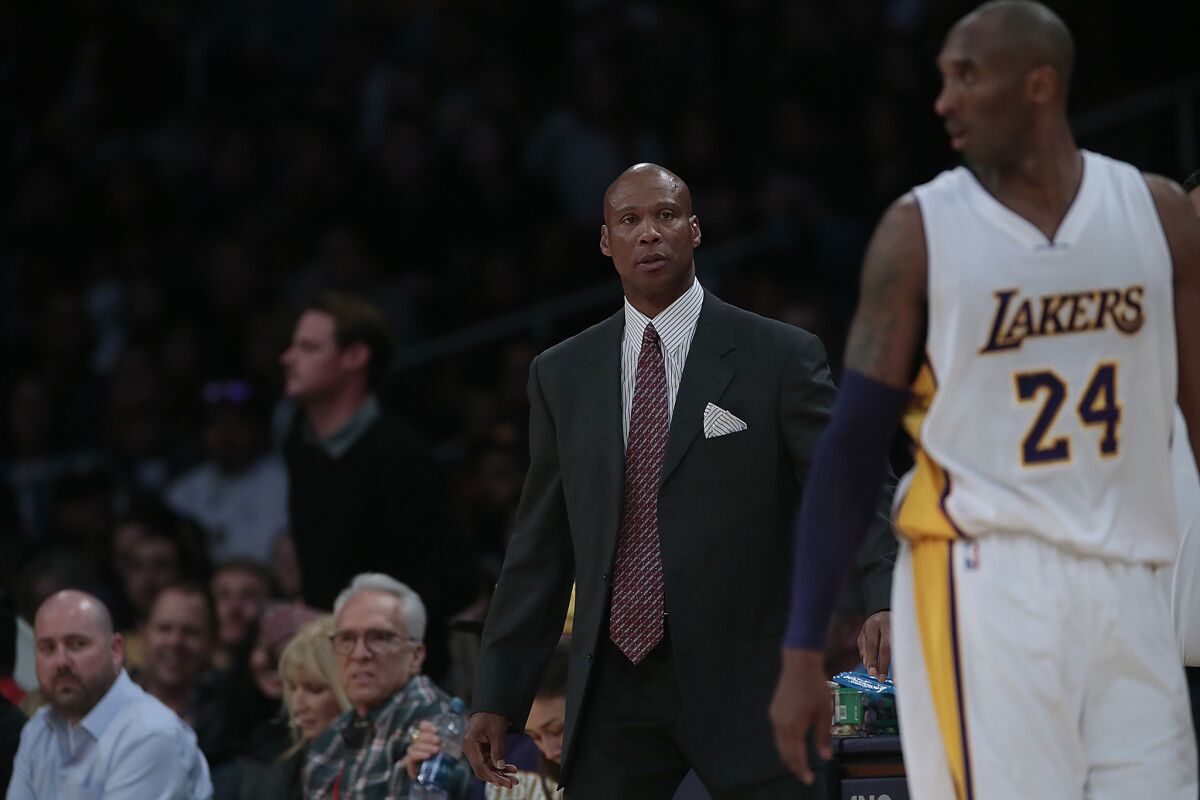 Lakers General Manager Mitch Kupchak might not be saying anything about Coach Byron Scott, but the fans are making their voices heard, whether it's on the radio airwaves or in the comments section under the online versions of Mike Bresnahan's stories. Their pitchforks are out. They want Scott fired.
The blood thirst is curious, considering how well this season has unfolded.
Seriously.
The team's 11-47 record? Who cares? Look at the roster. This team never had a chance.
If anything, the historically awful record should bolster Scott's stealth candidacy for Coach of the Year. Remember, the Lakers' first-round selection in the upcoming draft will belong to the Philadelphia 76ers unless it falls in the top three, meaning every loss is in fact a win and every win a loss. What looks like the second-worst record in the NBA is actually the second-best, as far as the Lakers are concerned. This draft pick, which could be turned into Ben Simmons of LSU or Brandon Ingram of Duke, is probably their single-most effective vehicle to climb back into contention.
More ridiculous is the criticism directed at Scott and the Lakers for allowing Kobe Bryant's farewell to dictate their season.
While Bryant's final months as an active player are being extensively chronicled, what's been understated is the strangely electric atmosphere at Staples Center. It's as if Bryant is now a religious figure. Or Donald Trump.
Bryant touches the ball, and the arena buzzes. He knocks down a routine shot, and the fans react as if he sank a buzzer-beater in a conference final.
Allowing Bryant to showcase what remains of his once-in-a-generation ability isn't a problem. It's basic customer service. He's about the only reason fans are paying as much as they are to watch some really dreadful basketball. Bryant should be permitted to shoot as much as he wants, whenever he wants.
Granted, the complaints about the team's Bryant-centric approach have less to do with the results and more about its perceived effect on the development of a few of the team's younger players, particularly D'Angelo Russell. And if something is going to cost Scott his job, it's this dynamic, which Lakers President Jeanie Buss alluded to in an interview with USA Today that was published Monday.
Russell returned to the starting lineup this week after two months on the bench. With the season already lost, many observers argued the move should have happened sooner, regardless of how ready he was to play at this level.
That could be true. Then again, Jordan Clarkson has developed nicely under Scott's watch. So has Julius Randle. Perhaps the coach deserves the benefit of the doubt here.
Realistically, the Lakers won't be contending for a championship again next year, no matter how much they can spend on free agents this off-season. In that case, why fire the coach?
Now, there's a very remote possibility that Kevin Durant will tell the Lakers over the summer that he'll sign with them so long as a certain coach is in place. In that instance, they should do whatever they can to secure that particular individual, even if he's the junior fry cook at Durant's Oklahoma City restaurant.
Otherwise, a change would be nothing more than change for the sake of change, only serving to continue what is becoming an unhealthy cycle. The Lakers' last two coaches didn't complete their contracts. If Scott doesn't return next season, he would be the third. And before long, there will be a fourth.
-----
The Dodgers should feel encouraged and their fans excited.
Tim Bravo is back by Yasiel Puig's side.
A former English-language instructor for the Dodgers, Bravo was once Puig's constant companion. Bravo was part of the Dodgers' traveling party for the first six weeks of Puig's major league career, which, coincidentally or not, were arguably Puig's most productive. After that, Bravo returned to his home in New Mexico, and Puig's reputation started to unravel.
Bravo has spent the past few days with Puig, waking him up in the morning, preparing his breakfast and getting the chronically tardy outfielder to the team's training facility in time.
Bravo's return is significant, if only because of how it happened. It wasn't the Dodgers or Puig's agent who called the recently retired high school teacher. It was Puig himself.
"This is probably the first time he's asked for help," Bravo said by phone from Arizona.
It sounds as if Puig recognizes his off-the-field behavior is negatively affecting his on-field performance and he's taking proactive measures to change that.
" 'I want to do this right. I want to get better,' " Bravo recalled Puig telling him.
Bravo, who was also Puig's chaperone in the minor leagues, said he has never seen Puig more determined.
"He's watching everything he eats," Bravo said. "He's committed to having a great year."
-----
Golden State Warriors Coach Steve Kerr shared a secret when the defending NBA champions visited the Clippers over the weekend.
"I probably shouldn't say this because Bay Area fans won't like it, but I'm a Dodger fan," he said.
Kerr spent part of his youth in Southern California.
In the week leading up to the NBA All-Star break, Kerr invited Dodgers Manager Dave Roberts to spend time with him before a game in Oakland. The meeting was set up by Peter Guber, part owner of both the Dodgers and Warriors.
"We just talked about sports and leadership and locker rooms," Kerr said. "I think we share a lot of the same philosophies. I don't think he needed my advice. I think he already has a good idea of who he is and how he wants to manage."
Twitter: @dylanohernandez
Get our high school sports newsletter
Prep Rally is devoted to the SoCal high school sports experience, bringing you scores, stories and a behind-the-scenes look at what makes prep sports so popular.
You may occasionally receive promotional content from the Los Angeles Times.