Oakland's Yoenis Cespedes wins home run derby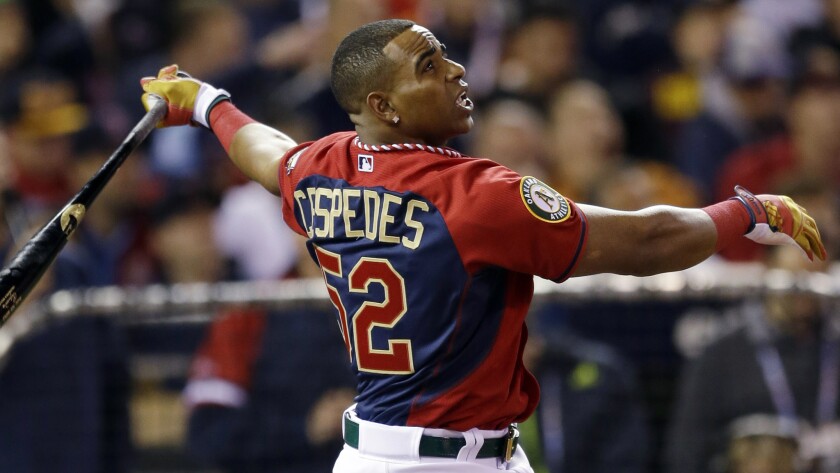 The 2013 home run derby champion lit up the park again and defended his title.
In the derby final, Athletics outfielder Yoenis Cespedes outslugged Reds third baseman Todd Frazier, 9-1, to win the MLB All-Star home run derby at Target Field in Minneapolis on Monday.
Frazier won the coin toss and elected to have Cespedes hit first, thinking the Oakland slugger might be tired because he had hit more recently.
INTERACTIVE: Home run derby 'shot' chart
Good thought, but the apparently inexhaustible Cespedes got off to a rocking start with a towering drive to left-center. He found a groove and racked up five home runs before he recorded his fourth out.
Frazier's brother Charlie pitched him into the finals, but the road ended there without a win for the siblings. When Frazier hit his first and only home run, he already had five outs.
An affable Frazier was all smiles as he congratulated Cespedes on his victory.
Cespedes hit a total of 30 home runs, but was nearly eliminated in the first round. Two of his homers came in the opening round as part of a swing-off with Oakland teammate Josh Donaldson. Cespedes and Donaldson each hit three homers in their first at-bats before Cespedes won the tiebreaker, 2-1.
Cespedes then hit 16 homers over the next two rounds to reach the final.
Frazier finished with 11 home runs.
===
Cincinnati Reds third baseman Todd Frazier and Oakland Athletics outfielder Yoenis Cespedes moved on from the third round to face each other in the final.
Cespedes pounded seven home runs after needing to win a swing-off to advance past the first round and keep his hopes of a repeat alive. Ken Griffey Jr. (1998, 1999) is the only player to win back-to-back titles.
Bautista hadn't swung a bat in the competition for about an hour before he stepped up for the semifinals. Bautista racked up four outs before he connected for his second and third homers, and couldn't make a late run to catch Cespedes.
On the National League side, Frazier advanced on a single home run.
When Frazier kicked off the third round with only one homer, it looked like his derby was over. But pre-derby favorite Giancarlo Stanton of the Miami Marlins was shut out, and Frazier advanced.
Frazier advances to the finals with his brother Charlie on the mound.
Pirates legend Ralph Kiner and Padres great Tony Gwynn were honored with a short video tribute between rounds. Kiner died Feb. 6, and Gwynn passed away June 16.
===
Cincinnati's Todd Frazier only needed one home run to advance to the final round of the home run derby. His lone homer was good enough to beat Miami's Giancarlo Stanton, who pulled off a Yasiel Puig in going homerless in the derby semifinal.
Puig failed to hit a home run in the first round of the derby.
Frazier will go against either Yoenis Cespedes or Juan Bautista in the final.
===
The second round featured head-to-head matchups in each league's bracket with Cincinnati's Todd Frazier and Oakland's Yoenis Cespedes emerging as the winners.
Frazier defeated Colorado's Troy Tulowitzki on the National League side and moved on to face Miami's Giancarlo Stanton in the semifinals.
Frazier secured the win by cranking out four homers in a row with five outs and one with six outs to bring his home run total to six.
Tulowitzki bombed his first home run to the second outfield deck, but hit just one more after that, finishing with two.
The AL matchup featured Cespedes against Baltimore's Adam Jones.
Defending champion Cespedes led off by throwing down the gauntlet with nine home runs, including two with one out left.
Jones responded with three homers, allowing Cespedes to advance to face Toronto's Jose Bautista in the semis.
Between the NL and AL matchups, players and fans held up signs with the names of friends and family fighting cancer as part of a "Stand Up to Cancer" campaign.
===
Cincinnati's Todd Frazier got off to a fast start in the second round of the derby, tallying six home runs. He eliminated Troy Tulowitzki from contention after the Colorado shortstop only had two homers.
===
A real rainbow accompanied the arcing home runs blasted during the first round once the derby finally got under way after a rain delay. Unfortunately, it wasn't a good omen for Dodgers right fielder Yasiel Puig.
Puig failed to hit a home run in his at-bat during the first round of the home run derby. It was a surprisingly lackluster performance from Puig, who was considered by some a favorite to win the derby even though he's not known as a home run hitter.
Blue Jays outfielder Jose Bautista (10) and Marlins outfielder Giancarlo Stanton (6) clubbed the most home runs for the AL and NL, respectively, and each advance with a bye to the semifinals. Athletics outfielder Yoenis Cespedes, Orioles outfielder Adam Jones, Reds third baseman Todd Frazier and Rockies shortstop Troy Tulowitzki also advanced, while Puig, Rockies first baseman Justin Morneau, Athletics third baseman Josh Donaldson and Twins second baseman Brian Dozier were eliminated.
Both leagues had to go to a swing off. For the NL, Frazier won a swing-off over Morneau with one home run in the allotted three swings. Frazier has his brother pitching to him. Morneau —now with the Rockies, but a longtime Twins hero — received a standing ovation when he stepped up to bat.
Cespedes won the AL swing-off, 2-1, over teammate Donaldson.
Before the swing-off, Stanton and Bautista provided most of the excitement.
Stanton knocked a homer just over the left-field fence on his first swing and proceeded to put on a show, clobbering six home runs.
Players from both leagues incredulously cheered Stanton on after one of his shots landed in the upper reaches of the third deck, projected at 510 feet if it hadn't hit a seat.
Bautista provided the first spark of excitement as the fourth batter. The AL derby captain clubbed 10 home runs, several of which reached the outfield upper decks. Bautista settled at 10 and walked away after recording just six of the allotted seven outs.
Tulowitski, captain of the NL sluggers, hit four soaring home runs to right, but he chopped a grounder for his seventh out before he could find a rhythm and pad his total.
Mariners second baseman Robinson Cano's father pitched his son to derby victory in 2011 but couldn't recreate the magic while pitching to Puig this year. Puig eagerly swung early and often, quickly racking up seven outs without hitting a home run.
===
Toronto Blue Jays star Juan Bautista is the early leader after cranking out 10 homers in his first at-bat at Target Field.
Miami's Giancarlo Stanton, a Southern California native, hit six home runs in the first round. Baltimore's Adam Jones and Colorado's Troy Tulowitzki each hit four. Oakland's Yoenis Cespedes, last year's home run derby king, hit three and Cincinnati's Todd Frazier was the last player to advance to the second round after hitting two.
===
The tarps are off the field, and the derby is set to begin, offically kicking off the All-Star break festivities.
===
Rain has delayed the start of the home run derby, which was scheduled to start shortly after 5 p.m. PDT.
Pregame
The Chicago White Sox's Jose Abreu, the Oakland Athletics' Yoenis Cespedes and the Dodgers' Yasiel Puig got their starts in Cuba's Serie Nacional before becoming three of the most electric young stars in MLB. The home run derby will feature two-thirds of the trio.
Cespedes aims to defend his 2013 title for the American League side, and Puig will compete for the National League. Abreu declined his invitation, citing a wish to stay focused on his team.
There's a good bit of kindling to spark drama between Cespedes and Puig, especially if the two advance to the finals to face off for the title.
While Puig and Abreu were teammates for Cienfuegos in Cuba, Cespedes played for rival Granma.
And he's been vocal in his opinion that he could beat Puig in the derby if it ever given the chance.
The L.A. Times quoted Cespedes through an interpreter last year:
"Not to be disrespectful to him at all, but I know him from Cuba. This is not the type of competition he would be able to excel at. He's not really a home run hitter, so I believe I would win."
Puig has hit the fewest home runs (12) of any of the derby participants. He is often described as more of a line-drive hitter than a slugger of towering home runs.
But that doesn't mean those liners can't leave the park.
Eight of Puig's 12 home runs cleared 400 feet this season. One soaring shot flew deep out to left-center in cavernous Marlins Park. Puig executed his customary bat flip as the ball cleared the high green wall. Any further and he could have knocked out the Budweiser sign.
Puig has a chance to respond to Cespedes when the competition begins at 5 p.m. PDT.
Twitter: @szuuuubes
---
Get the latest on L.A.'s teams in the daily Sports Report newsletter.
You may occasionally receive promotional content from the Los Angeles Times.