Kain Colter, Ramogi Huma try to recruit union allies in Congress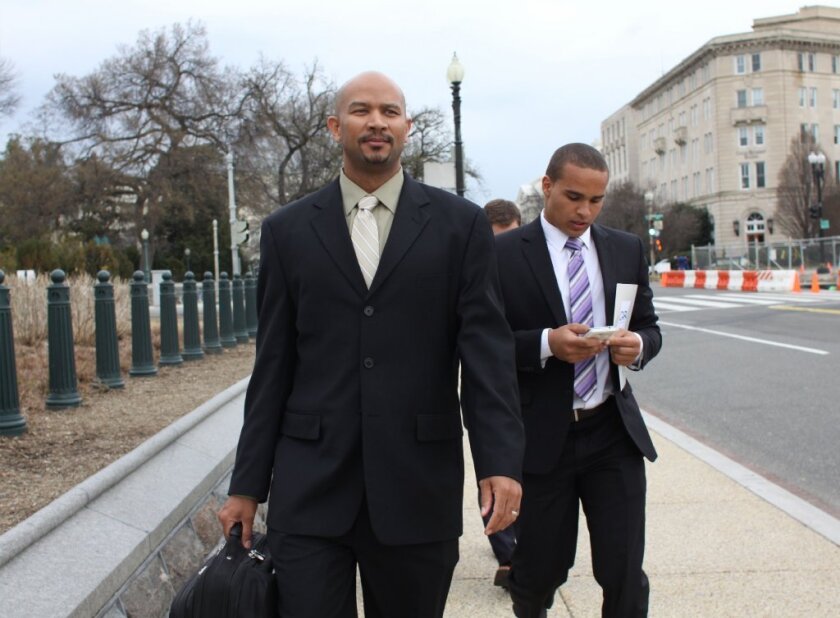 Former Northwestern quarterback Kain Colter and Ramogi Huma, the founder and president of the National College Players Assn., will meet with members of Congress on Wednesday in preparation for an appeal of a ruling that full scholarship athletes at Northwestern can form a union.
"The goal is to make athletes have a seat at the table. Health and safety of athletes is the concern, especially to reduce the risk of brain trauma," Huma told the Associated Press. "We want to make sure they have an opportunity to hear from us directly."
Colter and Huma were expected to meet with California Rep. George Miller (D-Martinez), the top Democrat on the House Education and Labor Committee; Rep. Jan Schakowsky (D-Ill.), whose district includes Northwestern; Sen. Dick Durbin (D-Ill.); and Rep. Tony Cardenas (D-Los Angeles).
Huma said the group was concerned that the NCAA would lobby Congress to prohibit unionizing by college athletes. Northwestern has argued that the students are not employees.
Stacey Osburn, director of public and media relations for the NCAA, said, "The law is fairly clear and consistent with Northwestern's position, so the NCAA has made no contacts with anyone in Congress attempting to ban the unionization of student-athletes."
Northwestern has said it will file a request for the National Labor Relations Board in Washington to review the decision. It has until April 9 to do so.
ALSO:
Blacked out of watching Dodgers on TV
DeSean Jackson signs deal with Washington Redskins
Jonny Gomes makes a patriotic fashion statement at White House
---
Get the latest on L.A.'s teams in the daily Sports Report newsletter.
You may occasionally receive promotional content from the Los Angeles Times.