Kevin Harvick wins NASCAR Xfinity Series race at Atlanta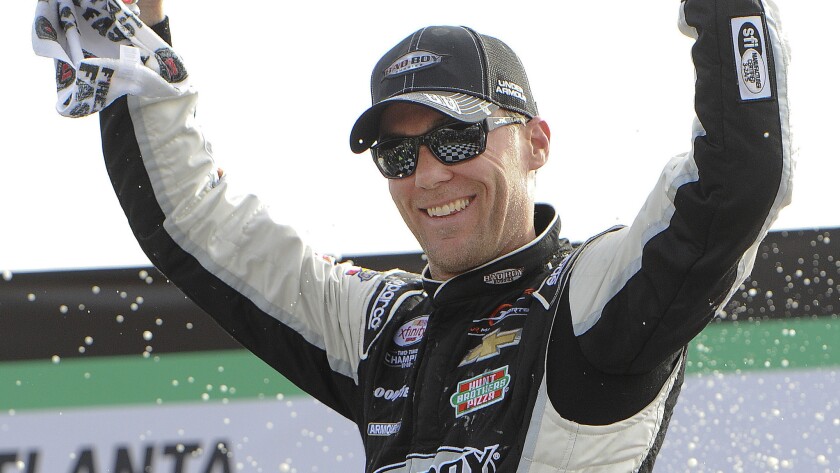 Hampton, Ga. —
Kevin Harvick turned in another dominating performance Saturday at Atlanta Motor Speedway, holding off Daytona 500 winner Joey Logano in the Xfinity Series race.
Harvick has won the Atlanta race in NASCAR's second-tier series three years in a row and four times overall.
Logano has been the runner-up the last two years.
No one else was even close on this day.
"It seems like I finish second on this track all the time," said Logano, who came up just short of a victory from the pole. "I'm going to keep running this Xfinity Series race until I win it."
Good luck beating Harvick, the defending Sprint Cup champion and a 45-time winner in the Xfinity cars.
In Atlanta, he's especially tough, having mastered the art of running strong at the bottom of a track that is infamously rough on tires.
"He's a great talent," said Dale Earnhardt Jr., owner of the winning No. 88 car. "Kevin has got a knack at this place. When he comes to Atlanta, he's hard to beat."
Harvick won a race off pit road under yellow with 27 laps to go, which proved to be crucial in holding off Logano. On the restart, Harvick had the prime inside position, and Logano's bid to pass from the outside was thwarted when Chase Elliott gave Harvick a bit of a nudge.
"That pit stop was what won the race," Harvick said.
Logano made one last push for the front. A vibrating right rear tire ended any hope of catching Harvick, who won by 1.207 seconds with an average speed of 149.813 mph.
"Once it got really bad, I couldn't keep up with Kevin anymore," Logano said. "It just kept getting worse."
Ty Dillon was a distant third, the top finisher among drivers eligible for the Xfinity Series championship.
---
Get the latest on L.A.'s teams in the daily Sports Report newsletter.
You may occasionally receive promotional content from the Los Angeles Times.