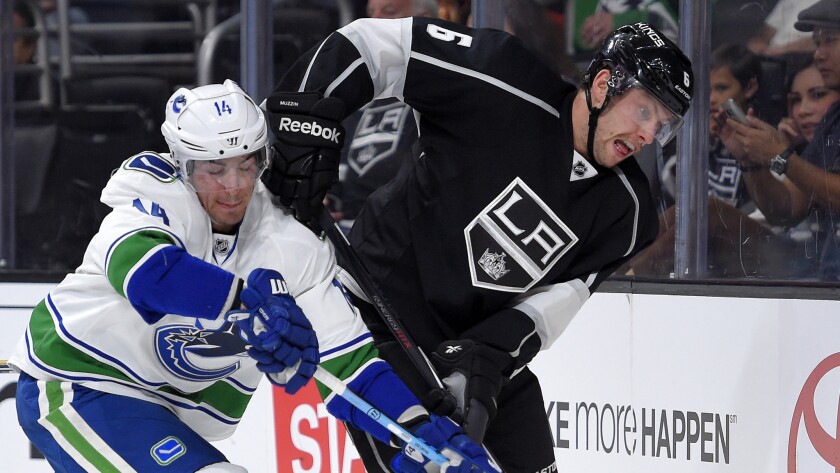 Here are a few takeaways from what was a well-balanced offensive attack by the Kings in a 5-1 victory over the Vancouver Canucks on Saturday night, a game that featured multipoint efforts from six players: Marian Gaborik, Anze Kopitar, Alec Martinez, Jake Muzzin, Tyler Toffoli and Jeff Carter.
Kings of adversity, again
They had to play short a player at Philadelphia last month because of salary-cap issues and injuries, and emerged with a point, losing in overtime to the Flyers.
Fast forward to Saturday night and they came away with two points, despite playing an entire game with five defenseman, not the usual six. Veteran defenseman Robyn Regehr (lower-body injury) is day-to-day and missed his first game of the season.
Drew Doughty, their No. 1 defenseman, is used to playing in the 30-minute range. But Alec Martinez played a season-high 25 minutes 30 seconds, Matt Greene played a season-high 19:42 and youngster Brayden McNabb also logged his most ice time since the fourth game of the season. Jake Muzzin (25:36) was just shy of his season high.
"Those are normal minutes for Drew, based on what we've done this year," Kings Coach Darryl Sutter said after the game. "For all four of them, once you go from a mid-teen (minute) game to almost a 20 minute, or a 20 minute to 25, that's a big difference in the game
"You need the lead to be able to do that. Otherwise, you're probably not seeing it look so good."
Breaking news: Goals by the defense
The Kings played 14 games and received goal production from their defense in just two of those games. Martinez scored at Detroit on Oct. 31 and at Carolina in the next game on the recently-completed trip.
Finally, Martinez got some company in Game No. 15. Muzzin scored his first goal of the season, against the Canucks, and added an assist for his first multipoint performance of the season.
Muzzin and his partner on defense, Doughty, combined for 15 goals last season. Doughty does have six assists in 15 games, however, this season.
Jonathan Quick firmly on track
Quick's bid for a shutout ended with 7:53 left in the game when Chris Higgins of the Canucks scored, assisted by former Kings center Linden Vey.
But it was Quick's second victory in his last three starts.
Heading into Sunday's NHL action, Quick was tied for sixth in the league in wins and his .943 save percentage was third in the league behind Craig Anderson of the Ottawa Senators (.951) and Jake Allen of the St. Louis Blues (.944).
So, whoever thought Quick would get off to a slow start because of his off-season wrist surgery?
---