Marian Gaborik will have to adjust his game, Kings GM says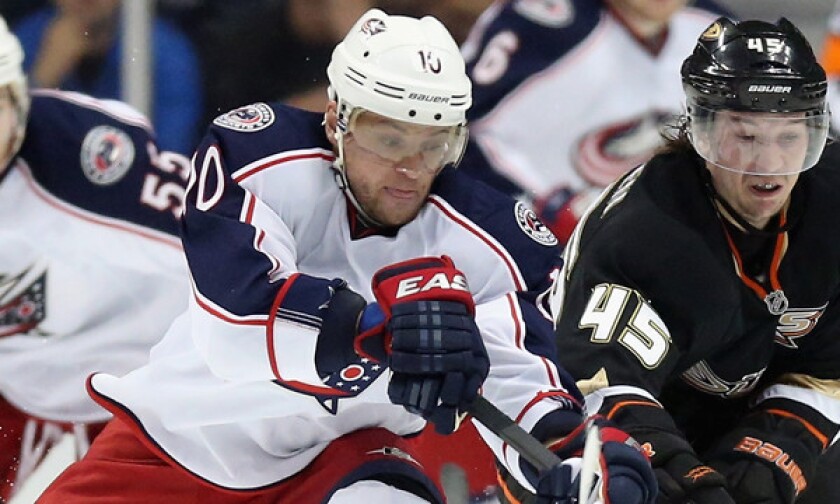 To add the scoring threat he felt the Kings urgently needed and stay under the salary-cap limit, General Manager Dean Lombardi had to persuade the Columbus Blue Jackets to retain half of winger Marian Gaborik's remaining salary this season, give up winger Matt Frattin and two draft picks, and still had to demote forward Linden Vey to Manchester (N.H.) of the American Hockey League.
All of which is fine. When not injured, Gaborik is a pure scorer who brings speed and commands attention from opponents. Vey will be back as soon as the math of daily cap hits allows. And Frattin had absolutely no impact with the Kings, who acquired him, goaltender Ben Scrivens and a second-round draft pick in 2014 or 2015 in exchange for goalie Jonathan Bernier. The Kings will transfer that second-round pick to Columbus and will give the Blue Jackets a third-round pick as well only if they re-sign Gaborik or win the first round of the playoffs.
But will Gaborik be able to play to his potential in the Kings' defense-first system, which demands diligence at both ends of the ice and tends to turn 30-goal scorers into 15-goal scorers?
Lombardi, speaking to reporters on a conference call Wednesday, said Gaborik will have to adjust his game and cited Anze Kopitar, Jeff Carter, and Drew Doughty as players who have sacrificed personal numbers offensively to play a more complete, all-around game. Gaborik will be expected to make some sacrifices too.
"It's buying into the way this team performs. Not changing your game but knowing you have to do those little things and then go do what that God-given gift you have that very few people have," Lombardi said. "But you've got to take the first step first. And those little things I'm talking about are essentially just being a teammate. Everybody's got to pay the price and that's why this team has had success.
"The high-end guys, like Kopitar, Carter, Doughty, all these guys never have lost sight of the fact there's a price to be paid. Now go do your thing. And that's what we're expecting from him, meshing in that team, and then bring to this team what it does not have in its arsenal: an explosive player that can make something out of nothing."
He said Rob Blake, the Kings' assistant general manager, and defenseman Robyn Regehr praised Gaborik as hard to play against. "Not in the physical sense, but he's very difficult to defend. And you have to be cognizant of him on the rink all the time," Lombardi said. "And that, again, it's a weapon that I felt we would like to add to the mix here to now throw a little bit of everything at you, but not at the expense of what this team stands for."
Lombardi said he had gotten permission from Gaborik's agent, Los Angeles-based Ron Salcer, to gauge Gaborik's interest in re-signing with the Kings if they acquired him. The response was positive from the perspective of Lombardi, who had considered acquiring him a few years ago but thought the Kings weren't at a stage where Gaborik could be a difference-maker.
"So I like this, that he's coming here with the purpose of staying here, versus some of the things you saw out there with some of the other free agents, where the player says, 'I'm going to July 1,'" Lombardi said, referring to the date free agency begins. "I have a hard time thinking somebody's going to go get his head smashed in, in St. Louis or San Jose, when he's already talking about going July 1."
Two other quick points: Lombardi was high on the potential of 6-foot-4 defenseman Brayden McNabb, whom he acquired from Buffalo with Solana Beach native Jonathan Parker and the two second-round draft picks the Kings had given Buffalo for defenseman Robyn Regehr. Lombardi said giving up forward prospect Hudson Fasching was "very, very hard," but included him in the trade -- with defenseman-turned-forward Nicolas Deslauriers -- to get a promising defenseman.
"He's still green. His skating needs to improve. He's got to work some on his fundamentals and his reads but he has a lot of the attributes that we value and has a chance to be a top-four guy," Lombardi said. "And with that, he's got some snarl."
Also, Lombardi said negotiations to re-sign defensemen Matt Greene and Willie Mitchell and forward Trevor Lewis have become complicated because of a smaller-than-anticipated increase in the salary cap for next season. Lombardi said general managers had assumed the cap would exceed $71 million for the 2014-15 season.
"We found out, to our chagrin and surprise the other day, we had been told the cap was going to be $71 [million] and now with the Canadian dollar having tanked, that the cap could be as low as $68 [million]. That's a huge swing," he said. "So that's more of the talks with our three guys, Mitchell, Lewis and Greene, who we'd all would like to bring back. That's more of a hindrance than anything we acquired today. And that was something that we did not expect to hear. ...
"All three of these guys, we want them back and hopefully they want to stay here and be part of it but that's not always the case."
Gaborik was expected to meet the Kings in Winnipeg for their game Thursday against the Jets.
---
Get our high school sports newsletter
Prep Rally is devoted to the SoCal high school sports experience, bringing you scores, stories and a behind-the-scenes look at what makes prep sports so popular.
You may occasionally receive promotional content from the Los Angeles Times.