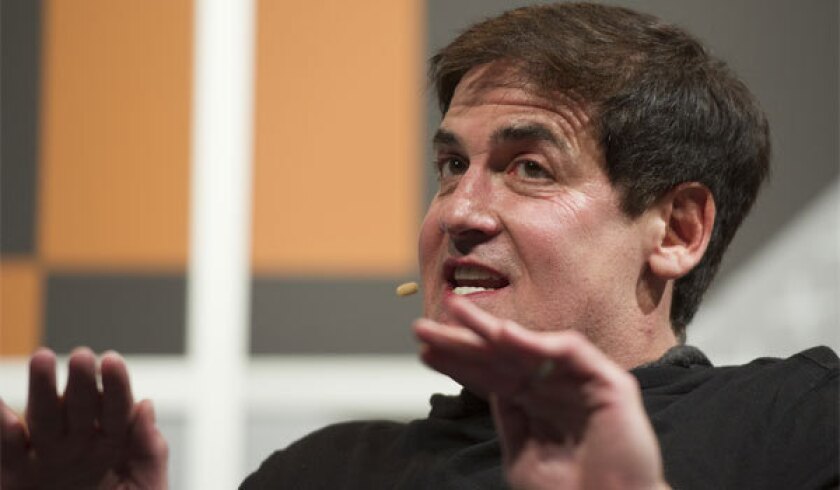 Dallas Mavericks owner Mark Cuban knows what it takes to run a successful business.
Apparently the billionaire also knows a bit about farm animals.
At least that's the analogy he kept falling back on Sunday night when predicting the eventual downfall of another professional sports league.
"I think the NFL is 10 years away from an implosion," Cuban told reporters before the Mavericks' game against the Brooklyn Nets. "I'm just telling you, pigs get fat, hogs get slaughtered. And they're getting hoggy. Just watch. Pigs get fat, hogs get slaughtered. When you try to take it too far, people turn the other way.
"I'm just telling you, when you've got a good thing and you get greedy, it always, always, always, always, always turns on you. That's rule No. 1 of business."
Cuban was referring to "Thursday Night Football," which has appeared on the NFL Network since 2008. It started on a limited basis in the last month or so of the season but has been expanded to 13 of the season's 17 weeks the last two years.
CBS won a bidding war this off-season to broadcast those games during the first eight weeks of the season, starting in 2014. The NFL Network will show games the last six "Thursday Night Football" games, as well as a Saturday double-header in Week 16.
"They're trying to take over every night of TV," Cuban said, adding: "It's all football. At some point, the people get sick of it."
So far, that hasn't happened. The NFL is more popular than ever and "Thursday Night Football" was the most-watched cable show on Thursdays last fall, with an average of 8.6 million viewers.
Pretty good for a channel some people can't even find on their cable boxes. And we'll see what happens this fall when the games move to one of the major networks. Possibly something in the neighborhood of the 21.7 million viewers NBC averaged with "Sunday Night Football" last year?
But Cuban stuck with his prediction, using the onetime mega-hit "Who Wants To Be a Millionaire" as an example.
"They put it on every night," Cuban said. "Not 100% analogous, but they handled it the same. I'm just telling you: Pigs get fat, hogs get slaughtered."
OK, it may be a bit of a stretch to compare a game show to the mighty NFL. But Cuban did succeed in getting his farmyard analogy in there one more time.
Well played, Cuban.
---