Mark Jackson: 'No place in society' for remarks attributed to Sterling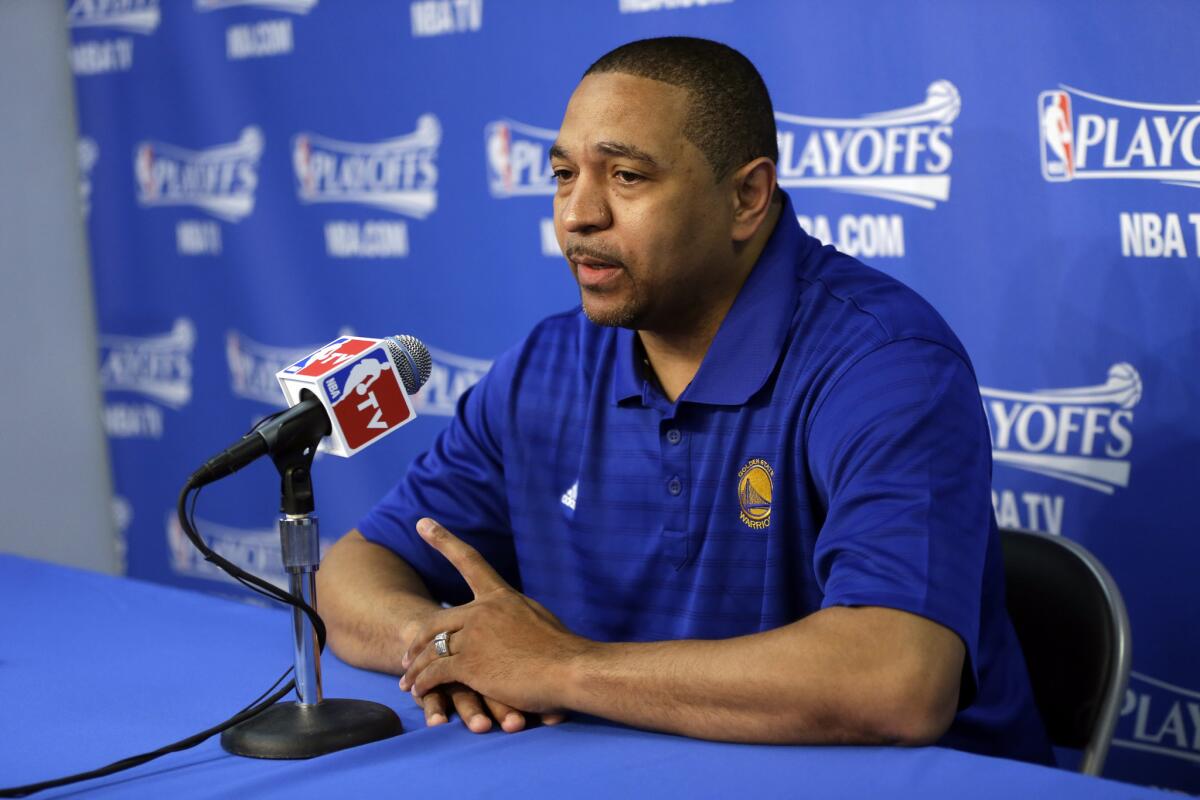 OAKLAND -- A week after he preached to a congregation that included some of his players at a Van Nuys church, Mark Jackson found himself delivering a different kind of sermon.
The Golden State Warriors coach and ordained minister, speaking to the media Sunday before Game 4 of his team's first-round playoff series against the Clippers, described allegedly racist remarks attributed to Clippers owner Donald Sterling as "unfortunate, disappointing and [there's] no place in society for those thoughts or that mentality.
Full coverage: The Donald Sterling controversy
"It's difficult to believe that, as crazy as it sounds, that's the mentality of I wish I could say one person [but] it's the mentality of a lot of folks today, and it's unfortunate. We've come too far and there's a lot of folks that have sacrificed their life to make this a better place."
In an audio recording released by TMZ, a man said to be Sterling tells a female friend that he is upset she posted a picture on her Instagram account of herself next to Lakers legend Magic Johnson.
"It bothers me a lot that you want to broadcast that you're associating with black people," the man says, later adding, "I'm just saying, in your … Instagrams, you don't have to have yourself with, walking with black people."
Deadspin on Sunday released more audio in which Sterling allegedly further criticizes the woman, identified as V. Stiviano, for posting a picture of Dodgers outfielder Matt Kemp.
Jackson said his team, which trails the Clippers 2-1 one in the best-of-seven series, had also been affected by Sterling's alleged remarks.
"Please don't think it's just the Clippers that's been affected by these comments," Jackson said. "I think it has affected us all. … It's not going to end even as we play the game today. This is a process that we've got to be aware of the fact that people think this way."
Jackson said he was pleased to have a chance to discuss issues that run much deeper than basketball.
"Well, to me, it's ministry, so I think it's great to have a platform and to have dialogue about this and it exposes some evil and I think it's an advantage," Jackson said. "Now it's time for me, for you, for ownership, for players, for the league, for society to step up and start challenging these folks and putting pressure on these folks because like I said, there are people who have lost their lives. It's just sad to believe that people feel this way today. It's unfortunate."
Asked if he could envision himself working for the Clippers if he needed a job, Jackson said, "I cannot right now. Knowing the mentality, I cannot."
Jackson said he believed NBA Commissioner Adam Silver would "do what's right" in punishing Sterling but added that he forgave the owner.
"I forgive him," Jackson said. "I forgive anybody that feels that way or believes that way and the reason why is because we all can be saved, we all can be helped, we all can be changed. The first step, though, is admitting that I've got an issue. So absolutely. There's no hatred in my heart at all. I'm at peace."
Jackson said boycotting the game would not have been the right response.
"You stand up here and you answer questions as an African American man and you sound intelligent and you carry yourself and conduct yourself to answer and let people know," Jackson said. "Don't get it twisted. You make a statement by who you are, by players on the floor, by Steph Curry and Chris Paul getting after it and still communicating and still calling and texting, by handling yourself with dignity and class.
"That's how you respond and I think this is an incredible league that has done an outstanding job regardless of your race, your religion, your beliefs, of prospering and being together and making a statement."
Get our high school sports newsletter
Prep Rally is devoted to the SoCal high school sports experience, bringing you scores, stories and a behind-the-scenes look at what makes prep sports so popular.
You may occasionally receive promotional content from the Los Angeles Times.