In lawsuit response, Cal State L.A. denies sexual harassment by Mike Garrett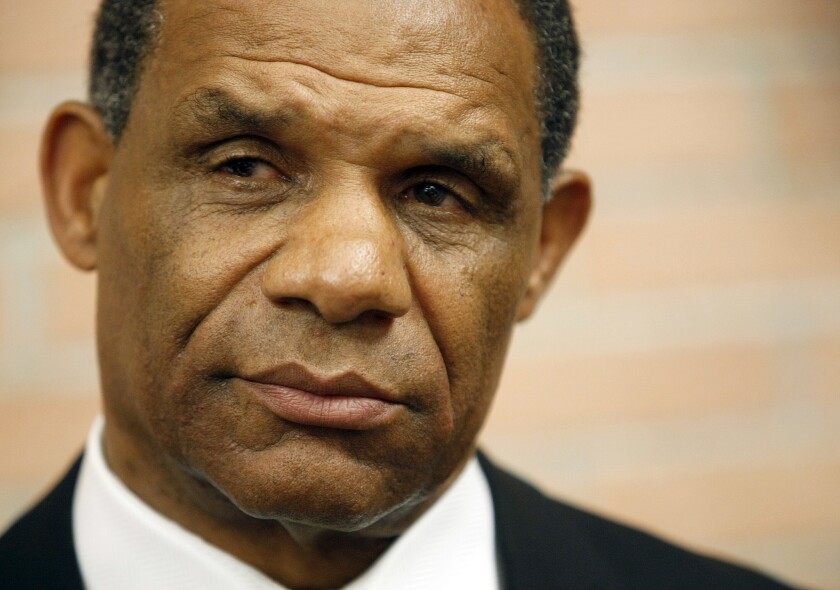 Former Cal State Los Angeles Athletic Director Mike Garrett "treated all staff, faculty and students with respect and dignity, regardless of gender," the school said in a court filing Monday in response to a lawsuit accusing Garrett of sexual harassment.
Sheila Hudson, Cal State L.A.'s senior associate athletic director, sued Garrett and the school in Los Angeles County Superior Court in August.
Cal State L.A.'s response Monday denied Garrett engaged in sexual harassment and defended the school's handling of the matter.
"Repeatedly, Plaintiff refused the assistance and solutions provided by Defendants and, at times, impeded investigations by Defendants, choosing instead to create her own narrative of events," said the response, which noted that the school hired a third-party investigator who didn't find any violations.
In her lawsuit, Hudson accused Garrett of using "degrading, sexist names such as, 'Sweetheart,' 'Love' and 'Babe,'" for women employed in the school's athletic department and said he "exploded" when she raised the issue.
Monday's court filing denied that Garrett, USC's athletic director from 1993 to 2010, responded in that manner.
Hudson's lawsuit also alleges that Cal State L.A. paid her "thousands of dollars less a year" than the two men who previously held her position and that the school retaliated after she submitted a report in February on gaps in pay and other areas between men and women in the athletic department.
"Defendants deny that it refused to investigate Plaintiff's complaints or that Garrett engaged in activity warranting suspension," the response said. "Further, Defendants deny retaliating against Plaintiff in any way."
Hudson, a former Olympian first hired at Cal State L.A. as an assistant track and field coach in 2002, is seeking a court order installing her as the school's athletic director in addition to unspecified monetary damages.
The lawsuit described Hudson as the "perfect candidate" to hold the athletic department's top position and said the positions filled by Garrett and Daryl Gross, the former Syracuse athletic director who succeeded him in June, weren't posted as job openings.
In the response, Cal State L.A. said the jobs were exempt from posting requirements and denied Hudson "was then, or is now, qualified for the Athletic Director position."
"Moreover, Defendants are informed and believe … that Plaintiff knew when the Athletic Director position became available and she never expressed an interest in the position," the response said.
A case management conference is scheduled for January.
Twitter: @nathanfenno
---